First, a disclaimer:
So ironically, as soon as I posted something about feeling run-down and the health
-
giving benefits of turmeric milk, I got sicker than I have been in a long time. So sick, that today is the first day in ages that I have been able to even contemplate staying awake for longer than 2 hours at a stretch, let alone attempt watching a film and reading subtitles. I'm still amazingly ill but I feel like I'm neglecting my little piece of blogland so be gentle with me.
Himmatwala (K. Raghavendra Rao, 1983)
I've been wanting to get my hands on a copy of this movie since I figured out (with the help of Google) that the second song Govinda references in this (from Swarg):


which just happens to be one of the best songs in Himmatwala. You should know by now what a sucker I am for filmi references.
And then Sridevipalooza happened and
a bunch of awesome people wrote some great posts
convincing me of the necessity to get on the Sridevi train (well, that, and I finally watched
Chandni
, which, despite the WTF ending, Sridevi is amazing in) and Induna suddenly had a copy of the DVD available, when I'm pretty sure every other time I'd looked it was only available on VCD.
So clearly, the time was right for me to finally sit down – okay, lie down (what? I'm really sick) – and watch Himmatwala.
First thing you need to know: this isn't really a Sridevi vehicle, so don't go into it making that mistake. Her role here is pretty much as romantic interest for the lead – Jeetendra, and she doesn't get a huge amount of screen time (compared to other movies she's in). The real stars of this film are Jeetendra (who I think I kind of love – and this is only the second film I have seen him in)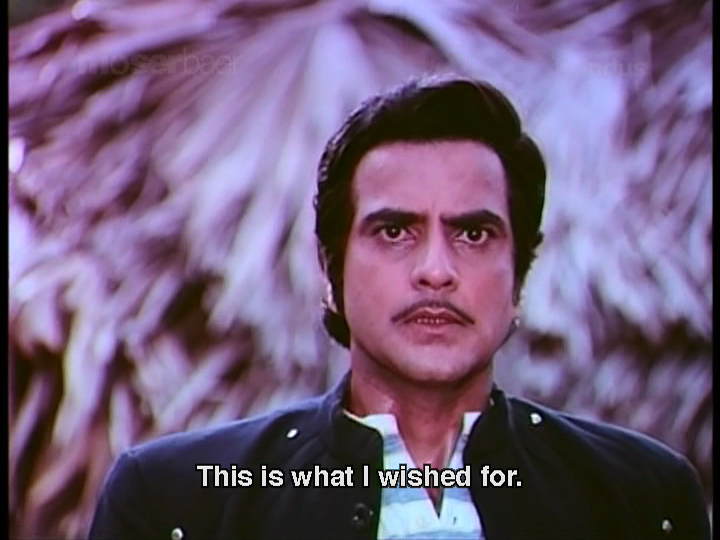 and…Amjad Khan. OH MY GOD, really, Amjad Khan is the man. I definitely love him. I missed him whenever he was offscreen, because he was by far the best thing in this movie.
Second thing you need to know: Shakti Kapoor and Kader Khan (aka my eternal arch-nemeses -if that's even a word) are also in this film, and while Shakti is actually quite young and not in comedy mode and thus, not really very irritating, so it was initially hard to recognize him;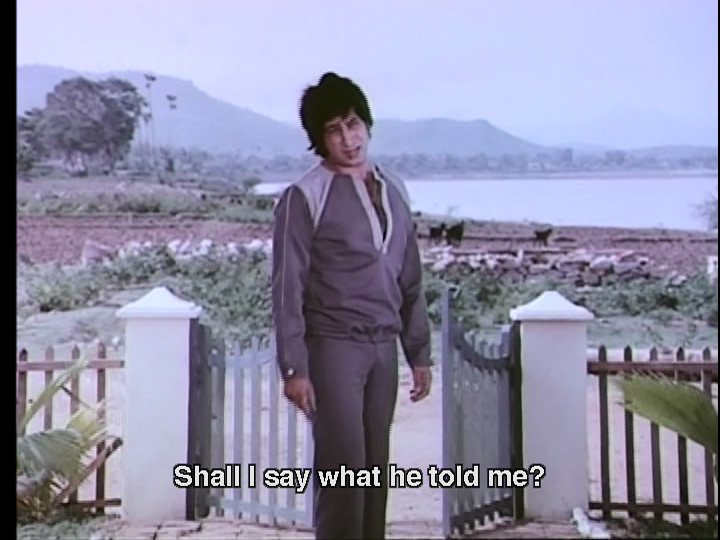 Was it that matching tracksuits are totally in?
this is one of the films where I was wishing Kader Khan would disappear or JUST SHUT UP every time he was onscreen. Which was WAY TOO OFTEN (I suspect because he had a hand in writing the film). I swear, just as I start to make peace with KK and think "You don't annoy me so much anymore" I end up watching a film that makes me want to erase his memory from my brain. Actually, he's not THAT bad in this, I'm just sick and less tolerant than usual.
So anyway, Himmatwala means "the courageous one" according to my subtitles, and that's exactly what the film is about. Ravi (Jeetendra) is the courageous one who returns to his childhood village after 5 years away to find his mother and sister now living in poverty and the village being terrorized under the rule of the evil Thakur Sher Singh (Amjad Khan) and his spoilt and arrogant daughter Rekha (Sridevi).


Ravi, a moral and decent young man, discovers that Sher Singh is responsible for his mother's humiliation, and vows vengeance.
And then, in true Bollywood fashion, A WHOLE BUNCH OF STUFF HAPPENS THAT I HAVE NO HOPE OF NEATLY SUMMARISING. There's a cyclone, a fake pregnancy, a real pregnancy, torture, marriage, suicide, a whole subplot about building a big giant dam, long lost relatives…
…oh yeah, and Jeetendra, despite being a whippet thin dandy in super tight pants KICKS EVERYBODY'S ASS a whole lot of times. WHICH IS AWESOME. (He punches someone through a brick wall. COME ON!)
Oh, but the SONGS. THE SONGS, you guys! I don't know what it is, maybe it's the undeniable magic of Bappi Lahiri (like crack to me), and Jeetendra and Sridevi's OMG CUTE chemistry (seriously, they are so Disney-wholesome I LOVE THEM) and the fact that I am probably still running a fever, but the songs in the film…PYAAR. I LOOWE THEM. All of them. The songs are totally the best part. Here, have another one:
The actual song starts about a minute in.
Jeetendra and Sridevi dancing together MAKES ME HAPPY. I need more of their movies.
Amaluu
, I'm coming to you for a list.
Basically – Himmatwala is by no stretch of the imagination the best film in the world. If there was a channel here in NZ that screened all Bollywood, all the time (omg I WISH), Himmatwala would be one of those films that everyone has seen because it seems to be on whenever you turn on the television – you know what I mean? It's (mostly) got a wholesome, largely inoffensive vibe about it – Jeetendra and Sridevi together are adorably Disney – you can barely imagine them holding hands, let alone (gasp) KISSING!


Anyway, I liked this film. It was entertaining. And Jeetendra = AWESOME.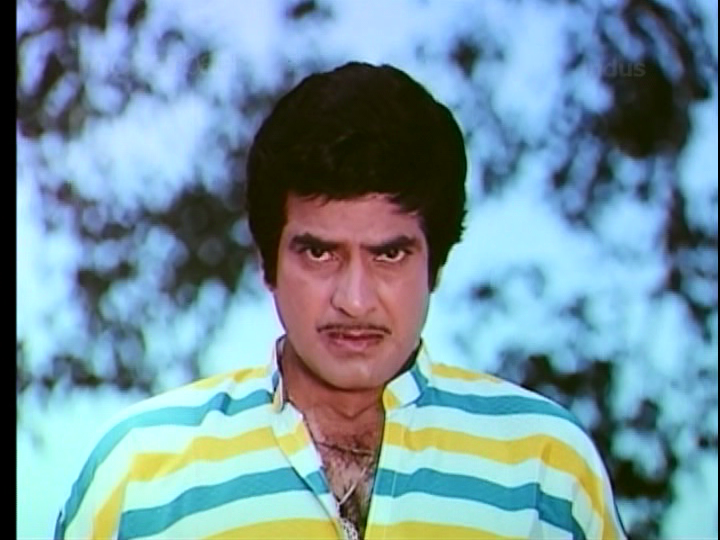 How can you not love a man in a shirt like this one?