Gangaa Jamunaa Saraswathi (Manmohan Desai, 1988)
I honestly don't even know where to begin.
So let's start with a bit of context. Right at the start of my burgeoning Bollywood obsession, a friend, far more familiar with the ins and outs of Hindi films, sent me the link to a video he thought I might enjoy. Just the title of it was enough to intrigue me: Disco Bhangra. If you haven't seen or heard of this INFAMOUS clip – then…feast your eyes:
Yup. That's Big B, giving it the Michael Jackson treatment. And so naturally, after seeing Amitabh rock the one silver glove, I had to seek out Gangaa Jamunaa Saraswathi.
And it is with MUCH GLEE that I can report that Disco Bhangra is the LEAST crackified moment of the film. Seriously. That part – SO BORING AND NORMAL compared to the insane, cracked out, ridiculously awfulsome rest of this masala…wonder.
THIS FILM IS BOTH THE GREATEST AND WORST THING I HAVE EVER SEEN.
POSSIBLE REASON THE FILM IS SUCH A HOT MESS:
Allegedly, the original plan was for Gangaa Jamunaa Saraswathi to be something of a sequel to Manmohan Desai's classic 70s film Amar, Akbar, Antony. If you believe everything you read on the internet, then the plan was that the film would bring together Amitabh Bachchan as Gangaa, Jeetendra as Jamunaa, and Rishi Kapoor as Saraswathi. Some kind of huge disagreement/communication breakdown between original scriptwriter Kader Khan (who, I have to grudgingly admit, has a talent for writing entertaining masala fare) and director Desai meant that Prayag Raaj (another masala king) was brought in to rewrite – and so the script was pretty much entirely re-invented to make Amit-ji, as Gangaa, the central hero; and Jamunaa (Meenakshi Sheshadri) and Saraswathi (Jayapradha) now the heroines, with Mithun Chakraborty coming on board as Shankar Qaawaal, to create a kind of…love triangle…quadrangle…thing.
Plus – just to compound matters: apparently Mithun was peeved at how the size of his role turned out and refused to co-operate with dubbing the film, so someone else dubbed his voice in post-production. HOT MESS, I TELL YOU.
So – the story is masala-tastic: a glorious revenge-romance combining the lust for vengeance against the pure evil of the original Ol' Crazy Eyes himself, Amrish Puri, and a cosmic fated love…quadrangle between an aging hero (Amit-ji), two spunky heroines, and a DASHING and DEFINITELY underused Mithun Chakraborty.
Basically – Evil Amrish Puri tricks young Gangaa's mother (Nirupa Roy, OF COURSE) into signing over her property to him, and then embarks on a nefarious and somewhat vague scheme, along with his rapey relatives, to gain ALL THE PROPERTY in the area. The real crime, though, is that he breaks young Gangaa's tooth when he VIOLENTLY HURLS HIM TO THE GROUND – what kind of crazy eyed monster beats up a CHILD?!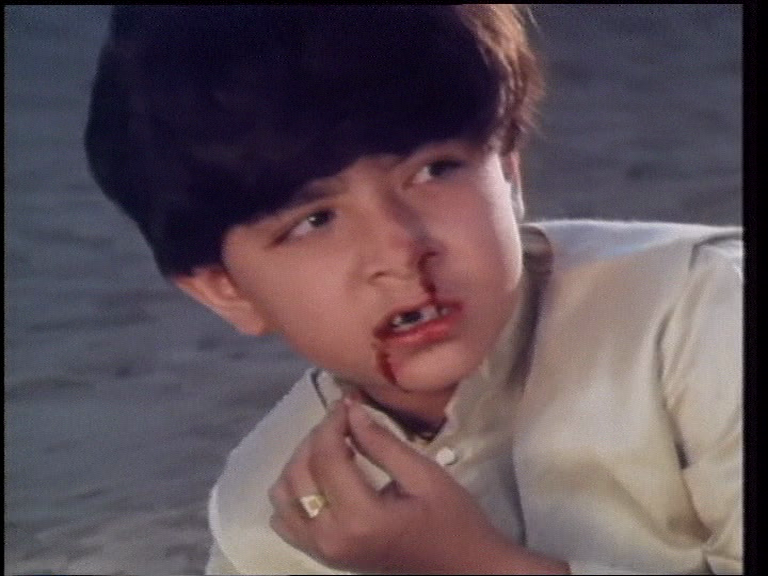 – and Gangaa vows vengeance for the wrong that has been done to him and his maa. He calls Evil Amrish Puri "Uncle Kans" which is a diss I don't understand…but it is MOST DEFINITELY a diss. Take THAT Uncle Kans.
EDIT:
Please see the comments section for Amaluu's helpful explanation of the "Uncle Kans" diss. See, there are people out there who are VASTLY more wise than me who actually get all the references in Hindi films.
Fifteen years later – meaning we are supposed to buy that Gangaa is what – mid-20s?
and Gangaa is raising hell against Uncle Kans. Luckily he works for a trucking company, which means he can, you know, drive his truck into people's houses to prevent rapes from happening – which is how he meets Saraswathi.
More cracked out than normal plot point #1: Saraswathi is a courtesan (read: essentially a high class prostitute) who refuses to do anything but sing and dance. BECAUSE SHE IS A VIRGIN DARING TO DREAM OF LOVE AND MARRIAGE.


Actually, I take it back – it's not cracked out, it's dreamy and romantic. Bollywood, I love you. SINCERELY. I LOVE YOU (and I cried in this admittedly terrible movie, I'm not even being cynical or snarky).
Check out the breathtaking bluescreen special effects used to trick us into believing that Gangaa and Saraswathi are dancing on the back of a moving truck:


But dancing on the back of a "moving" truck with a virgin prozzie don't mean a thing, because Gangaa is destined to meet Jamunaa (and if you know anything about Indian rivers, how the love story at the heart of this film ultimately plays out isn't really much of a surprise. Go on, Google it). Let's just say COMPLICATIONS ARISE due to... dubiously induced amnesia, and mistakenly believing people are dead, and people being on the run from Evil Amrish Puri for the shakiest of reasons. Oh, and illegitimate children meaning gypsy mothers get forced out of their clan. There's quite a lot of violence, and blood and gore, and icky weird sexy stuff. AND AMRISH PURI GETS HIS PLAYBOY HUGH HEF STYLES ON WAY TOO MUCH.


Because it's a CRACKED OUT MASALA MASTERPIECE, obviously there are the little details that make it…wonderfully insane:
The CLEARLY MECHANICAL 'rat' that inhabits Gangaa and Jamunaa's honeymoon hotel room.


Crazy Eyed Amrish Puri's penchant for semi-naked wrestling (and whipping)


A whole mini-subplot involving the God of the Snakes, and, at one point, AMITABH WRESTLING A PLASTIC SNAKE AND THEN FEEDING IT MILK


The most hilarious, creepy and disturbing metaphorical use of a COBWEB during a sex scene like, EVER.


Three simple words that filled me with joy: PIT OF CROCODILES.


And just when I thought the film couldn't possible get any more glorious…this happened (and I laughed for about 7 minutes):
Nothing I can write can do this crazy film justice. JUST WATCH IT ALREADY.