Shakti: The Power (Krishna Vamsi, 2002)
Shakti: The Power cold opens with the image of the empty, barren, Rajasthan desert, stretching on forever. Then a closeup of a terrified woman (Karisma Kapoor), bloodied and screaming, before the titles.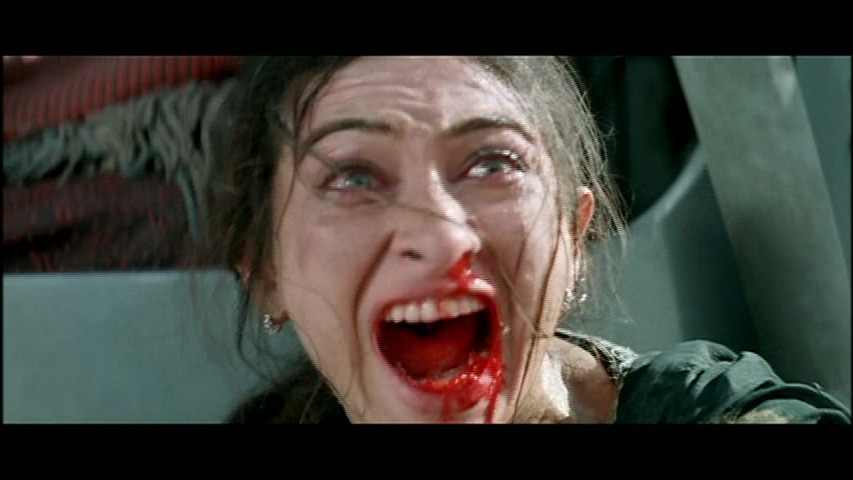 Then, as if that were just an horrific nightmare, the film begins like any mainstream Bollywood film. Gorgeous, spunky N.R.I. Nandini (Karisma Kapoor), lives in Canada and, prompted by her uncles to find a husband, settles down with orphaned businessman Shekhar (Sanjay Kapoor). Together they have a son, Raja, and start building a happy life together – and all of this is pretty much conveyed through a "Look how happy their lives are" song.
Sanjay Kapoor and Lolo are so sweet together. In a very short time, they establish a genuine bond onscreen, which is kind of important. Given…what will happen.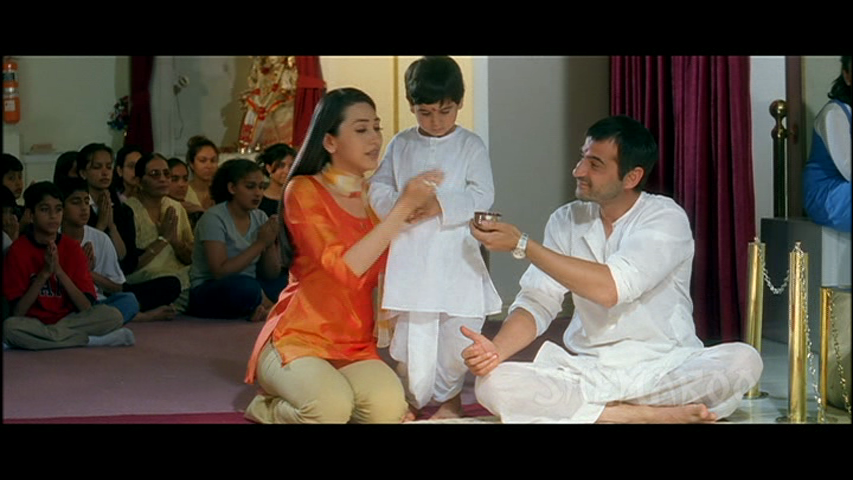 Enjoy this happiness while it lasts. Seriously. Because this film is about to get very, very nasty.
Things change…oh how they change, when Shekhar happens to see a news report about a bombing in a village in India, and…reacts kind of irrationally, insisting on going to India to check on his mother's safety. THAT'S RIGHT, HIS MOTHER.
It's only when Shekhar, Nandini and their 3 year old child arrive in India that it becomes apparent that not only is Shekhar not an orphan, but has an entire (psychotic) extended family who are involved in extremely violent feudal warfare. And running the whole shebang is Shekhar's father, Nansimha, king of the old-school violent psychos, played by Nana Patekar with terrifying conviction.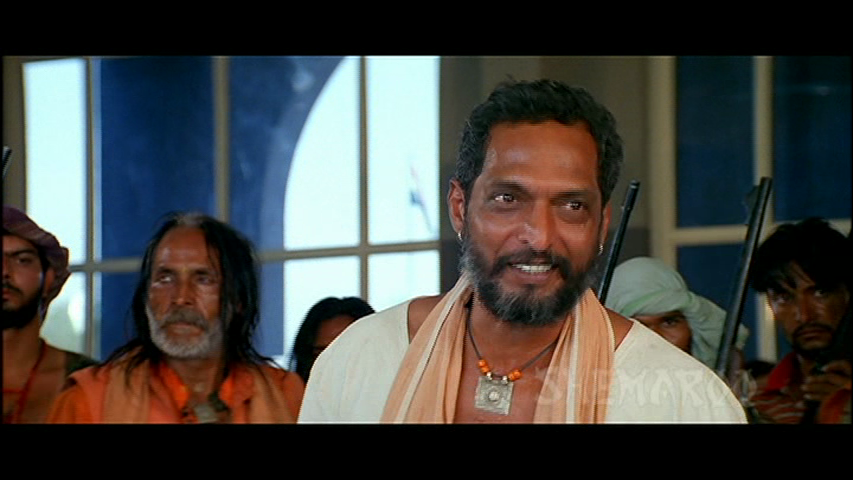 Check out the crazy eyes. TERRIFYING.
Shakti: The Power is essentially told from Nandini's point of view – and because she is an N.R.I. who is largely westernized, this means the film narrative is very effective for Western viewers too – you're getting the same experience that Nandini does. Unlike most mainstream Hindi films, India isn't portrayed as the familiar realm of comforting tradition or exotic, glamorous spectacle. The sudden dislocation from Nandini's home in Canada to Rajasthan is jarring and uncomfortable; India is dirty, loud, and alien; it's violent – brutally violent; and the traditions are unfamiliar and alienating. Even a tradition meant to welcome Nandini into the community – taking her out of her normal Western clothes, dressing her up in a beautiful sari and having all the village women come and bless her with kumkum – leaves Nandini exhausted.
But at least she's got Shekhar...right? RIGHT? (ominous foreshadowing)
PLEASE BELIEVE ME WHEN I SAY THAT THIS FILM IS NOT FOR THE FAINTHEARTED.
If you only know Shakti: The Power as the film that contains the sizzling Shah Rukh/ Aishwarya item number Ishq Kamina:
then you possibly want to think again before watching. Because this film is BRUTALLY and REALISTICALLY violent, and often pointedly violent against women.
Think about whether you want to see Nana Patekar systematically beating Karisma Kapoor, then kicking her repeatedly in the stomach as she lies bleeding and screaming on the ground, as a group of men, watch and do nothing. (If so, I suggest it not be the first Nana Patekar film you watch, because you will hate him forever if you haven't seen something else where he ISN'T a brutal psychopath).
The film has been criticized, and received pretty bad reviews, because of the uneven nature of the script. Shahrukh Khan, for example, appears in an extended special appearance in a typically comic SRK role, which is AMAZINGLY at odds with the harrowing nature of the rest of the film. It didn't bother me so much though, and I'd argue that by the time he appears, you need something to lift the mood or you're gonna switch the film off, or walk out. What DOES jar a little is the cracktastic song placement – Ishq Kamina, a total item number, follows possibly one of the bleakest points of the film and makes absolutely no sense. The ending is also a giant WTF moment that offers no resolution or closure.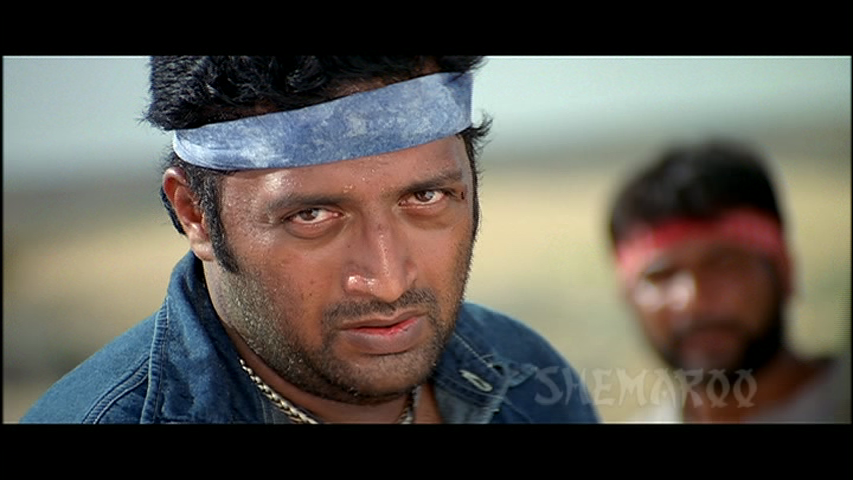 MAKING UP FOR ALL THE FLAWS: PRAKASH RAJ! One million points in Shakti: The Power's favour!
Flaws aside, I find this film an incredibly interesting experiment in melding mainstream Hindi film conventions with edgier, socially and culturally relevant content. It may not have been a huge success at the box office (Ishq Kamina aside) but I think it's important to watch films like this one – produced by a woman (the divine Sridevi) and heavily focused on woman's issues. Though the extreme violence and abuse shown to women especially is incredibly hard to watch (I was nearly sick watching this film)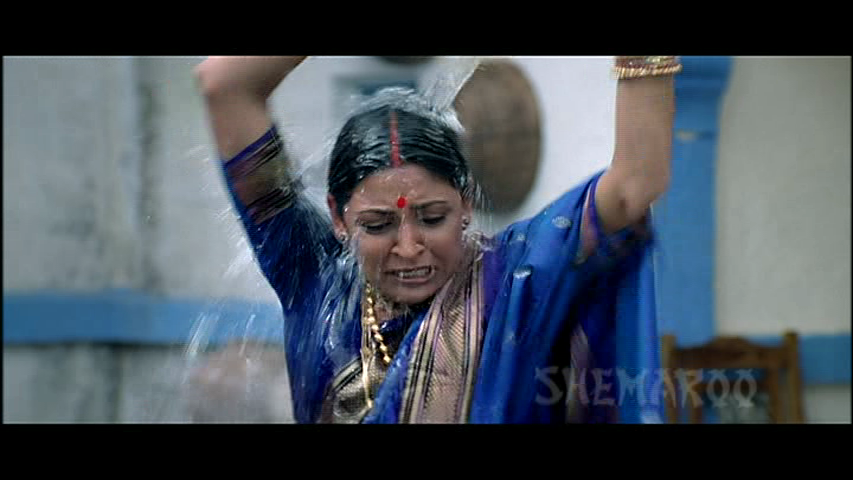 Specifically: at this point, when Namsimha's wife sets herself alight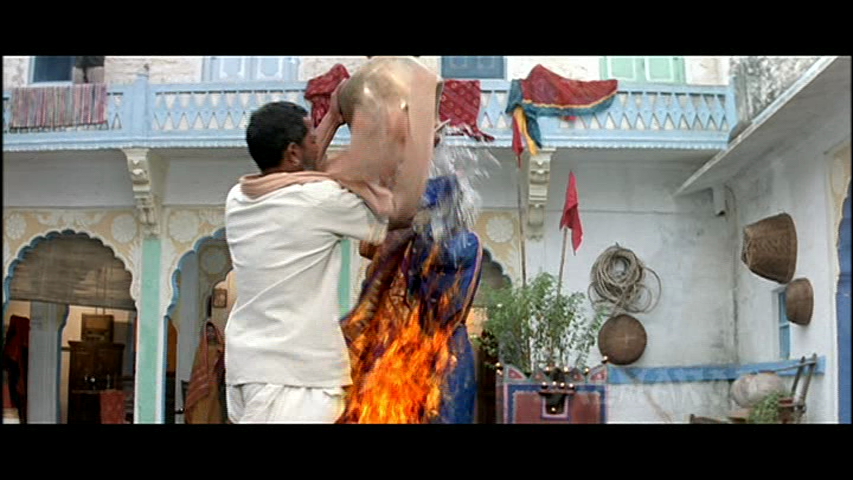 it's not often in Hindi mainstream cinema that you get the sense that you are watching a recreation of someone's reality – and honestly, that's what was so upsetting and unsettling. The village life that Nandini enters into, where the same old-fashioned attitudes to women that seem quaint and chaste and lovely in the glamourous, fantasy Bollywood films, are stifling, literally keeping them prisoners, where violence is used to keep men and women in line – it's horrific, but all too easy to believe that people live like that today, not just in India, but all over the world.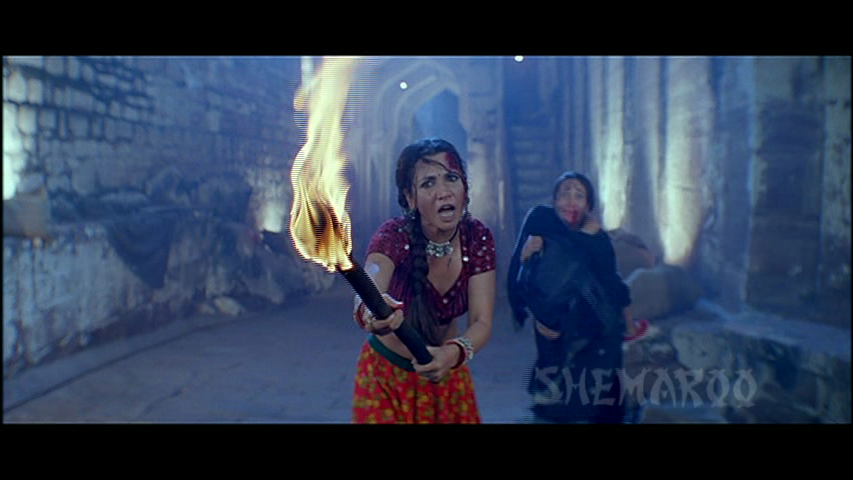 At the same time, there is plenty of room to portray female courage, strength and solidarity.
This could easily be read as a film about domestic violence and unhealthy relationships; or it could be read as a commentary on the second class status of women in society. Or there are a number of other possible readings. It will make you question a few things, that's for sure. But it's undeniably hard to stomach. Unfortunately, that's the reality.