Badle Ki Aag (Rajkumar Kohli, 1982)
Badle Ki Aag (or "Fire of Revenge") is quite possibly THE most insanely melodramatic Hindi film I have EVER seen. You know that bit in Om Shanti Om, where Shahrukh Khan and Kirron Kher spoof Bollywood melodrama in the 'melodramatic maa' scene? Imagine a whole film done like that BUT TOTALLY SERIOUSLY, with the melodrama cranked up about a million notches.
That's
Badle Ki Aag
. A film length, surprisingly gory, extremely emo soap opera. It is UTTERLY HILARIOUS and FULLY AWESOME. Packed full of often confusing masala plot twists (there is SO MUCH plot it got a little hard for my tired brain to keep track of who was secretly related to who; and who was thirsty for revenge from whom and for what pressing reasons – it's okay though, it all becomes clear eventually), plus: extremely emotional bandits, amazing motorcycle stunts, filmi kids who are dubbed with ADULT VOICES (awesome!), a plucky prostitute with vengeance on her mind, a poisonous snake and a glass of milk!, Dharmendra in a variety of disguises, random people discussing the pros and cons of the death penalty and a surprisingly serious kind of thematic undercurrent regarding justice and law, men with hooks for hands,
I don't make this stuff up!
EVIL TWINS!,
Shockingly, I also realised, I've also become kind of FOND of Kader Khan. GASP.
people who I initially mistook for EVIL TWINS and got quite confused about but who turned out to be A COMPLETELY DIFFERENT PERSON ALTOGETHER! (seriously, don't ask, it's kind of retarded but this song:
gave me a mini nervous breakdown before I realized I'm kind of a doofus and should watch films WEARING MY GLASSES); a surprise cameo that made me LITERALLY GASP IN DELIGHT! (I'm not gonna spoil it); and basically the joy, yes the SHEER JOY of an ALL STAR CAST: Jeetendra + Dharmendra + Sunil Dutt plus Reena Roy, plus…oh so many more.
With a film like
Badle Ki Aag
, which is so amazingly plot heavy it makes my brain hurt, to try and recap the story would be insane. But here I go. The central plotline revolves around the incredibly beautiful Geeta (Reena Roy)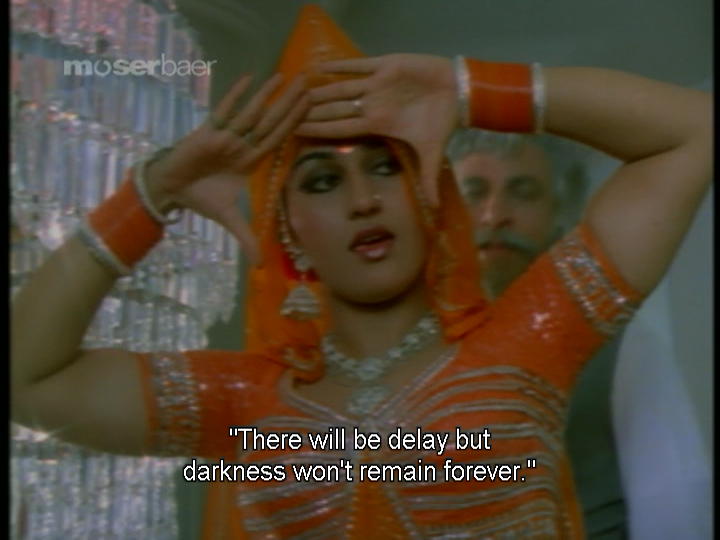 And yes, all the way through the film I kept thinking: "Sonakshi Sinha?"
a prostitute who witnessed her family being murdered as a child, but who managed to escape. Since then, the fire of revenge has burned in her heart – she just needs to find the man who killed her family so she can kill him. Of course, the murderer is INEXTRICABLY LINKED to someone VERY IMPORTANT to Geeta. In a twisty, surprising way.
Geeta also manages to acquire three different suitors, all of whom want to marry her. Unfortunately, the suitors are all mortal enemies, not just because of their love for Geeta, but because Amar Verma(Jeetendra) is the local police captain who takes his job very seriously;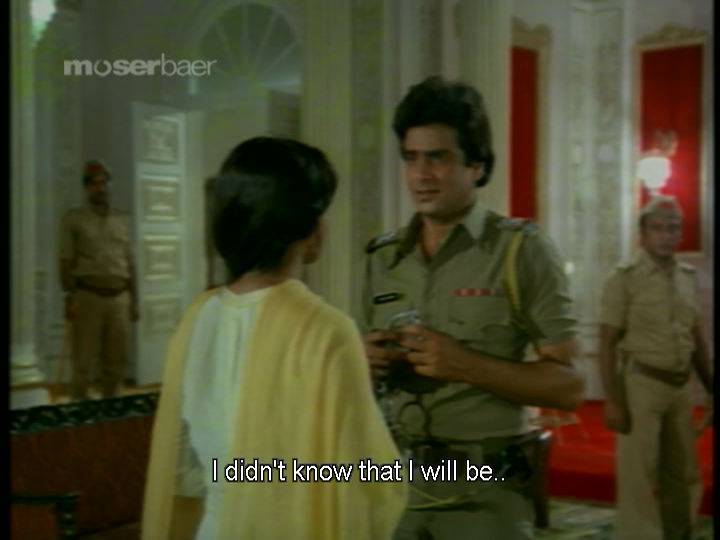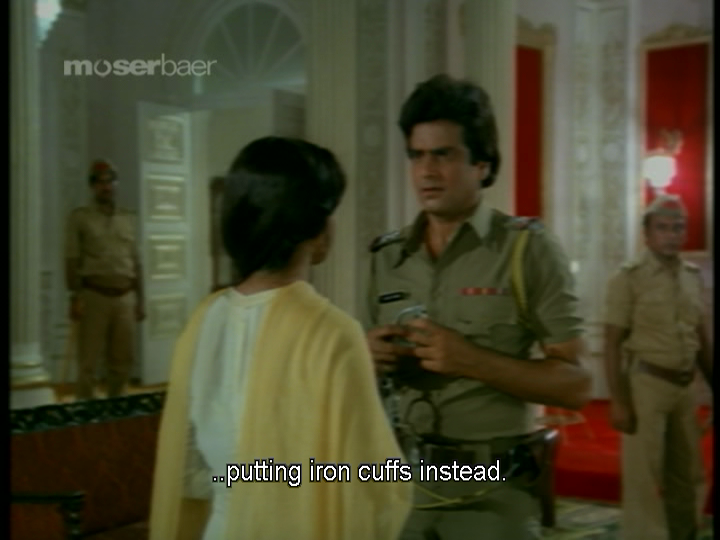 Amar really does need to work on his pick up lines.
Lakhan (Sunil Dutt) is a local Robin Hood type bandit – much beloved by the poor because he has a heart of gold and is truly a good person with decent morals, but wanted by the police (and particularly hunted by Amar) for his technical crimes;
I can TOTALLY see the family resemblance in Sanjay now. IT IS AWESOME.
and Sher "Shera" Singh, king of the bandits, who rules the region with force, violence, cunning and guile. He is besotted with Geeta and will stop at NOTHING until he gets what he wants.
Dharam is FOREVER the coolest man EVER EVER EVER in Hindi films FULL STOP.
Awesomely, the fact that the three suitors are mortal enemies doesn't stop them from – and in fact, FACILITATES – getting together to sing a qawaali. YEP. Here's Sunil, Dharam and Jeetu, bigging themselves up to each other, IN DISGUISE:
Will Geeta get her revenge? And who will she end up with? are really the two pressing central questions (just watch it, peeps. You'll get your extremely satisfying answers). BUT OH GOSH, THERE'S SO MUCH MORE GOING ON IN THIS FILM! So. Much. TO LOVE.
1. The AWESOME HYPNOTIC POWER OF JEETU!
I love me some Jeetendra! Even though his character in this film is kind of a total dick, and is actually the last of the suitors you want Geeta to end up with (REALLY, Amar? After your initial TOTALLY ADORABLE wooing song, you revert to anal law enforcement stick-up-the-ass man and decide that, because Geeta is dancing at a party, she must automatically be a cheating whorish skank – seriously?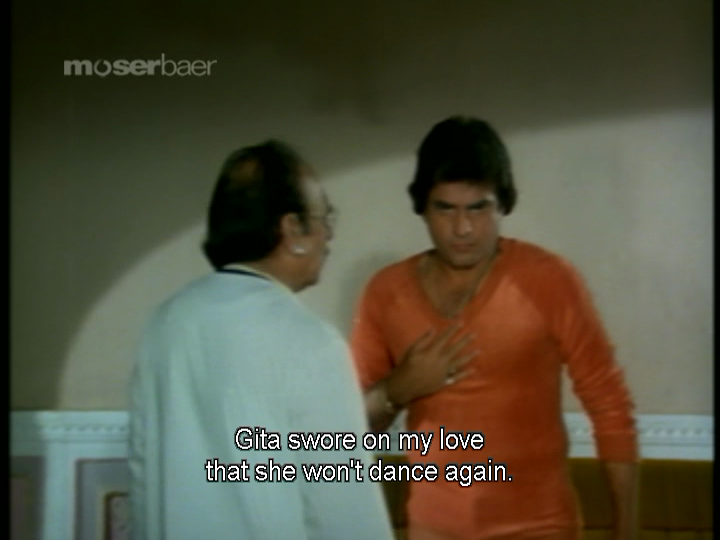 What would have been awesome is if he had ripped his shirt off in Hulk-ish rage. But that did not happen.
The bandits Sher Singh and Lakhan look like waaay better bets) he actually brings the tragic hero BIG TIME and makes you feel sorry for him, and a little bit lusty. JEETENDRA IS BOLLYWOOD'S COLIN FIRTH, I have decided. And so it is written.
Of course, that's when he's not HYPNOTISING THE BEJEEZUS out of you with his scary killer eyes.


2. BADLE KI AAG rewrites the traditional Bollywood cure for "female in a hypothermic coma"
It happens in Aa Gale Lag Jaa; it happens in Ganga Jamuna Saraswathi. I'm sure it happens in countless other Indian films that I HAVEN'T seen too: the female drowns and falls into a hypothermic coma; as demonstrated by Shashi Kapoor and Amitabh Bachchan in the aforementioned films, the established filmi medical solution is for the hero to strip the heroine of her clothes, strip himself of his own clothes and climb into bed with her to warm her up using his own body heat. While this IS an actual treatment for hypothermia in the real world, in the movies what is inevitably implied is that - presumably once the heroine regains consciousness and can give her consent (opinions vary wildly over this, but this is what I have always thought – Indian films I've seen tend to be fairly black and white over who is portrayed as a rapist and who isn't) - the nakedness and proximity OVERWHELMS the couple and premarital sex is inevitable. It's just kind of…tacky. Since it implies that you can't prevent someone from freezing to death without having to have sex with them too. Like, what happened to self control?
Badle Ki Aag – a lurid, pretty base, over the top film in so many ways, THRILLED me when it refused to follow this one lurid convention. When Geeta fell into the familiar hypothermic coma after falling in a river and it became obvious that Lakhan was going to have to revive her somehow my heart sank. And then my heart SANG! And I fell in joyous, effervescent love with Sunil Dutt, because I absolutely cannot separate actors from the characters they play. Look. LOOK AT THIS: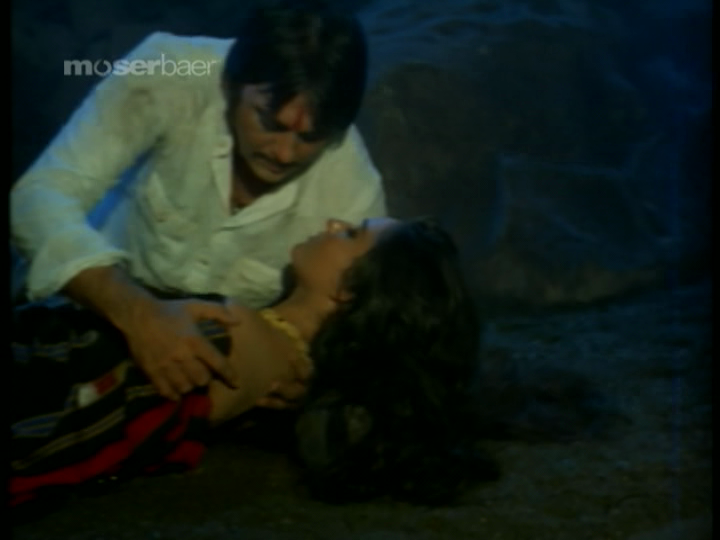 1. He keeps his own clothes on
!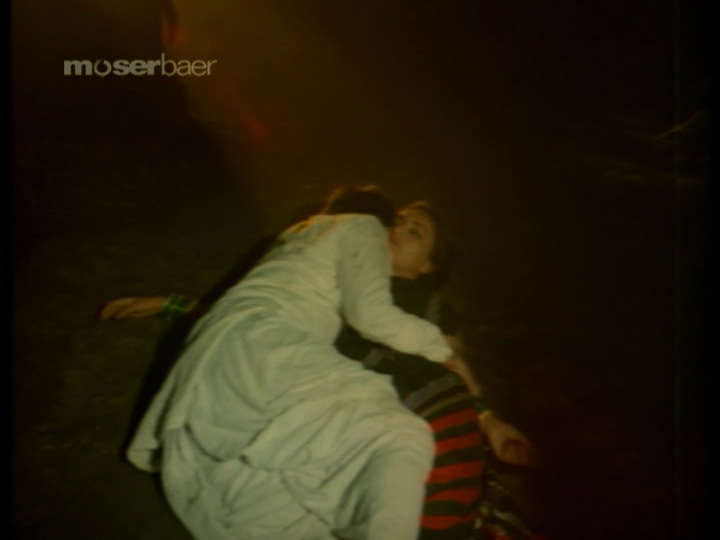 2. HE WARMS HER THROUGH A BLANKET (so practical AND CHASTE)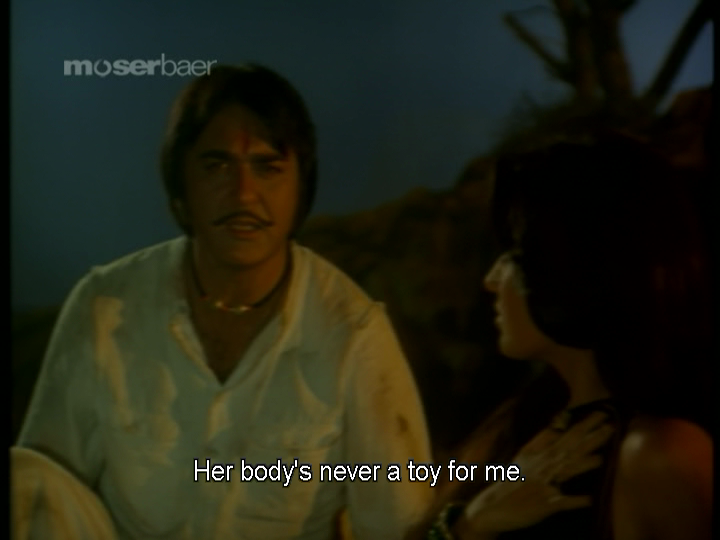 This is right after he says "I respect a woman". SUNIL IS SUCH A GENTLEMAN!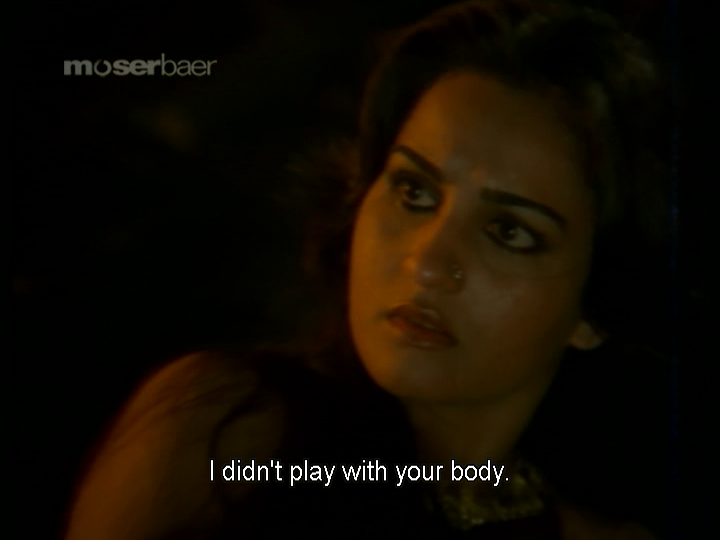 3. Dharmendra is actually THE COOLEST GUY EVER
Exhibit A:


Exhibit B:


He actually * facepalms * when he realises he has drunkenly slept with the wrong woman.
Wait. I DO love him more!
Exhibit C: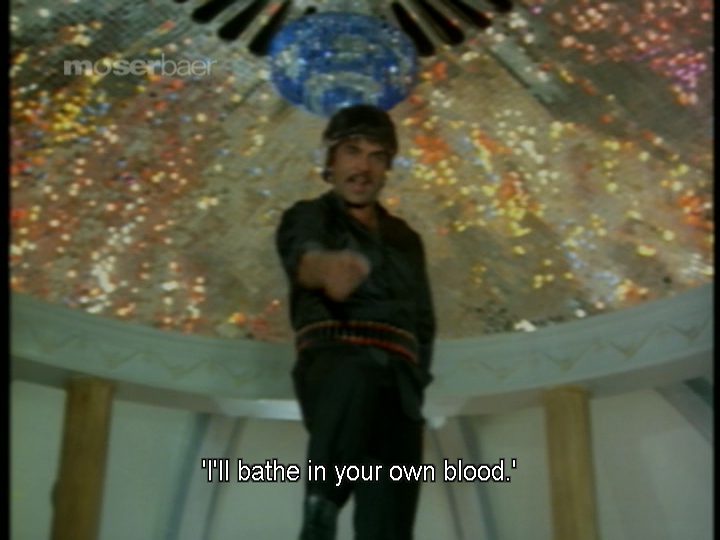 MELODRAMATIC DISTURBING THREAT! Yes, Dharam-ji, YES!
Nobody can rock a headband and a handlebar mustache like Garam Dharam. Nobody can have a full-on emo nervous breakdown and make it look INSANELY AWESOME (as opposed to LAMELY TRAGIC) like Garam Dharam. Nobody can leap like this:


and make it look hilariously hot.
ONLY THE COOLEST GUY EVER COULD PULL THAT OFF CONVINCINGLY.
4. THE WOMEN ARE KIND OF AWESOME.
I don't know that describing the film as "feminist" is entirely accurate…but it's as feminist as a film made in 1982 that's all about which of three men a prostitute is gonna end up with can be.
But seriously, the women in this film aren't really just the meek and mild, lay down and take what's dished out to them types.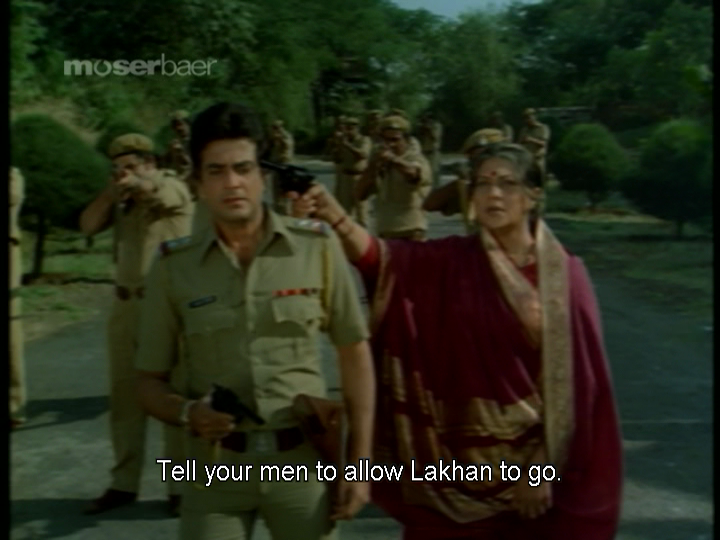 They are feisty fighters who are pretty proactive about getting what they want.
That "proactive" means "murderous" is a whole other issue.
Oh, and Nirupa Roy is awesome...
...right up to and EXCEPT FOR a supremely WTF moment at the end, when I was like ARE YOU KIDDING ME NIRUPA HAVE YOU LOST YOUR FREAKING MIND? But actually, the WTF-ness actually made the film even more enjoyable, because I was already cackling with laughter at everything else, so what the hell,
Badle Ki Aag
, throw more insanity at me.
5. DID I MENTION THE EXTREME MELODRAMA?
Seriously you guys I am in love with Sunil Dutt now. My list of filmi boyfraaaands is spiralling out of control.