Naseeb (Manmohan Desai, 1981)
Naseeb (Fate) is a batshit insane crowdpleaser, an exploration of destiny, love, sacrifice and friendship, a not so subtle treatise on the evils of liquor and above all, an immensely entertaining 3 hours of PURE MASALA.
The story begins with a drunk, unable to pay his tab, who in lieu of cash, offers to sell his lottery ticket to waiter Namdev (Pran). Namdev and his three friends: photographer Damu (Amjad Khan), taxi driver Ragu (Kader Khan) and musician Jaggi (I have no idea who plays Jaggi, because I was too busy screencapping Amjad…swoon) decide to split the ticket between them – a decision that proves…well, fatal for Jaggi, and troublesome for Namdev, when the ticket turns out to be a winner. Because Damu and Ragu murder Jaggi and frame Namdev for the crime, so as to keep the winnings for themselves – an action that will alter not just their fate but the fate of all the four friend's children…as we will find out when the film's action jumps INTO THE FUTURE!
Sigh. You're not getting a proper review this time. I don't even know where to BEGIN with Naseeb, because there is just SO. MUCH. TO. LOVE.
Like pretty much every single outfit anyone wears, ever, in this film. I am particularly fond of this polkadot shirt/tie ensemble on Shotgun.


I also love his red jogging outfit.


And have also secretly nicknamed Kader Khan and Amjad Khan "Tweedledum" and "Tweedledee" in this scene.


Amitabh Bachchan plays a waiter: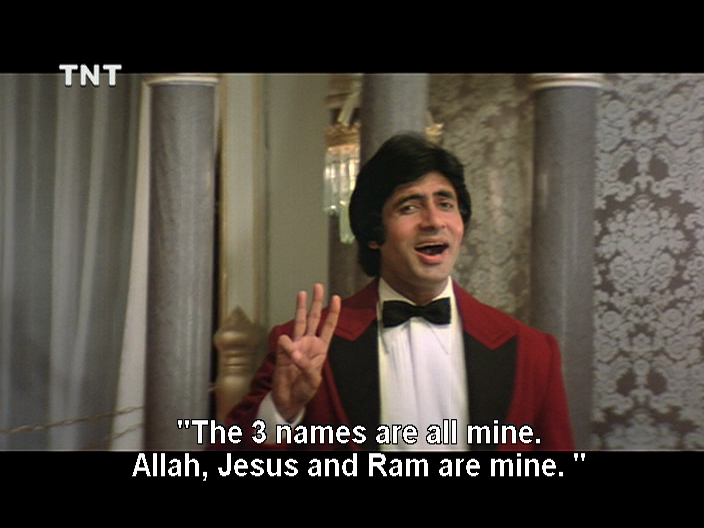 AND a cage fighter!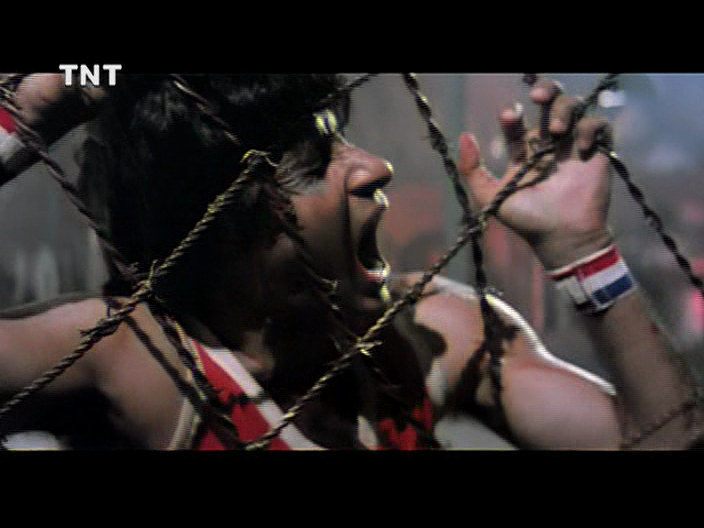 (He also has a midget manager named Mehboob he punnily refers to as his "sweetheart")
There's the fact that in addition to uber-adorable Amjad Khan,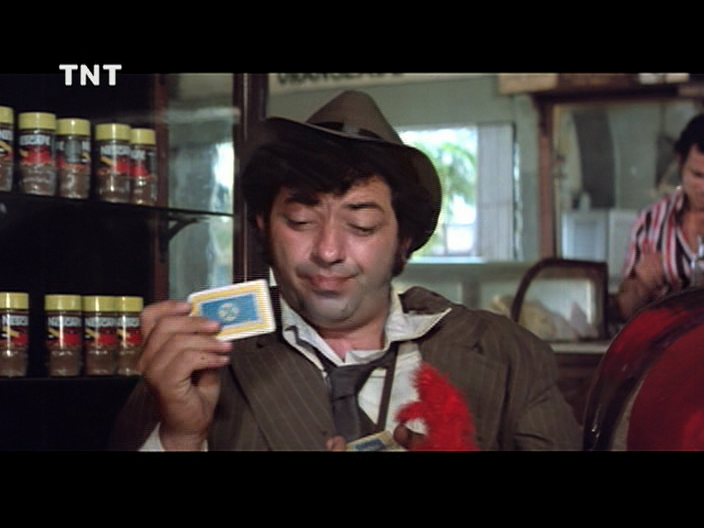 Again, just be grateful I am choosing not to post all the screen caps I took of my beloved Amjad. Because there are MANY.
just about EVERY OTHER FILMI VILLAIN YOU CAN THINK OF is in this film. We're talking Kader Khan, Pran, Prem Chopra, Shakti Kapoor, and Amrish Puri!
Why have just one baddie when you can have ALL OF THEM?!
Both Amitabh and Shotgun take turns getting wasted - and Shotgun pulls it off WAY better:


Hema Malini rocks the biker chick chic when she isn't (and I am so not joking) ON A BOAT FIGHTING OFF MEN WITH PANTYHOSE ON THEIR HEADS WHO JUST CLAP TOWARDS HER OMINOUSLY BEFORE THRUSTING A GUITAR AT HER AND SAYING 'PLAY' IN A EUROPEAN ACCENT:


There is also, of course, the famous song John Jani Janardhan, set at the golden jubilee celebration of Dharam Veer and populated with Bollywood celebs. This is partly why I own Naseeb – because Deewangi Deewangi in Om Shanti Om is based on this song.




HOW CAN YOU NOT LOVE THAT Shotgun totally dishooms someone over a CAKE (no exaggeration)?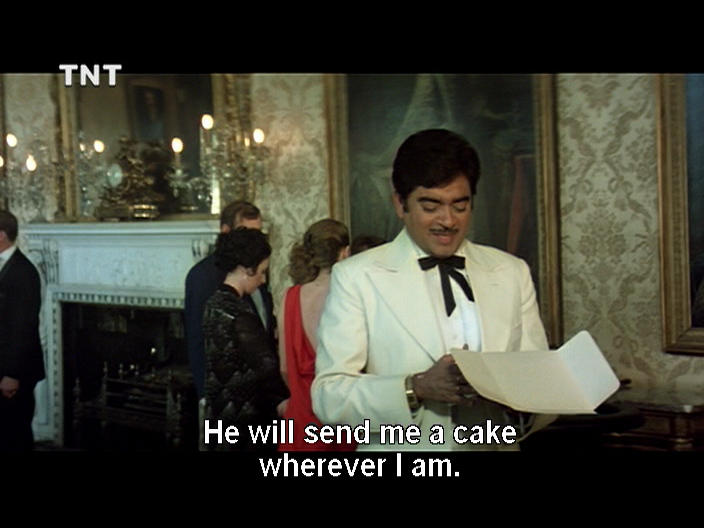 It's because he really really loves cake, and the fight over the wrecked cake is SO COMPLETELY AWESOME your mind will be BLOWN. (Hint: Shotgun and foe FALL THROUGH A 2
nd
storey WINDOW and land on top of a moving bus, and continue dishooming).
RISHI! (needs no further explanation).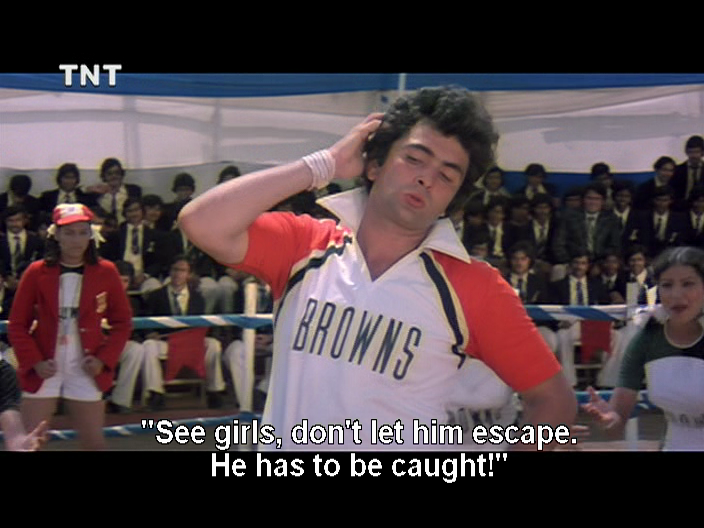 All time favourite Kapoor.
Okay fine. Rishi dresses up as Charlie Chaplin, has a song where he is playing kabaddi against a bunch of girls, and has the CUTEST song where he is imploring drunken Amitabh to give up the demon drink.
Disturbing trend (I DO NOT APPRECIATE THE HEARTBREAKING DRAMATIC IRONY):
Amjad pretending to have a heart attack.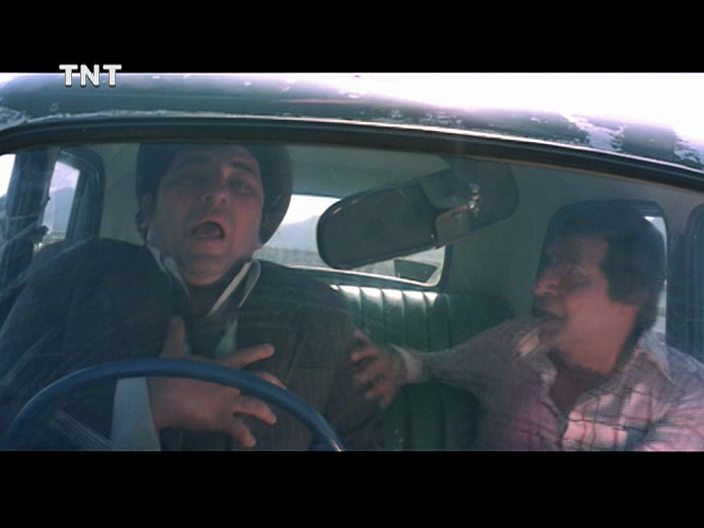 But he's just tricking (and look at his smile!)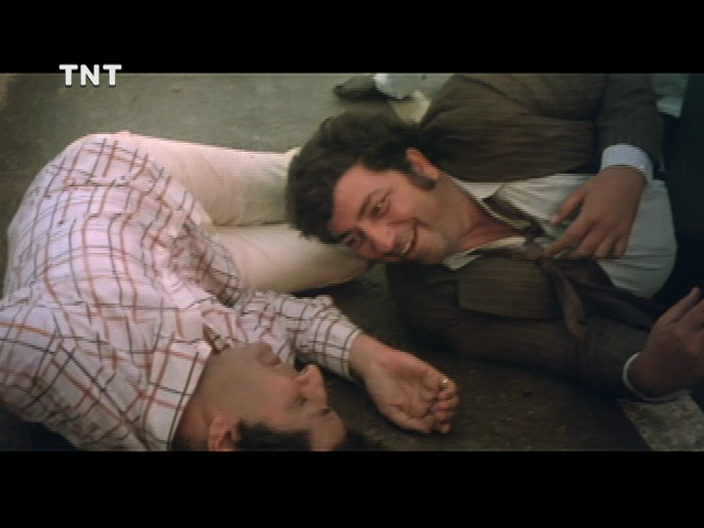 SWOOOOOOON. (Am I sick? Probably).