Aatank (Prem H. Lalwani, 1996)
I knew two things going into watching this film:
1. Aatank is kind of infamous on the internet as "The Bollywood Jaws". I haven't even seen Jaws, but seriously? Could I resist the lure of Dharmendra battling a BIG FAKE SHARK?


Obviously the answer is NO.
2. For some reason, this film has never been released in any format with subtitles. And I could only find it on VCD – so watching Aatank was always going to be ALL ABOUT testing/improving my Hindi comprehension. HOW HARD COULD FOLLOWING A NARRATIVE ABOUT DHARAM WREAKING HAVOC ON A BIG FAKE SHARK BE?
Well.
It turns out that Aatank is apparently about quite a lot more than just a big fake shark. And in fact, what I didn't know going into this film is the handy fact that my flatmate, who HAS seen Jaws, helpfully pointed out. The one thing Jaws and Aatank definitely have in common: A BIG FAKE SHARK THAT IS HARDLY IN THE FREAKING MOVIE.
Seriously. The best bits of this film are all over the internet, so save yourself a good…100 or so minutes of sharkless, actionless exposition and let Youtube do the hard work for you.




On the plus side – the bits with the shark are FREAKING AWESOME. Look at how…BIG! And FAKE! it is.


Anyway. Aside from Sharky – or, as Rum likes to refer to it: "Bahut Nakli Machali" (Big Fake Fish), there are like, A MILLION CHARACTERS in Aatank. This – and my sketchy language skills - may have slightly impacted on my comprehension of the story. But I think I followed it…mostly. EVERYONE is in this movie, so even though the story is kind of…meh, it's worth watching for the star power, if you are a Hindi celebrity worshipper like me.
The story, as far as I could make out goes like this: Dharmendra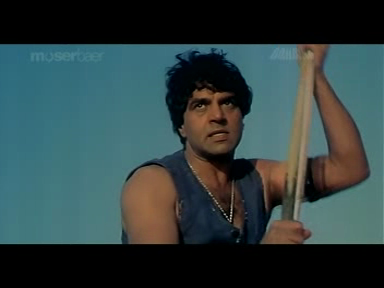 plays Jesu, the hero of the piece. We first meet him as a plucky orphan who takes the blame for some kind of mischief he and his pal Peter (Vinod Mehra)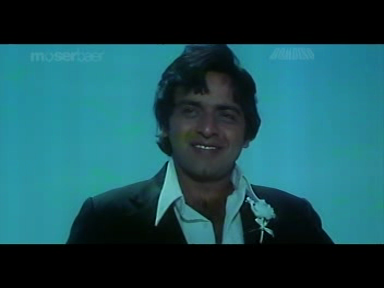 Interesting fact: Vinod Mehra is the guy who claimed to be married to Rekha. And Rekha denied it, and claimed he was just a "well-wisher".
are involved in – when they grow up, Jesu is the best man at Peter's wedding, only to then witness Peter be EATEN BY A GIANT SHARK only days later (when they are out searching the seas for Peter's new bride…who went missing while swimming on her wedding day…BECAUSE SHE GOT EATEN BY A GIANT SHARK). Jesu goes awesomely nuts, having just lost his best friend to a freaking massive man eating shark, and all crazy eyes and ranting "Yeh shark marenge!" (That shark's gonna die!) he storms off down to the beach to get vengeance.
Mixed up in there somewhere he also looks after his sister's kid and falls in love with Hema Malini.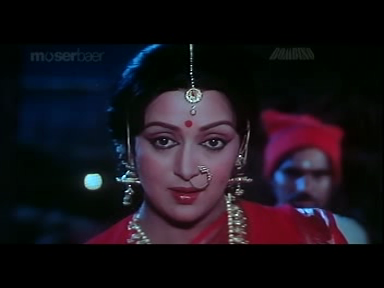 Okay next storyline: why have one villain, when you can have THREE? Amjad Khan,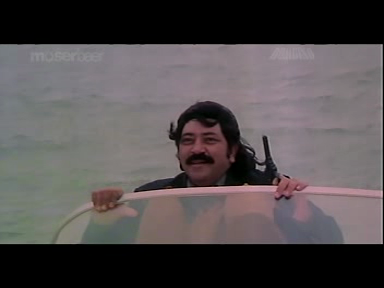 I really really love Amjad.
my favourite favourite FAVOURITE film villain plays Alfonso, who is, I think, the kingpin of some kind of smuggling operation; D'Costa (Kader Khan)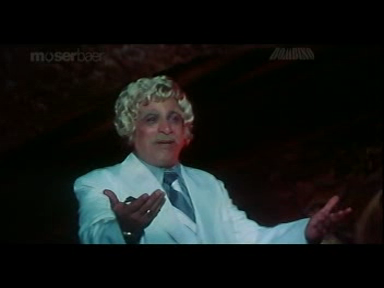 I do NOT love this look on Kader Khan.
and Ranjeet (played by…Ranjeet)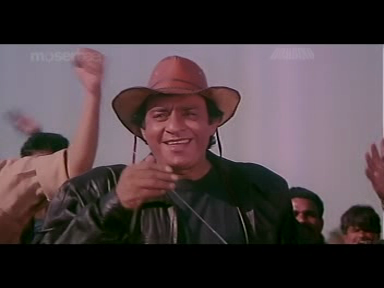 both play his henchmen. These guys were SUPER INTERESTED in black pearls – and at one point they actually FED A DIVER to the shark – so I'm thinking they didn't actually want Jesu to kill Sharky? Because it was some kind of security protection thing for their illicit black pearl smuggling? Ehhhh, I don't know, I wasn't too clear on this part, but I DO know that CBI AGENT RAVI KISSEN INFILTRATED THE BAD GUYS' GANG,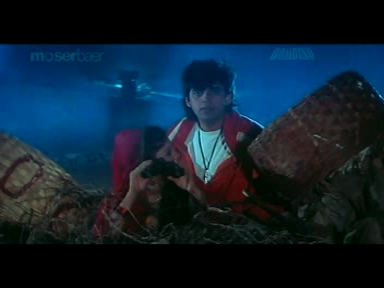 employing a cunning disguise to fool them!
BUT HOW DOES IT END?
Like this:

SHOCKER.

Actually, it all ends quite insanely abruptly. Amjad Khan, as Alfonso, by FAR my favourite character, is ENTIRELY ABSENT from the whole second half of the film except for a couple of token shots of him arriving, inexplicably, on a jetboat at the end to see the shark get slaughtered. Kader Khan as D'Costa is NOWHERE TO BE SEEN. A helicopter explodes for NO REASON except to lend a big flashy explosion to the proceedings, and then BOOM, the shark is dead in a gush of blood, THE END.

See below for why this movie, I think, was never actually ABLE to be finished properly and thus is a sad kind of mess. It's far from awesome; nor is it soooo bad it's a guilty pleasure.It just kind of...happens...until something awesome like BIG FAKE SHARK or Dharam yelling BAAAAASTARD or Amjad just STANDING THERE or Ravi Kissen in a huge fake mustache liven up the proceedings a bit.



A NOTE ON HOW AATANK ACTUALLY ALSO MADE ME QUITE SAD:
In case you didn't pick it up from the extreme pyaar above, I really am very fond of Amjad Khan.


As soon as his character started speaking in the film, I realized it wasn't Amjad's voice, but a different actor dubbing it. Then I saw that Aatank was released in 1996, a good 4 years after Amjad Khan died way too young (he was 51, I think) from a massive heart attack.
The film was obviously shot sometime in the 80s, judging from how Amjad looks (he was involved in a serious car accident in 1976, and struggled with his weight following the accident due to the medication he was put on) compared to
how he looked near the end of his life
.
For some reason obviously the film was delayed – you can see in a few shots that Dharam and Hema have filmed scenes YEARS later.
Dharam looks a bit older and more haggard compared to the 80s hottie of the pics above.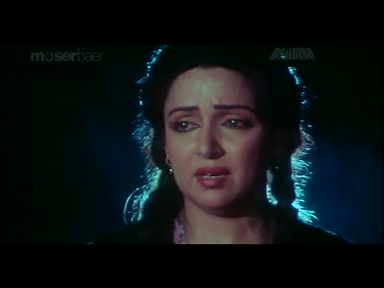 Hema holds up a bit better. But you can tell this is years later. COME ON.
I'm thinking the film was NEARLY finished, but NOT FINISHED, sometime in the 80s when something delayed proceedings - like running out of money, or a lack of interest in big fake shark movies, or something, and the project was shelved.
And then for some reason in 1996, someone thought it was a great time to revive it. Despite the fact that the entire film obviously needed to be dubbed, and two of the major character actors had sadly died in the interim (Vinod Mehra also died too young, also of a heart attack I think), plus I am pretty sure someone else dubs Kader Khan's voice too; despite the fact that filming was clearly NOT FINISHED - hence the absence of MAJOR CHARACTERS from the second half...
it's kind of astounding. And it STILL HAPPENS! This November a Govinda/Priyanka film called Junoon is allegedly being released, after sitting on the shelves for 5 years. It...does not fill me with the joy you'd expect, having seen the HOT MESS that is Aatank.