Dabangg (Abhinav Kashyap, 2010)
If there's one thing that Salman Khan has clearly figured out how to do, it's HOW TO GIVE THE AUDIENCE WHAT THEY WANT.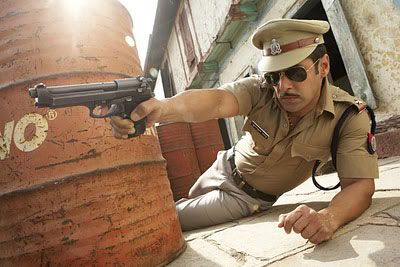 What this particular audience member wants does indeed include Sallu firing a big gun. HEEHEE.
Dabangg is nothing but pure unabashed, unadulterated, JOYOUS entertainment from start to finish. Sallu and team know what gets the dil of the masses pumping, and boy oh boy – I've only ever watched one other film in a cinema and had so much fun (it was a Japanese horror film in a cinema full of Asian students. Much screaming, giggling, clutching of strangers and throwing of various objects all over the cinema was had by all, and my god, it was INSANELY FUN).
The complaints I have read about the film from the people who haven't enjoyed it seem to focus – and entirely legitimately, I might add – on a lack of…substance; the existence of kind of gaping plot holes that are there if you think about the admittedly fragile plot too hard; and the way the character of Chulbul Pandey is kind of over the top (for example – he repeatedly pauses, mid fight, to dance to a ringtone version of Jalwa from Wanted). I even read a review today, somewhere that complained something like "I mean, how can you take this movie seriously?"
I guess it all comes down to what expectations you go in with, but based on the glorious, colourful, cartoonish trailer (which, in using the phrase "BAD ASS ROBIN HOOD" to describe the main character, did not at all suggest to me anything resembling an art film or a gritty, substantial drama – like, how CAN you take it seriously, and why would you even WANT to?), and based on Sallu's most recent filmi incarnations, I expected nothing more than an entertaining popcorn flick.
Naturally, it being Sallu, there would be conditions. For example: I'd expect the plot to exist predominantly as a platform to provide opportunities for AWESOME ACTION SEQUENCES and TOUCHING ROMANTIC/SENTIMENTAL INTERLUDES rather than as…I don't know, an instructional instrument for social change, or whatever the critics clamouring for substance were expecting. In this kind of film, I am totally okay with not needing to know specific details of XYZ or with things not necessarily making a bunch of sense. It's a glossy, popcorn action flick! People routinely DEFY THE LAWS OF GRAVITY! If you can accept that, then COME ON, you can be generous in your suspension of disbelief with regards to various plot points.
I'd also (and this one I made sure to point out to my unfamiliar-with Bollywood-films viewing companion, in order to adequately prepare him for the relevant scene) expect Sallu to lose his shirt in an awesome manner at a pivotal point in the film. HE DELIVERS ON THIS, and so much more, you guys.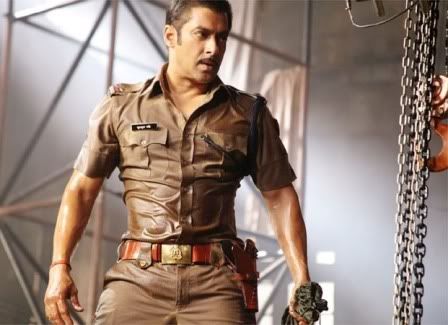 Like getting SOAKED IN GREASE for our enjoyment. OH YES.
Dabangg
totally exceeded
my expectations. Not only was it HILARIOUSLY, WILDLY ENTERTAINING (plus a little bit mushy and moving in all the right places) – I was hooting with joyful laughter for the entirety of the first fight scene – but by the end of the film…
(You guys know I used to kind of avoid his films in my early Bolly-viewing days right? I thought he was kind of a thug).
I HAVE THE HUGEST CRUSH ON SALMAN KHAN. It's totally the muche.
Plus: Sonu Sood, where have you been, all my Indian film viewing life?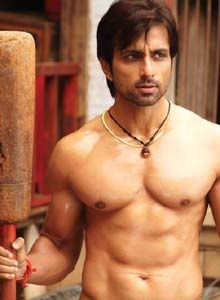 Seriously. I need more Sonu in my life. NOW.
Dabangg is centred on Chulbul Pandey, a.k.a. "Robin Hood" Pandey, a corrupt cop who pretty much rules the roost in his area in Uttar Pradesh. He's totally dabangg (fearless) and does what he pleases. Through a bunch of political stuff involving Anupam Kher that doesn't really matter – all you really need to know is that Sallu = good guy, Sonu = bad guy; Chulbul is put firmly at odds with Chedi Singh, a local politician/goonda who is a SMOKING HOT VILLAIN who manipulates CHULBUL'S OWN FAMILY AGAINST HIM.
And THAT leads me to what Dabangg actually is: a family melodrama about Chulbul Pandey's need to find a family after a sucky childhood and after his stepfather (Vinod Khanna FOR THE WIN!!!) and his stepbrother (Arbaaz Khan – not even annoying!) turn on him. All wrapped up in a shiny, colourful comedy/action package, with lashings of the divine Dimple Kapadia as Chulbul's long-suffering maa; the gorgeous, gorgeous, gorgeous (yes I really did have to say it three times) and clearly talented Sonakshi Sinha in an impressive and confident film debut as Chulbul's love, Rajo, and a touch of the lovely Mahi Gill (last seen in Dev.D – to be honest, I would have liked to see more of her in Dabangg, she is wonderful).
So many people have made Southie film comparisons, and I honestly am probably not qualified to comment, having only seen a handful of SI flicks, but what I've been watching a LOT of recently is 80s Bollywood action flicks (starring Govinda!) and Dabangg really reminded me of some of these. There's the cheesy, hilarious dialogue, the over the top, hugely entertaining fight scenes, a storyline very much focussed on family and making emotional connections, and a sweet love story! I know some people feel like the film lacks a squishy masala dil, but I don't have that complaint. It hit me like a tonne of bricks in the centre of my chest.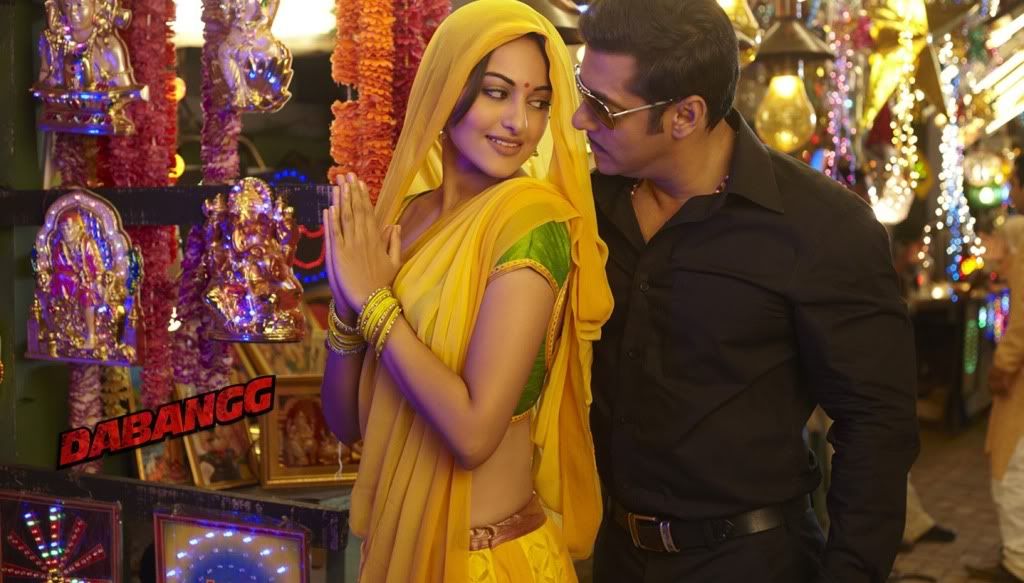 And I know everyone is going nuts over the item number Munni Badnaam Hui (and it IS awesome) but the song I can't get enough of is Chori Kiya Re Jiya. I'm such a sucker for a love song, and the bit where Chulbul is cheering Rajo up with the coloured scarves?
There's your squishy dil, right there. Sonakshi and Sallu, 4 EVA.
I LOVE THIS MOVIE WITH THE POWER OF A THOUSAND BIG RED NEON HEARTS. PYAAAAAR PYAAAAAAR PYAAAAAAR! Full paisa vasool, people, FULL PAISA VASOOL.