Raavan (Mani Ratnam, 2010)
Raavan is one of the most intricately constructed, challenging, puzzling and rewarding films I have ever encountered. It's not a film you watch for light entertainment, or approach half-heartedly; it's a film you need to choose to actively engage with: it raises questions for the viewer, on many different levels. It's unrelentingly bleak, and harrowing, a journey deep into a timeless heart of darkness, with no specific geography other than the suggestive name "Lal Mati" (Red Earth) to situate us in any socio-political context. Raavan is, above all, unapologetically, purposefully obtuse, a jigsaw puzzle of a film that starts in media res and circles around and around, revealing the merest fragments of information in gasps and stutters, that we as an audience can then piece together into a meaningful whole.
In the days following Raavan's cinema release, reviews inevitably ended up comparing it to its Tamil counterpart, Raavanan, and pitting Abhishek Bachchan's controversial portrayal of Beera as a manic, brooding savage against the passionately angry yet more balanced and grounded Tamil film counterpart, Veeru, played by Vikram (who also appears in the Hindi film as Dev, the police inspector hunting Beera down). Abhishek has been widely slammed for his performance in Raavan, and unfairly so. The films are not carbon copies of each other, nor are they mirror images – there are enough striking differences: in characterization, in the dialogue, subtle changes in the editing, changes in the way scenes are played out – that suggests Mani Ratnam had a specific, unique vision for each film. Why make two otherwise?
Having seen Raavanan once, and Raavan three times now, I'm firmly of the opinion that the films are not made merely to be compared, but exist as extensions of each other. Two sides of a coin; light and dark; interlocking fragments of a coherent whole. A little context, a little knowledge goes a long way – and I'm convinced that my initial impression of the Hindi film was incomplete and flawed, because I hadn't yet seen the Tamil version that would give me a context, a position to view the Hindi film against; and I am certain my enjoyment of Raavanan was coloured through a lens of having already seen Raavan. My impression (and bear in mind, I HAVE only seen the Tamil film once, and am waiting desperately for a dvd copy) is that Raavanan is by far the more accessible film, with a more straightforward love-story and more clear-cut, understandable motivations for the central characters.
Raavan…well, Raavan is a little more difficult initially…but so, so satisfying. It's very rare that a film is released that can continue to surprise and challenge and deeply affect me with repeated viewings, and Raavan, so far, is proving to be one of those precious films.
The story begins when Beera (Abhishek Bachchan), the leader of the Lal Mati region, kidnaps Ragini (Aishwarya Rai Bachchan), the wife of the recently posted local police inspector, Dev (Vikram). Beera takes Ragini deep into the jungle as his captive, intending to kill her, but discovers he is incapable of doing it. At the same time, Dev assembles a team of police to search the jungle for Beera and Ragini, aided by forest ranger Sanjeevani (Govinda).
In question are each character's motives: why has Beera kidnapped Ragini, and why can't he kill her?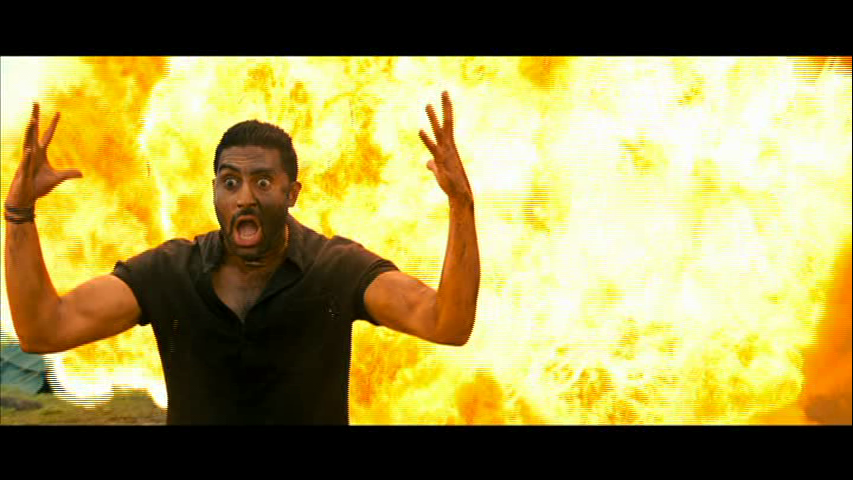 Why is Dev really searching the forest – to rescue Ragini, or to wreak vengeance on Beera?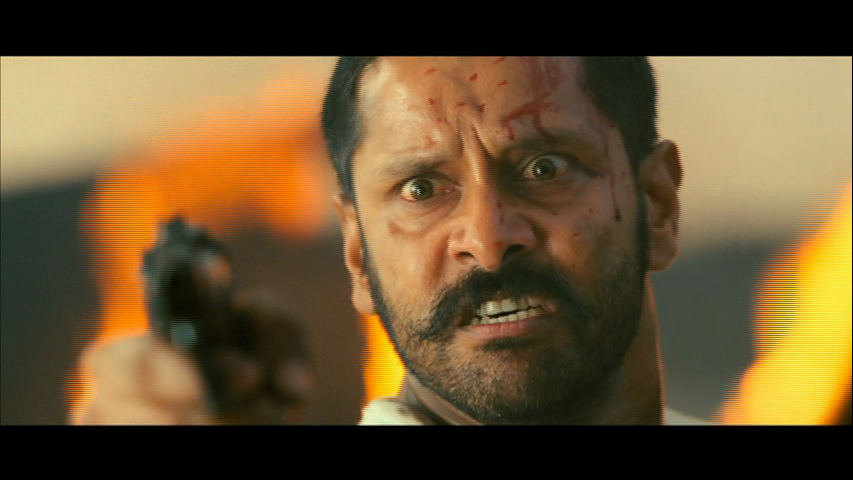 And who is the real "Raavan" (villain) of the film's title?
Ragini's relationship with Beera is where Raavan differs quite markedly from Raavanan, and where the film has (I think quite undeservedly) received a lot of criticism.
Ragini is central to the story, as we see each character through her eyes, and our perceptions of Beera and Dev alter according to her interactions and experiences with them.
In the Tamil version, my impression is that there is near instant chemistry and attraction between Ragini and Veeru, and an interesting mention that her marriage to Dev was arranged (a plot point absent from Raavan). Ragini initially resists her kidnapper, but clearly succumbs to a physical, mutual attraction with Veeru, though neither party acts on it. The chemistry between Vikram and Aishwarya is palpable and delicious to watch, and certainly their roles were not accidentally played that way.
But in
Raavan
, I've read so many negative reviews declaiming the lack of sexual chemistry between Abhishek and Aishwarya. There is a connection between Beera and Ragini in
Raavan
, but it is harder to figure out, not so immediate, and for a long time, seems very one-sided. Beera feels something for Ragini, some kind of connection, while Ragini just wants Dev to come and find her.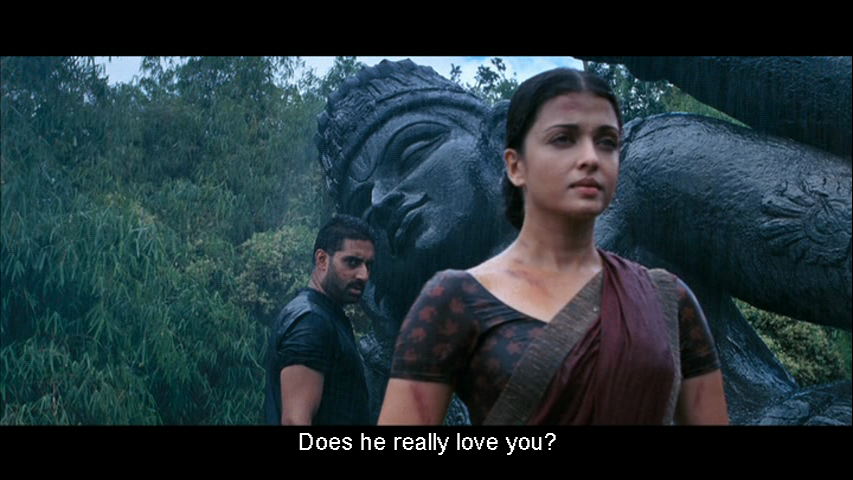 What if it was supposed to be that way? What if it's the other side of the coin? What if, in exploring dichotomies, Ratnam divides women into lovers/wives on one side, and sisters/mothers on the other?
Look:
Beera takes Ragini to the cliff top to kill her, and can't do it, because she reminds him of his sister Jamuniya the last time her saw her, when she returned from the police station after being gang-raped by Dev's officers.



Like Jamuniya, Ragini is traumatized, and she won't stop talking: bak bak (it means chatter, or blabbering – Jamuniya had said to Beera "Tumhare bak bak nahi suni karegi"


which the subtitles translated as "I won't have to listen to your nagging" before, gut wrenchingly, he placed his hand over her mouth


because he couldn't stand to listen to any more of her harrowing story).
So Ragini, determined to have power over her own death, jumps off the cliff. And gets caught in a tree, before falling into the water.


And something about the sight stuns Beera – not just that it is shockingly beautiful. Something else, because later in the film, he imagines it again, and the memory traumatizes him, triggering his wild-eyed "bak bak" tic.
And I think it's because it reminds him of this:
That's not to say he literally regards Ragini as his sister – but I think he suddenly sees a powerful parallel between Ragini and Jamuniya, and realizes that the way he treats Ragini will define him in contrast with the policemen and how they treated Jamuniya. Beera has a moment of awareness, and awakening, and clearly delineates his moral code through his treatment of Ragini from this point on (though it does get a bit murky – though he refuses to hit her to make her behave when their photo is being taken, he grabs his brother Mangal's hand and makes him do it instead…)
One of the most powerful moments of the film is the erotically charged moment when Ragini fights back against Beera, striking him and drawing blood, which apparently elates him. The entire fight, he only defends himself, never striking her; when the fight is over, he stands behind her (and she is terrified) as if to embrace her, and yet he still won't even touch her.
This becomes all the more significant at the end of the film, when Dev casts aspersions on Ragini's honour by claiming Beera bragged to him that he touched her with his 'sullied hands".
Once you figure out a framework for understanding Beera's alienating tics and erratic behaviours – and I don't believe Beera is a schizophrenic or suffering multiple personality disorder – Abhishek's performance reveals itself as totally and utterly compelling.
I know I'm probably still firmly in the minority here, but I really do think that his Beera is an incredible, complex characterization of someone who is not crazy, but a fragile, volatile revolutionary made raw and vulnerable with grief.
Vikram, playing Dev, Beera's foe, is equally as complex a character, if not as overtly.
While he is openly singleminded in his pursuits – telling Ragini he can only be one thing at a time, a policeman, or a husband –
some of his actions in the film position him firmly in a grey area, between 'good' and 'bad'. Vikram plays it fairly straight – leaving us to interpret his actions through Ragini's eyes, or our own moral filter. Anyway, for his Hindi debut, the guy does a good job.
Aishwarya Rai Bachchan is luminously beautiful – it's even more apparent because she is scratched and bruised - throughout the film, and though she has never been one of my favourite actors, there are several moments in
Raavan
where her Ragini: alternately feisty, anguished, yearning, confused, and for an all too brief, wonderful moment, elated, is absolutely note-perfect.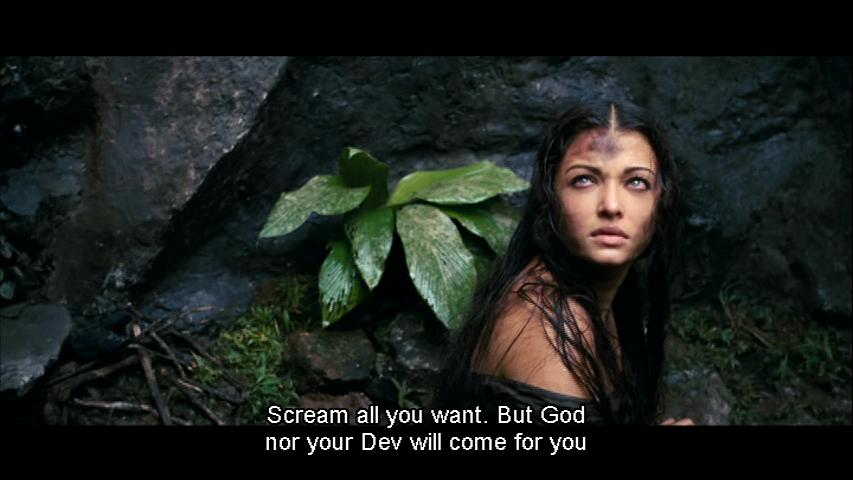 Fun fact: Dev means God. So that's a pun, sort of, too.
Many others have said it and I'll echo it – Aish seems to benefit from a skilled, confident director, and there are several points in
Raavan
where she seems to rely less on looking pretty and more on actual subtleties of expression.
I do believe that it's from her point of view that we see the other characters – so in
Raavan
, where Ragini is desperately yearning for Dev a lot longer and a lot more fervently than in
Raavanan
, the first part of the film - Ragini isolated in the wilderness – seems very long and unsettling and bleak.
The supporting actors in Raavan are all outstanding, but three deserve special mention as being particular highlights of the film: Priyamani as Beera's sister Jamuniya;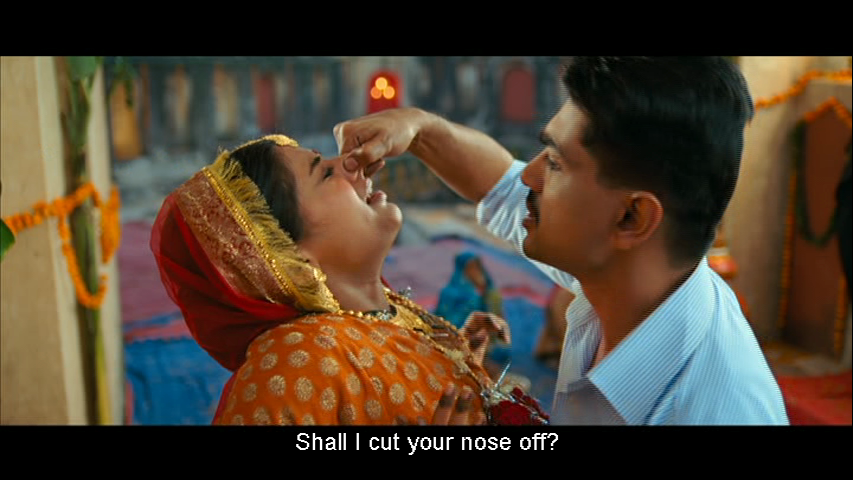 I was unaware on my initial viewing of the film that this is an explicit reference from the Ramayana, and one that is sometimes interpreted to be an allusion to... what later happens to to Jamuniya in Raavan.
Ravi Kissen as Beera's older brother Mangal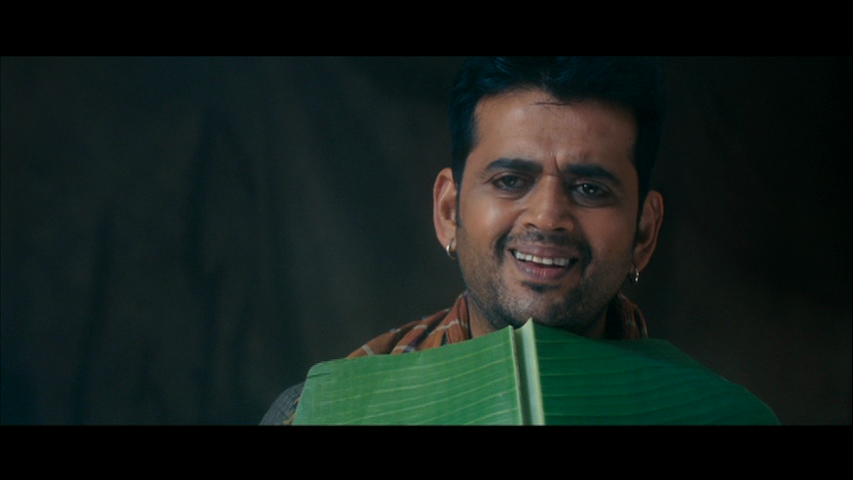 and my dulaara Govinda as the forest ranger, Sanjeevani.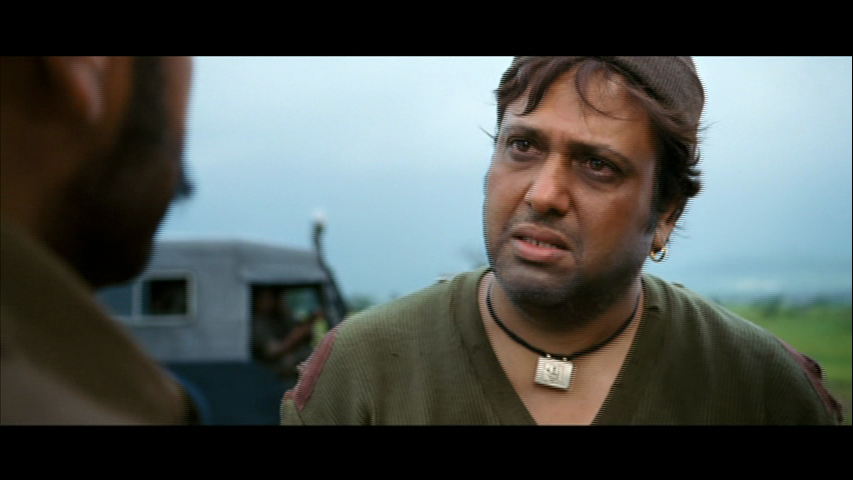 While none of the aforementioned actors have a great deal of screen time, they each make a particularly strong impact – Priyamani in a short time establishes a convincing, touching sibling relationship with Beera, and the central motivation for Ragini's kidnap; Ravi Kissen exhibits a controlled, frenetic energy in contrast to Abhishek's wilder, looser Beera, and is generally just a magnet for the eye every time he is onscreen; and Govinda…do I even need to tell you that Govinda is one of the main reasons I even saw this film in the first place? His Sanjeevani (a reference to Hanuman the monkey god of the Ramayana, just one of several Ramayana references in the film, the title being another) is cheeky and playful when content; yet sullen and aggressive when crossed. He's wonderful, and makes his meager time onscreen a joy to watch.