Humko Tumse Pyaar Hai
(

Bunty Soorma
, 2006)
So here's my final Shameful Pleasures Week confession: I'm a big filthy liar.
So…yeah…so maybe that's not quite accurate. Because in my dvd collection there is one gleaming beacon of pure shame. AND PURE AWESOME.
The film I bought solely for Bobby Deol.
Do I even need to explain just how awfulsomely wonderful this film is? It's totally the ultimate Shameful Classic in my collection.
I BOUGHT IT FOR BOBBY DEOL, knowing FULL WELL who his co-stars were. Arjun Rampal, though many find him amazingly pretty, has never held the SLIGHTEST attraction for me and while he is not…awful…is one of those actors that is at best described as pleasantly adequate.
...I bet that wish was not to be described as "pleasantly adequate", Arjun.
Ameesha Patel on the other hand, is an actress whose tendency to WILDLY OVERACT tends to grate on my nerves most of the time.
Luckily, in HTPH, Arjun and Ameesha are PERFECTLY cast. Arjun, as a pleasant, handsome typical Bollywood hero who falls in love with Ameesha; and Ameesha, AWESOMELY as OMG ARE YOU READY FOR THIS: a blind village sculptress who starts the movie by trying to commit suicide because her true love (Arjun) is dead; who then regains her sight and falls in love with a total spunk in Switzerland (Bobby Deol!) and then gets embroiled in a tricky, uber melodramatic love triangle when her true love (Arjun) COMES BACK FROM THE DEAD and turns out to be Mr Switzerland's BEST FRIEND.
It's like Ameesha, with all her previously annoying overacting, wailing, gnashing of teeth tamashas, has just been practicing for this, THE ROLE OF A LIFETIME, and boy does she do it justice! You have not LIVED until you have experienced her amazing "I am stretching my hands out in front of me dramatically feeling the air" blind acting. IT. IS. BREATHTAKING.
Seriously – the first half alone brings the crack. Who WOULDN'T want to see Arjun Rampal kinkily smeared in clay? Or blind Ameesha wildly flailing about in a massive house fire? Or…this FREAKY THING THAT'S SUPPOSED TO BE ARJUN RAMPAL:
Uhh, this is supposed to be a) proof of Ameesha's AMAZING sculpting talent and b) her love for Arjun Rampal's character. CRACKTASTIC FAIL, ANYONE?
But the film really hits its stride post interval, when…sigh…Bobby Deol shows up. Here, swoon with me: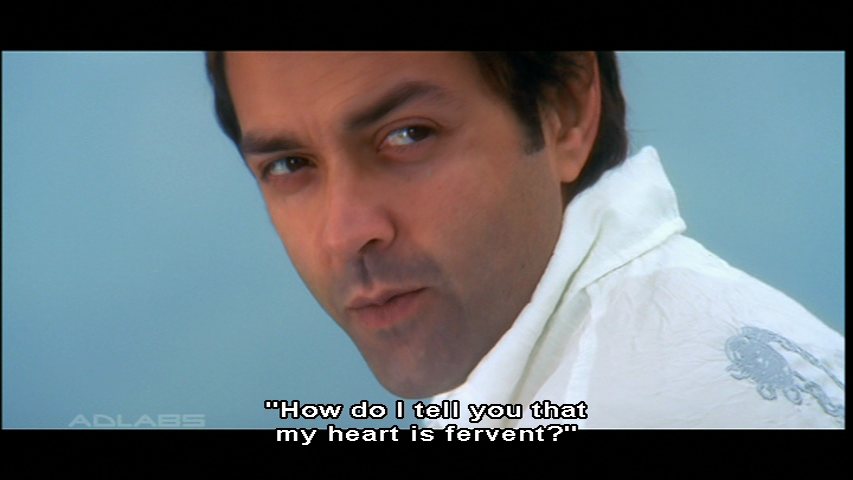 I FREAKING LOVE YOU BOBBY DEOL!
It's so MELODRAMATIC AND ROMANTIC AND WONDERFUL! This movie is ACTUALLY terrible and I will hide it from any of my friends, and deny owning it, but seriously – ALL TIME FAVOURITE. Oh, the shame.
If it wasn't enough of a hint that I BOUGHT THIS FILM SOLELY FOR BOBBY'S PRESENCE, the fact that in screencapping HTPH, I seem to have, um…neglected many of the film's significant moments in favour of capturing more and better Bobby shots.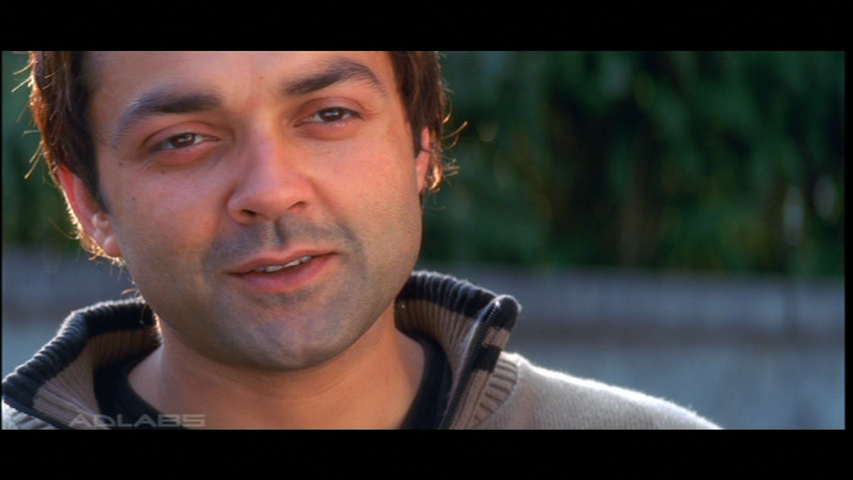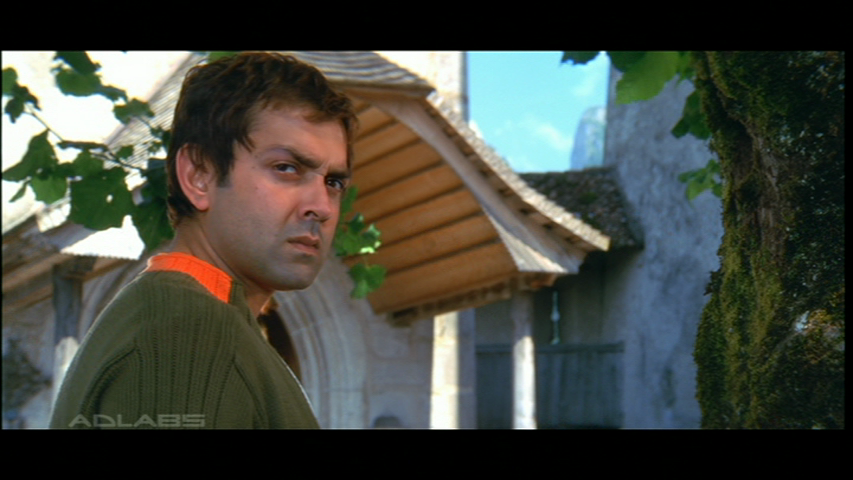 See how versatile he is?
See Bobby SCOWL.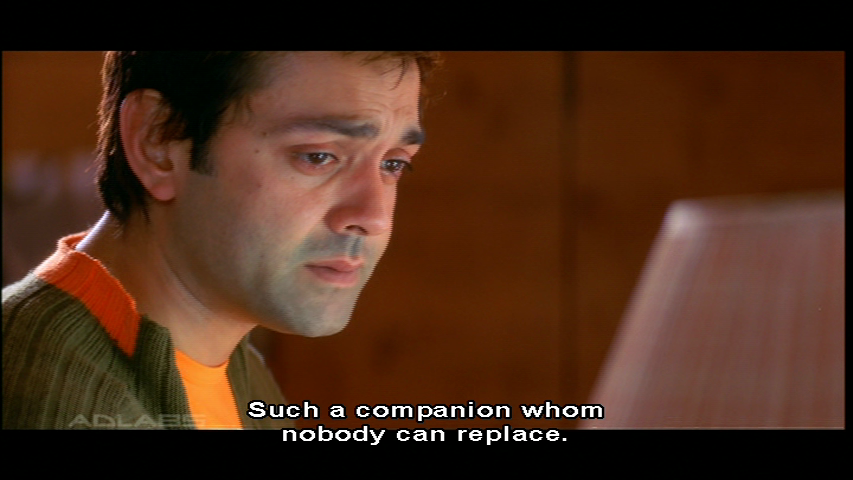 Tragic Bobby tears! Scho SCHWEET.
MY heart is certainly fanatical.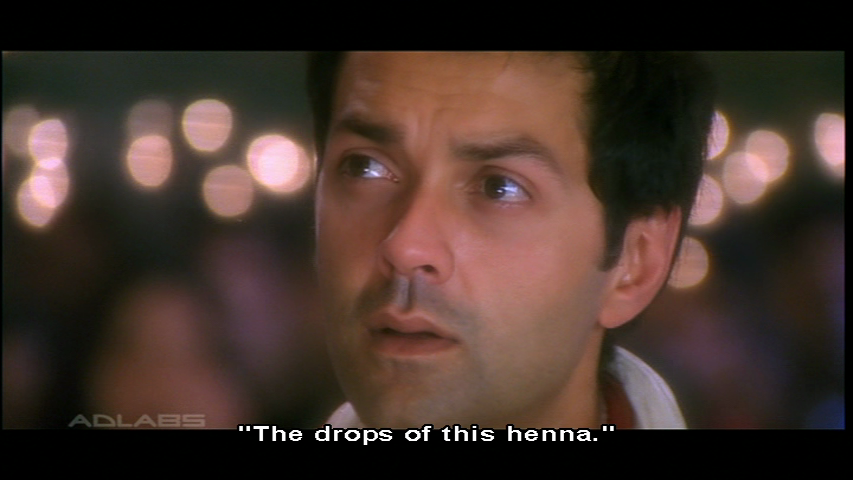 In this shot, Bobby demonstrates some AWESOME eye acting. Sigh. I LOVE YOU BOBBY.
I decided to leave it that way to as to honestly reflect the true shameful nature of my relationship with this film. So you just have to trust me, Ameesha and Arjun are ACTUALLY in this film, and a bunch of stuff actually happens without Bobby, BUT I HAVE NO PICTURE EVIDENCE. Because Bobby is the reason I bought this film after seeing a clip from it in my local Indian restaurant. ("Is that Bobby Deol? In a movie with Arjun Rampal and Ameesha Patel? I MUST SEEK IT OUT AND OWN IT!")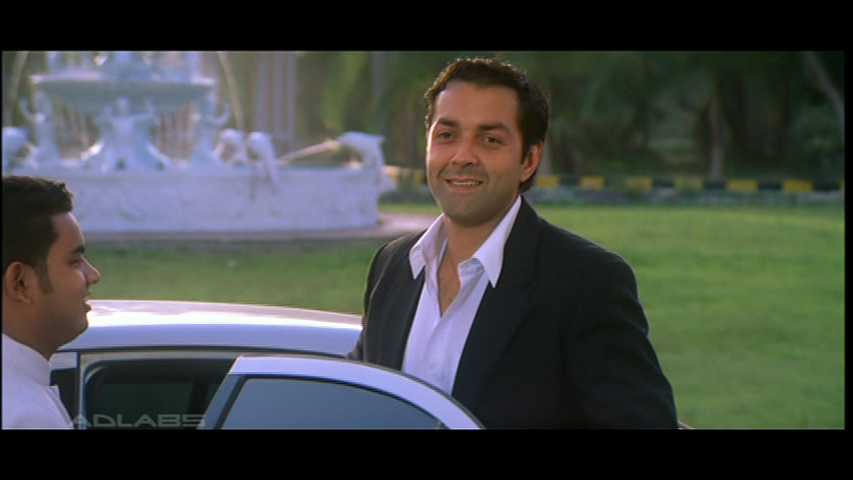 Count yourselves lucky I managed to restrain myself from posting the other 50+ Bobby shots. FOR REAL.
SERIOUSLY, WHAT IS WRONG WITH ME?!
EDIT:
I actually wrote this post, and in fact most of the Shameless Pleasures posts a few days in advance of their actual publishing dates because I am EXTREMELY WELL ORGANISED LIKE THAT. But, um...since I actually wrote anything about Bobby Deol...well. HE'S BEEN ON MY MIND.
Shocking admission NUMBER TWO: remember how I vowed I could NEVER buy this:
Yeah, well. Guess what?
I suck at the whole resisting temptation thing. BIG SURPRISE.