Laaga Chunari Mein Daag: Journey of A Woman (Pradeep Sarkar, 2007)
Objectively, I'd say that this film is fairly mediocre. It probably has more in common with, I don't know, a made for TV movie or a lurid miniseries or something, in terms of the glossy, melodramatic, extremely uneven treatment of its (quite unusual for a mainstream Hindi film as far as I can tell) subject matter. I mean – even as I was watching, I was thinking up vaguely unfavourable comparisons with Diary of a Callgirl, or phrases like "Pretty Woman, but with more melodrama and more dancing".
And yet…there was something about Laaga Chunari Mein Daag (My Veil is Stained) that kept me riveted.
What it is, essentially, is a family melodrama. Vibha (Rani Mukherjee) and Chutki (Konkona Sen Sharma) are sisters living with their parents (played by Anupam Kher and Jaya Bachchan) in a crumbling mansion on the banks of the Ganges in Benares. The family's financial situation is dire – Vibha never finished school, having to drop out to help her mother earn what little income they can with sewing and mending garments while they support Chutki through college; the father has some kind of addiction to lottery tickets and basically doesn't get involved in the stressful day to day running of the house.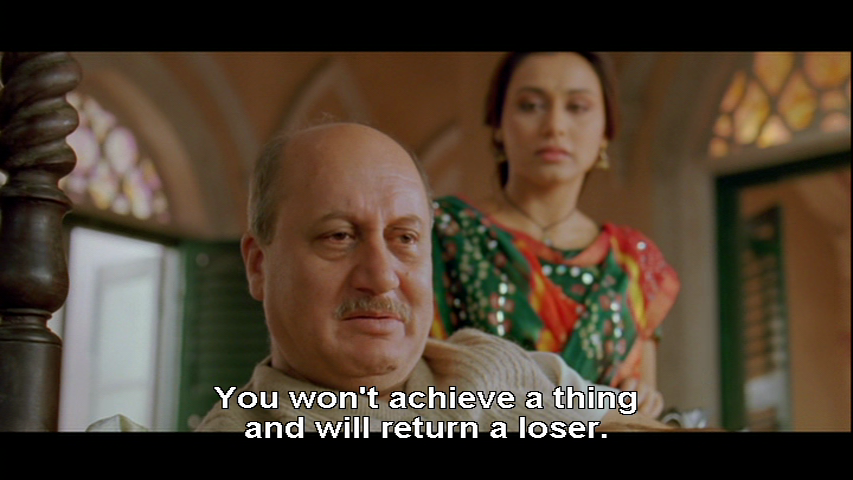 He's also like, the least supportive dad IN THE WORLD.
The house which may even be snatched from them by greedy evil Uncle Rajju who has some kind of claim and is waging a lengthy and costly legal battle for rights to the property.
So the stresses pile up, until Vibha decides to move to Bombay to get a job to support the family better. Only – she lies and tells her parents she is already set up with a job and accommodation before she leaves – and when she gets to big bad Bombay, finds out it's not that easy for a village girl with no qualifications to get a decent job in the city.


And then, the stresses on the family in Benares pile up even more, and Vibha reaches a desperate breaking point, and makes a significant decision that will impact the rest of her life. She sleeps with a man who says he will give her a job. And big surprise, there is no job.
So Vibha ends up becoming a high class escort.
It's really not quite as black and white as the series of events I just laid out – and if it had been, I probably would have switched the film off within minutes, because there's only so much lurid, simplistic melodrama one can take. Vibha's eventual transformation into Natasha, a high class prostitute,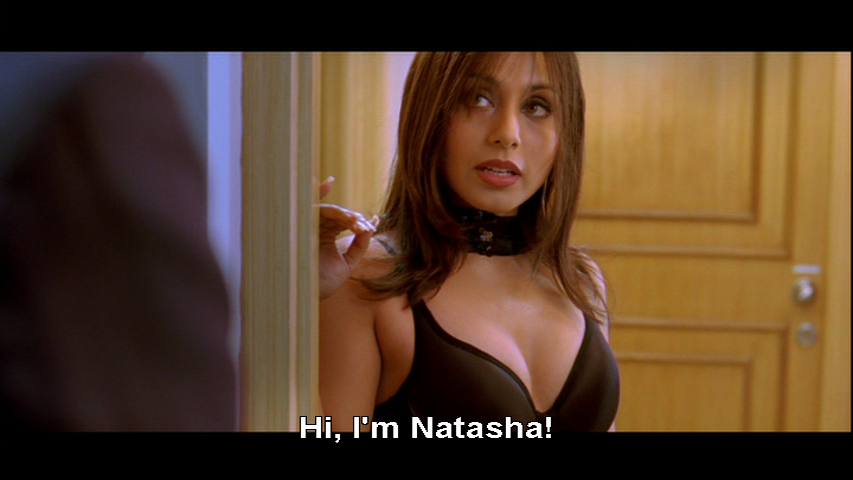 is slightly more complex, and I think that the film made even the slightest attempt to show, psychologically and emotionally, how she could end up in a situation that seems unimaginable at the start of the film, when she and Chutki are gleefully secretly watching what the subtitles called a 'cabaret performer' – really, an old-school courtesan (Hema Malini, and she is so gorgeous) – dance (and her forbidden "Christmas tree" glamour is scandalous to them ) is the sort of thing that interests me in films like this.
Really, the plot of the film is nothing particularly superwow, and I can see how viewers coming to it expecting the usual Yash Raj entertainment fare flocked away in disappointed droves. But honestly – someone made a point to me today about how not every film has to be a great film, and how even flawed films can have merit, and as I watched LCMD that sentiment really kept replaying in my head.
So – even though this film may not be earthshattering, it does have the following things going for it:
Rani Mukherjee. If there's an actress I really miss seeing in current films, it's Rani. She is so, so good, and this film, though really and truly filled with fantastic actors, really does belong to her. I can't help but think that this seems like a risky role for her to have taken on – and maybe that risk didn't pay off so well for her.
The characters are complex and presented somewhat realistically. This a) might sound weird for a melodrama and b) really is just how I viewed it, and I'd be interested to see whether it's just my peculiar filter or not, but, for example, I really thought the presentation of women was…yes, realistic. In terms of at least they weren't cartoony stereotypes. Maybe I was just expecting characters to fall into the whole virgin/whore dichotomy – you know, women in film have to be one or the other, but for example Jaya Bachchan's character was pleasingly complex: the mother who is trying to do the best she can for her family; who suspects her daughter's shameful secret but accepts the 'dirty ' money out of need; but then turns on her when she thinks it will threaten the future happiness of the family. She is a mother, and she is trying to keep her family together the only way she knows how, and she makes flawed, incomprehensible decisions, and is honestly heartbreaking when she breaks down and says "I failed as a mother".
Vibha is described by Hema Malini's courtesan character as having 'innocent eyes' – even upon her return from Bombay (e.g. after years as a prostitute), implying she is pure of heart and soul, if not of body. This is backed up when
MAJOR SPOILER ALERT
Rohan (Abhishek Bachchan, in an 'extended special appearance' that LITERALLY made me squeal with joy, I love him and Rani onscreen together SO MUCH)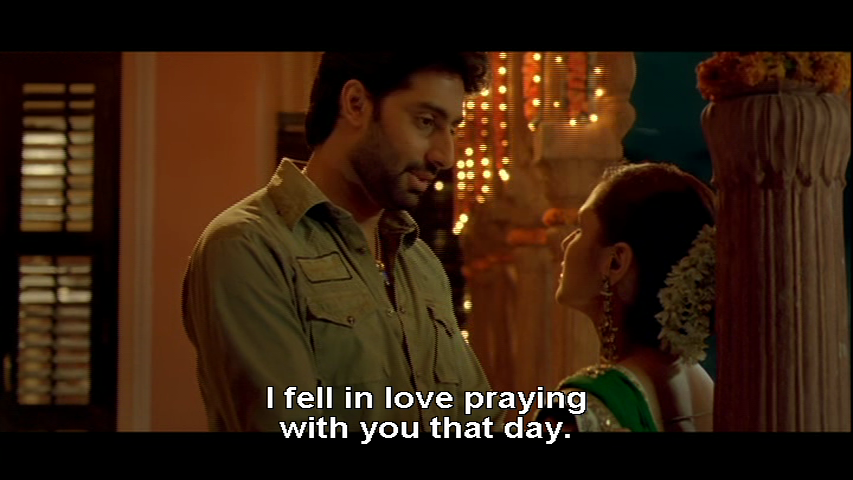 Sigh. Abhi and Rani. 2nd favourite jodi. EVER.
proposes to Vibha and she finally decides, against her mother's wishes, to tell him the truth about her job, and be open and honest – pure of soul and heart – so that any relationship they have is based on honesty. Hah okay so that sounds cheesy and maybe a little less than realistic. I don't know. I'm a romantic.
And though I do take task with the extremely uneven presentation of 'strong women' and feminism in this film – for example, Chutki gets an awesome job in advertising, gets an awesome account, all on her own merit…then crumbles at the last minute because she can't think of a presentation. It's okay though, because Kunal Kapoor saves the day and it's ALL AN EXCUSE FOR THEM TO FALL IN LOVE. Couldn't she have just…done a kickass presentation, and Kunal could have fallen in love with how amazing she was THAT way? Ugh, anyway – ultimately there is a message that women are NOT just emotional fragile creatures that need men to look after them; but that women are strong, independent, and capable of whatever they freaking want. Which is actually quite refreshing.