Ssukh (Kirti Kumar, 2005)
Ssukh
is not a film I would recommend to a casual or new Govinda fan – to put it bluntly, it's not Chi Chi's best work. Not only is Govinda possibly close to the heaviest he has ever been in a film (which is initially surprisingly distressing to see, coming off viewing a marathon of Chi Chi films from the 80s and 90s), his hair is...really not great, the script is just…mediocre, and uneven, and old-fashioned, and actually gets a bit preachy.Which understandably, some people may not get too excited about. For the critics,
especially the ones who were seemingly uninformed or unwilling to see Govinda as anything but a madcap, slapstick hero
,
Ssukh
commits the gravest error of all:
it's not actually a comedy
.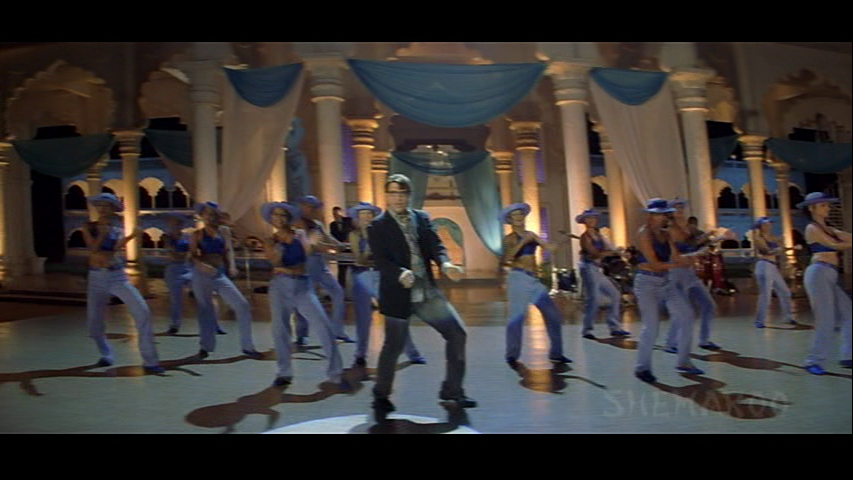 Extra weight doesn't stop Chi Chi rocking it in some awesome dances. None of which are on Youtube.
Unsurprisingly,
Ssukh
was pretty much universally met with dismal reviews and terrible audience turn-outs on its release: unanimously regarded as a total flop. And I'm not going to lie to you: there are very valid reasons why this film doesn't appear on any "Timeless Classic" lists.
The thing is, despite all of that, I have quite a lot of affection for Ssukh. I find this film so interesting, given the context in which it was produced.
Released in 2005, Ssukh is the only film ever released under Govinda's home banner "Govinda No.1 Films" with Govinda acting as producer. It was the film that supposedly marked his 'come-back' from a couple of years of self-imposed exile from Bollywood, time which he had spent pursuing an ill-starred political career.
I'm always interested in actor's "home productions" because it seems to me that the projects they choose to invest their time, and more significantly, their money in, tell you a lot about them as a person. Because you could go one of two ways: be extremely business-savvy and pick a project that you think will be a sure-fire hit with the public and a guaranteed earner; or invest your time and money in something that is personally meaningful to you and reap the rewards creatively if not financially. (Indeed -
Ssukh
was certainly not a financial success, initially appearing to be a
labour of love
, and later something
entirely more stressful
. It's really sad actually, when you realise that the financial strife this film reportedly plunged Chi Chi into may be the reason for some of the flashy but decidedly lower-calibre films he made in the period following - e.g
Money Hai Toh Honey Hai
,
Do Knot Disturb -
an effort to recoup losses).
Which is why Ssukh is so intriguing to me. If it was meant to be a comeback, surely the savvy thing for Chi Chi to do would have been to call up David Dhawan and plan another "_____No. 1" film, or at least exploit his reputation for comedy? Stage a comeback with Raveena or Karisma! Do something flashy and headline grabbing! Instead, Ssukh is a quiet, sweet, slow little film, featuring no real star power other than Chi Chi, Chunky, and a couple of cameos, heavily emphasizing family values and mutual respect, a film named for happiness but instead exploring the ways that people can inadvertently cause each other pain.
Govinda plays Chanderprakash Sharma, a simple, honest man who works in an advertising agency. He is married to Sushi (Preeti Jhangiani) – they are so devoted to each other they have never spent a night apart.


Complications arise when Sushmila's childhood friend Bhavana (Aarti Chabria) arrives on their doorstep, having divorced her philandering photographer husband, Rakesh (Chunky Panday). Bhavana discovers she is in line to inherit 10 crores from her grandfather…on the condition she is still happily married. Otherwise it will go to her brother. Who is sending spies to check up on Bhavana's life, because naturally, he wants to keep the money if he has a chance in hell.
A convoluted series of typical Bollywood plot twists and misunderstandings later, and Bhavana and Chanderprakash are stuck having to pretend to be married.


Until Rakesh arrives, just to screw things up a bit more.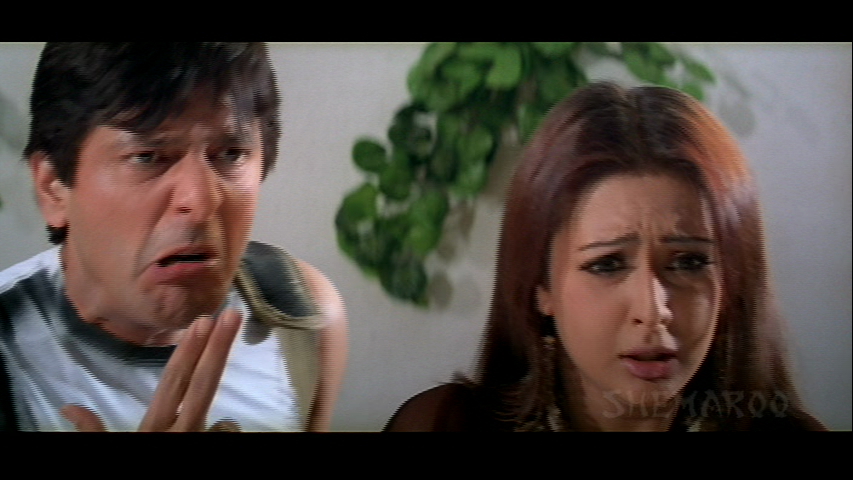 I think we're well on the way to putting Chunky on my Guilty Pleasures list.
Complicating the convoluted plot further is the fact that Chanderprakash has been chosen, by virtue of his simplicity, to be the face of a new milk advertising campaign (which strikes me as a weird thing to have in a movie, but whatever).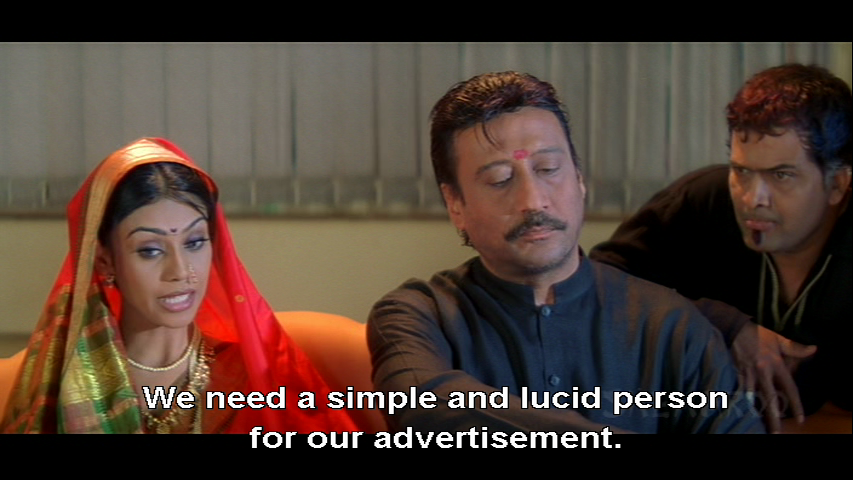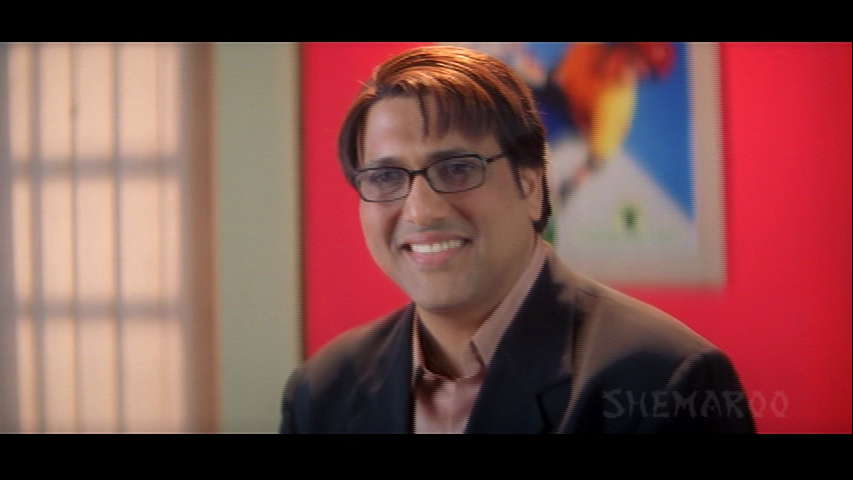 They've found their dudh dude. And I can't believe they NEVER ONCE USED THAT PHRASE. Wasted opportunity.
Uh...is that a compliment? REALLY?
When the ad execs decide to put his 'wife' in the ad as well – well…you can guess. It all goes horribly wrong.
It sounds like a hilarious screwball comedy of errors, right? And it IS funny...in parts. But the most interesting thing about all the screwball antics is how much the comedy is DOWNPLAYED. Sure, there's hilarious chemistry between Chi Chi and Chunky:


but what I like about Ssukh is how it gives you the filmi sheen, and then brings you back down to reality (a bit like in Guddi, which is VERY interesting, since in one of the interviews I linked to, Chi Chi compared Ssukh to a Hrishikesh Mukherjee film...and you know what? I sort of agree). So after Chanderprakash and Bhavana decide to fool the photographer spying on them by dancing together, you get this scene between Chanderprakash and Sushi: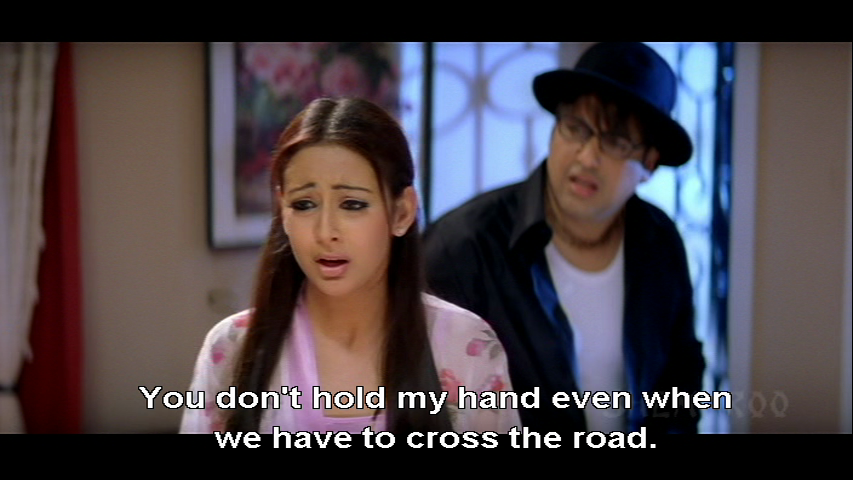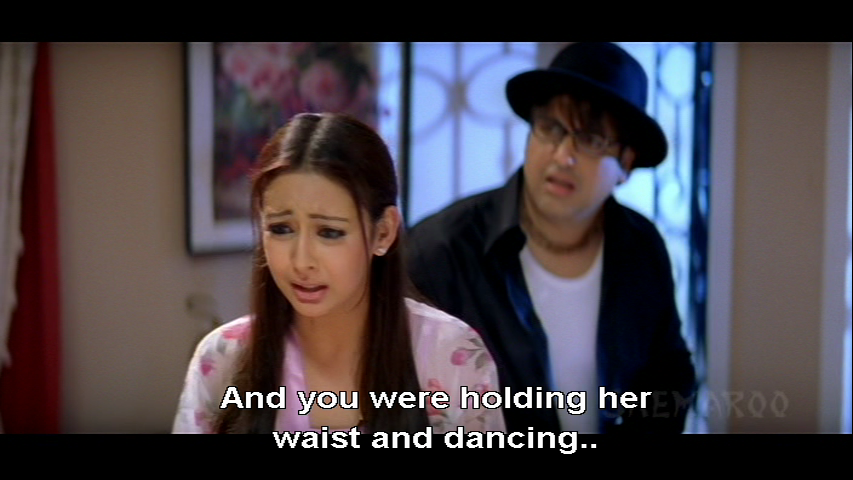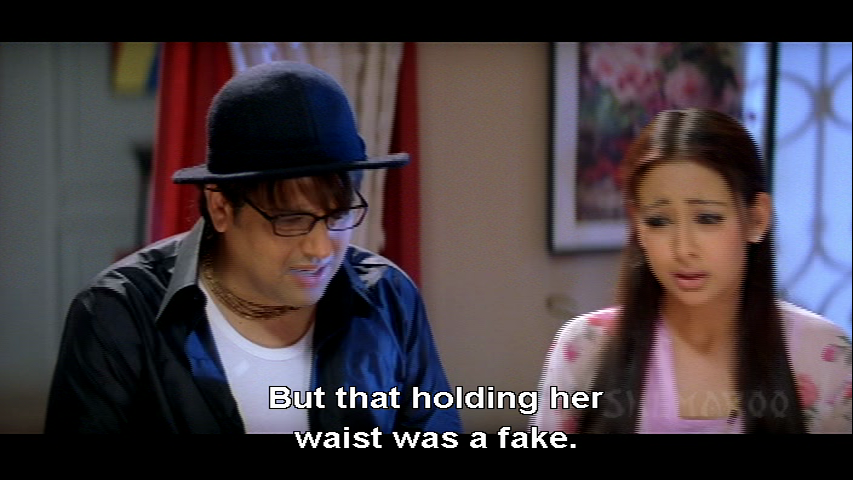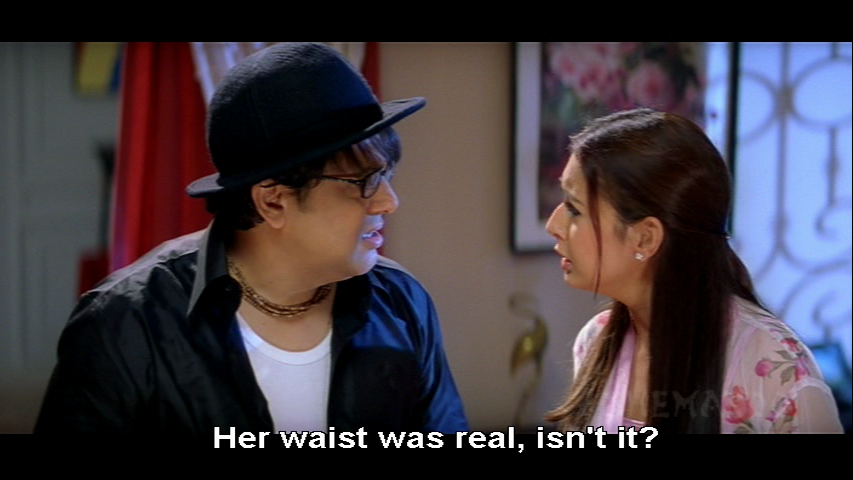 For a film named Ssukh (Happiness) it's so often very sad.
You have to wonder how deeply rumours like the Rani rumours hit Govinda, when there are other pointed references to "acting" in the film:
as if it's a message to his fans and his wife and family.
What is lovely, and what I like the most about this film, despite its many flaws, is that the relationship between Sushi and Chanderprakash is depicted as one of mutual love and respect.
They are equal partners in their marriage, an example for Bhavana and Rakesh to follow.
And even though it's preachy and actually, really quite weird, inexplicably opening with Chi Chi playing the piano very seriously and ending with him reciting a monologue straight into the camera about what happiness is, ultimately, as old-fashioned as the concept may be, the message is sweet and true, and it still makes me feel warm and fuzzy when I watch it.


Critics be damned, I still like Ssukh. Because in the end, it makes me happy. And at the heart of it, that's why I watch Govinda films.