Disclaimer: SPOILERS, probably, and also: this is definitely not a review. Just an attempt to vent the CHIK CHIK CHIK chitter in my brain.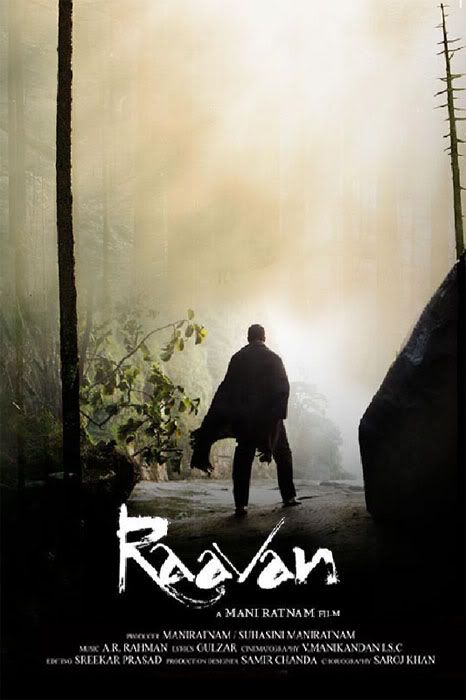 "It's not a retelling of the Ramayana". Director Mani Ratnam, and then actors Abhishek Bachchan and Govinda all went on record prior to Raavan's release, refuting the widespread rumours that Ratnam was tackling one of India's best-known mythological sagas.
It's clever semantics, really. There's no character called Raavan, no-one called Ram, no flying monkey-god named Hanuman. So technically, it's not the Ramayana retold. Only…it sort of is. Only Ratnam changes the names and asks the age-old question "what if….?" What if the gods and demons of the myth are made human? What if the story is played out with each side of the two warring factions embodying both good and evil – who then is the actual villain ("raavan") of the story? What if there are allusions to the Ramayana, but radical departures too?
I can't remember ever anticipating, then dissecting, debating, and just pondering a film, more than I have with Raavan. It feels like this movie has been a part of my consciousness forever. From the release of the music, to the Aish and Abhi heavy publicity campaign and the endless swirl of rumours and speculation as to what the film was actually about, who was the actual hero, conflicting reports as to whether it was an adaptation of the Ramayana, the whole Chi Chi controversy…there has been virtually constant chatter on Twitter and in the blogosphere regarding this film, like hushed Raavan-specific background noise.
Since it released, the muted background noise has heightened to a roar. Everyone is talking about this film – people love it or hate it, they're disappointed or elated, there's even the whole Abhi versus Vikram thing to contend with and weigh in on.
And since I managed to actually see Raavan on the big screen a couple of days ago, I haven't been able to stop thinking about it.
The moment you think you understand a great work of art, it's dead for you.
This really sums up how I feel about Raavan – and why I think it's not for everyone. I don't think it's an easy film. I don't think it's a mainstream or a commercial film. I think it's purposefully challenging, requiring active thought and participation on the part of the viewer. I don't understand aspects of Ratnam's vision, but in trying to understand, in trying to find meaning and purpose in the decisions that have been made rather than being disappointed in how the film isn't how I expected it to be, I am seeing Raavan in a whole new way than I did initially.
Because I didn't like a lot of it, at first. Until it just wouldn't get out of my head, and I spent a lot of time questioning the aspects that frustrated me, or pissed me off, or just didn't work for me.
The truth is, now I have had time to digest it, I think I really really love Raavan.
If anyone knows a way for me to get Thok De Killi OUT OF MY HEAD, I would be really grateful. I love it, but it's starting to drive me mad.
I know this is kind of an unpopular opinion, but I really, really liked Abhishek Bachchan's performance as Beera (I'm also not interested in drawing comparisons between him and Vikram – I WILL see Raavanan, and I'm looking forward to it, but I regard that as an entirely separate film and don't see the point in comparing the two performances. Not yet anyway). In the first half, he's unpredictable, intimidating, unhinged – and it's frustrating to watch, because we only see him through Rangini's eyes, so it doesn't make any sense. He's an inconsistent madman, schizophrenic, talking to himself, literally listening to the voices in his head. But this is ON PURPOSE – I think we're supposed to be freaked out and confused by this alien, animalistic guy.
The second half of the film explains his behaviour – and it is heartbreaking. I think Abhi does a great job all the way through but the second half is where he really shines with some beautiful, affecting scenes – my theory is that he is does his strongest acting when he has real-life experience to draw from (and the crazy Beera stuff he's on record as saying he had nothing to base it on, he just had to take some risks and trust Ratnam. Which I admire him for, because there are several actors I can think of that wouldn't have had the guts to try a role like this). The point where he tells Rangini "it's good I didn't die – how could I have met you otherwise?" had me CRYING.
Chi Chi! I ACTUALLY got butterflies in my stomach when Govinda's name came up on the big screen (and that never even happened with SRK when I saw My Name Is Khan at the movies). I had kind of grim expectations about the size of Chi Chi's role in Raavan, but was actually pleasantly surprised at how it turned out. Govinda is a definite highlight in this film – he is sweet and funny and pivotal (even in such a small role), and I know I am not the only one to have lustful thoughts about him as Sanjeevani. (It's the salt and pepper stubble).
Holy cow, revelation of the film was Ravi Kishan though. I thought I hated his guts (not the biggest fan of his in LUCK, believe it or not) and he was FABULOUS.
The scene on the bridge? It made me feel PHYSICALLY SICK. I actually thought I was going to throw up. I'm really not good with heights.
Do you know, I never wonder what happens to characters after a movie finishes. The story ends, THE END, it's done for me. But with Raavan, I can't help but be fascinated with the story post-credits rolling. What happens to Rangini and Dev? What kind of a relationship are they going to have now? Trying to minimise spoilers but...based on Dev's actions...what kind of life will Rangini have? It just seems so sad to me.

Initially I was all like "The characters are badly drawn and insubstantial". I pretty much retract that statement, or at least the sentiment behind it. I've read lots of people complaining about how Vikram's character is underused, how Chi Chi is underused, how the film focuses too much on Beera. Then I realised: actually - the whole film is about Rangini, through her point of view. We see heaps of Beera, because HE ABDUCTS HER AND THAT'S WHO SHE IS WITH. Vikram as Dev is absent from the film for long stretches, and we wonder where he is, the way Rangini wonders why he hasn't come to rescue her yet. The first half of the film feels endless, frustrating, like a journey when you don't know the destination: because we are in Rangini's position. It's UNSETTLING and UNCOMFORTABLE and I like it that a film can take me out of my comfort zone like that. I HATED the first half. I think I will always find it hard to get through. I think that's entirely the point.
At one point I remember my big complaint (inside my own head – seriously, the past couple of days I have felt a lot like Beera with the whole CHIK CHIK CHIK *shake away conflicting thoughts* thing) was this:




We never know why Beera (Abhishek) is supposed to be so bad and we never know why Dev (Vikram) is supposed to be so good. All we know is that Dev has a grudge against Beera who has a grudge against Dev (for good reason).





NEWSFLASH TO SELF: shades of grey, shades of grey. IN THE REAL WORLD we don't get the advantage of handy flashbacks and backstories to everyone we meet – it's tabula rasa for these characters. By starting off in the middle of things, so you know there's some kind of grudge FOR WHATEVER REASON, you have to make up you own mind, based on your own perception of events, who is the real villain.