Ehh, so I know I haven't updated properly since the glorious frenzy of Chi Chi Week. I've been preparing for Shameful Pleasures Week. More on that soon. And by soon I mean...a little bit later this week. IT WILL BE WORTH IT, TRUST ME.
In the meantime, check out my latest obsession. I am super-new to the allure of South Indian films, and hadn't found my gateway drug, the hook to really keep me coming back for more (even after seeing the awesomeness of Magadheera, which I really do need to write up).
That is, until I hopped aboard the Vikram train.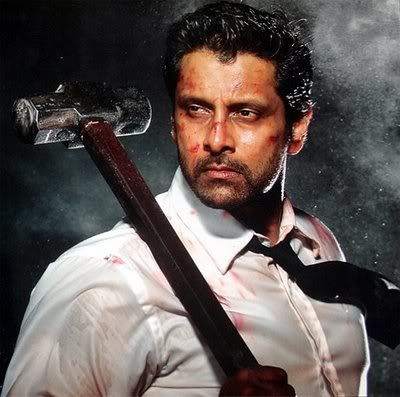 Some smart cookies (hey
Amaluu
! for instance) have been onto the talent and charms of this guy forever; others like me, have only cottoned on since his roles in
Raavan
and
Raavanan
have made him a HOT TOPIC on blogs and Twitter and all over the net, really.
So, you know. Looking forward to the 4 dvds that are currently winging their way to me. Vikram, you will bankrupt me, but I don't really need to eat.