Chor Sipahee (Prayag Raaj, 1977)
There must be something wrong with me, since according to just about everything I can find on the internet, everybody fricking LOVES this movie, but: what a freaking disappointment.


On the back cover of my dvd copy of Chor Sipahee, there is a picture of Vinod Khanna wearing a top hat and a red cape, and putting on black gloves. He looks like an evil, awesome magician. LIKE A MAGICIAN. (In the same picture, Shabana Azmi is wearing an adorable polka dotted top with a big red heart appliquéd on the front. While Vinod looks magical and evil, she looks like the naïve magician's assistant).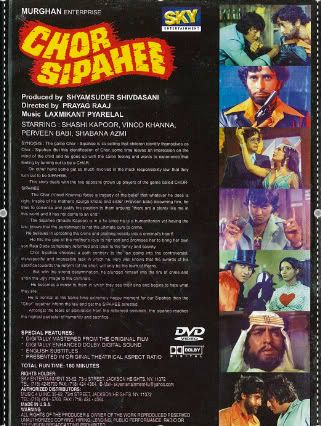 FIFTH PICTURE DOWN! EVIL MAGICIAN! Yes, I was sad enough to scan the back cover of my dvd as PROOF! PROOF I AM NOT INSANE!
I sat through the entire movie waiting for Vinod Khanna as an evil, awesome magician. IT NEVER HAPPENED. This was possibly the most crushing disappointment of the entire film, given the array of cracktastic costumes given to Shashi Kapoor, and the freaking
golden moon boots
worn by the guy who (as the
PPCC
pointed out, does bear a striking resemblance to Rukhie) was pretending to be from Saudi Arabia, which only kept building up my hopes that the scene with Hot Papa Khanna dressed up as an evil awesome magician must be RIGHT AROUND THE CORNER.
So is it just my stupid dvd copy (the SKY ENTERTAINMENT release, avoid yaar)? I seriously wouldn't be surprised if it is missing like, BIG CHUNKS OF THE MOVIE because to be honest, the narrative seemed to skip wildly at points and not make a whole bunch of sense. Plus the back cover says the running time is 180 minutes and I'm pretty sure my copy lasted for something more akin to 2 hours. Plus there are WILD colour grading issues. Plus it suffered from the same subtitles issue that the
PPCC
mentioned – only not just in the last half hour, ALL THE WAY THROUGH: the subtitles either arrived way too early, or too late.
IS IT ANY WONDER THIS FILM FAILED TO MOVE ME? It was just…confusing.
So I can't really comment objectively on the film's merits, because I don't think I have actually seen the film as it was INTENDED to be seen.
THINGS I CAN SAY ABOUT THIS FILM
The storyline is basically about Raja (Vinod Khanna) – a chor (thief)
and Shankar (Shashi Kapoor) – a sipahee (policeman).
Shankar believes in reform for criminals rather than punishment, and promises Raja's family that no matter what, he will reform Raja from his life of crime. But in doing so, Shankar gets sucked into the murky underworld and in trying to reform the criminal, BECOMES A CRIMINAL. Dun dun dunnnnn.
And then it all gets a little bit confusing, the subtitles go freaking batshit insane crazy and they end up at a Poultry Farm. I really do think my copy is missing key scenes. Honestly – it started out promising, with sneering cat burglar Vinod smouldering up the screen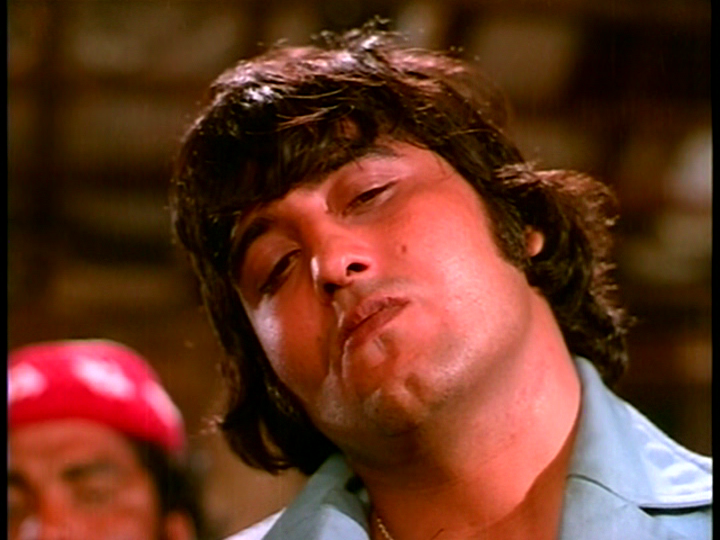 WHY would you want to reform a face like that? IT DOESN'T MAKE ANY SENSE!
and Shashi (who may even be growing on me) singing an awesome hilarious kickass hero song whilst dispensing vigilante-style justice, and then as the film progressed into a kind of messagey melodrama about whether social reform is better than dishing out punishment, it just got kind of…boring. And no amount of cracktastic costumes, or the hotness of Vinod Khanna, or even the weird glass pod thing they used to get into the secret hideaway lair, could save it. NOT EVEN IF THE MYTHICAL MAGICIAN OUTFIT HAD EXISTED (which a cursory Google search suggests it might not. BUT IT'S ON THE DVD COVER!).
The best bit of the film is near the beginning, when Shankar and Raja face off for the first time. Not only does Vinod Khanna make his entrance by VIOLENTLY KICKING DOWN A DOOR in a supreme display of macho-ness, Raja and Shankar totally smash the place up in the MOST hilarious fight ever (they look like they are having so much FUN) – Vinod slides backwards along a bar at one stage – superwow! My favourite part is when they realize they are both going to bash the crap out of each other and agree that someone needs to call a doctor, and they pause at opposite ends of the room to give each other a cheesy thumbs up. AWESOME.
Vinod Khanna totally wins in the wardrobe stakes in this film. Seriously – I think Shashi's wife was in charge of Shashi's wardrobe for the film, so all I could wonder as his outfits got increasingly cracked out was what on earth he did to piss her off.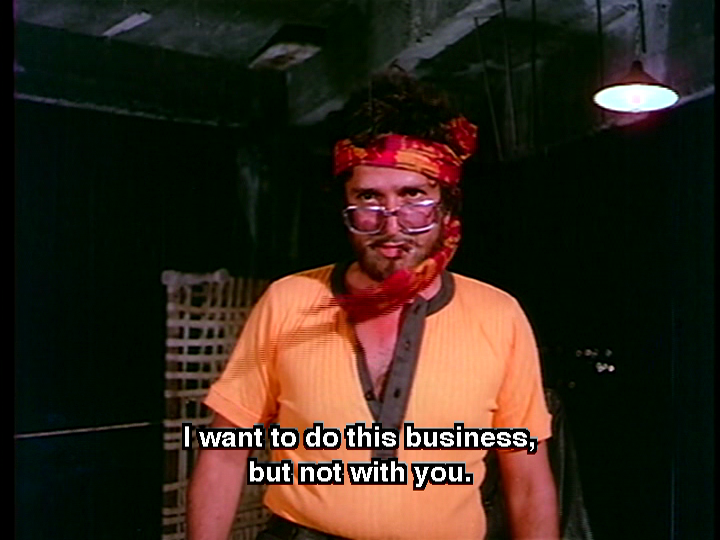 I am so confused by this film - I really don't know if this is serious or not.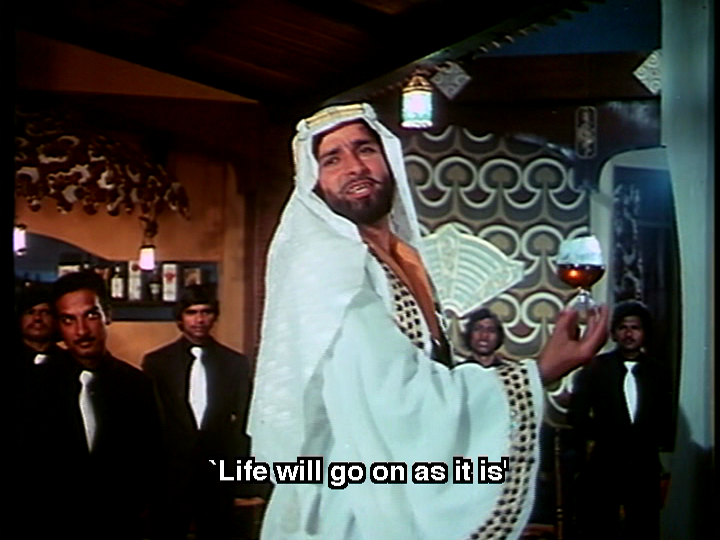 No-one else was in costume at this costume party. WHERE WAS THE MAGICIAN?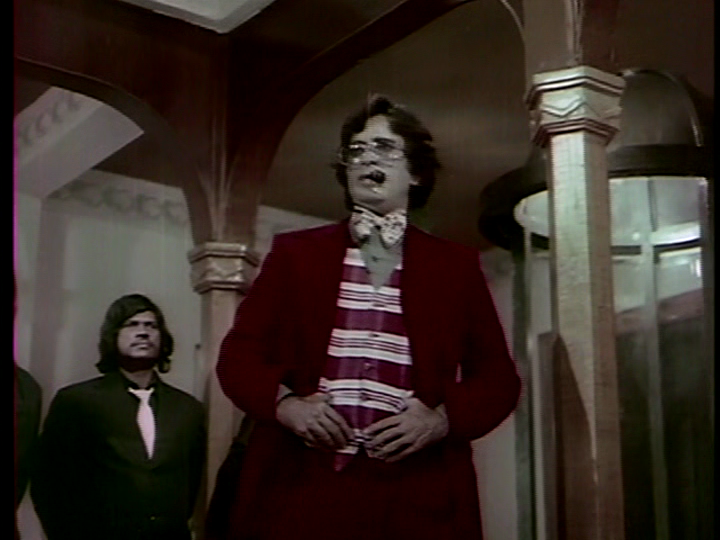 I DO kind of find Pimp Shashi attractive.
But look how much hotter HPK is in contrast. NO CONTEST.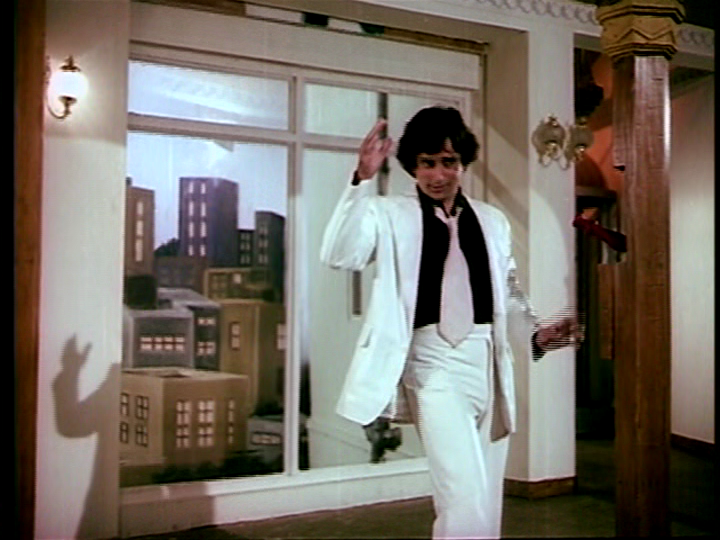 And in this film SHASHI wears the white pants. It troubles me.
So anyway, despite the two undeniable highlights - this:
and this: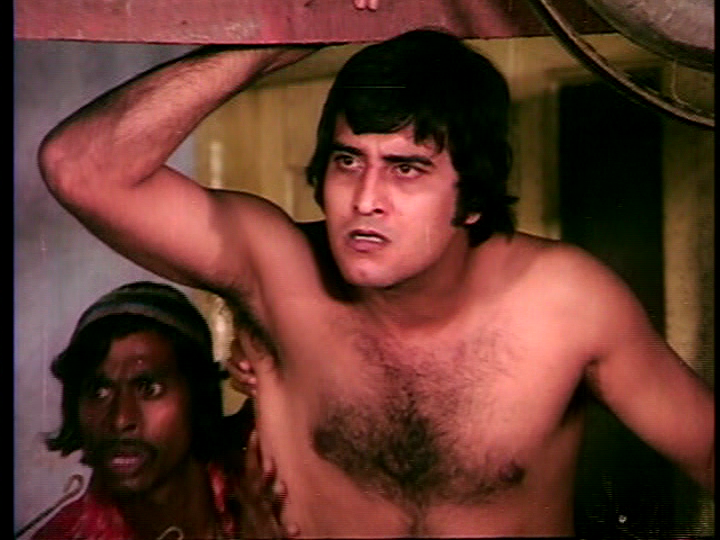 I pretty much hate this movie. The first casualty of Khanna-O-Rama has arrived.