Sachaa Jhutha (Manmohan Desai, 1970)
If I'm going to be 100% honest…I have to admit that when I bought this DVD, I didn't even realize Vinod Khanna was in it. Talk about a pleasant surprise when everybody's favourite hot dad popped up (wearing white pants, no less!)
Nor did I realise that it was a Manmohan Desai film, which is another pretty much fool-proof indicator of paisa vasool.
The actual reason I own this film is entirely due to my (bordering on unhealthy) obsession with Om Shanti Om. It's kind of…a geeky compulsion. I have to understand as many of the filmi references in OSO as is humanly possible, and so, obviously, I have to view as many of the films referenced in OSO as is humanly possible. I realize this is ridiculous, obsessive and antisocial. And this is also why, despite claiming Om Shanti Om is my favourite Bollywood film, I have never written it up here. Because it would reach legendary, epic, thesis proportions, and I would probably die alone, a spinster, eaten by neighbourhood cats, having contributed only a weird-ass, obsessive microscopic analysis of filmi references in Om Shanti Om to the blogosphere. And even THAT would probably turn out embarrassingly fangirly, all, OMIGOD I watched Sachaa Jhutha and Vinod Khanna can certainly rock a pair of white pants IF YOU KNOW WHAT I MEAN.


ANYWAY I DIGRESS (quite dramatically). The point is: Sachaa Jhutha is one of three films directly referenced by Farah Khan in the song Dhoom Tana – and by directly referenced, I mean she uses actual footage of the leading men from each film and using digital magic, adds Deepika Padukone into the same frame. (For those playing at home the other two films she uses are Amrapali, starring Sunil Dutt; and Jay-Vijay starring Jeetendra). (Yes I own them both). (Yes, I know I am weird).


So that's why I own this film. To see where this:


came from.


Turns out this movie is super-cool, all on its own. Plus: Vinod Khanna = cherry on the top. In a selection of dapper outfits, with remarkably sexy hair.
SACHAA JHUTHA: Truth and Lies
So,
Sachaa Jhutha
is a deliciously entertaining tale, starring
Vinod Khanna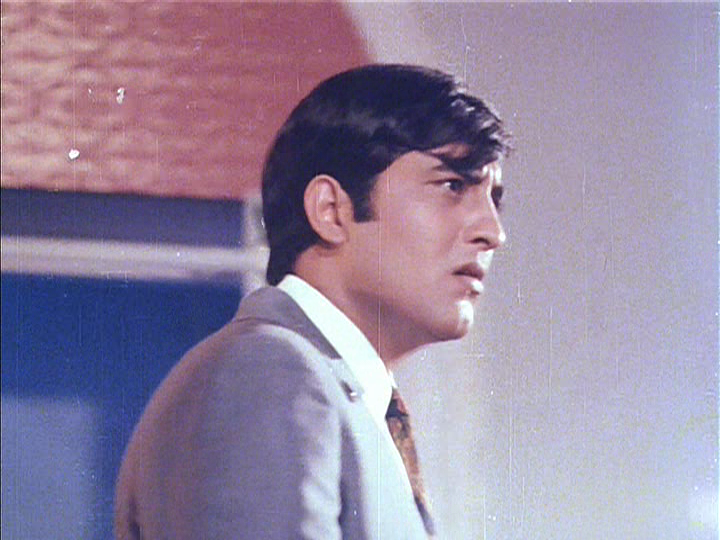 What do you mean I am not the KEY KHANNA?
Rajesh Khanna – AN ENTIRELY DIFFERENT KHANNA UNRELATED TO KHANNA-O-RAMA –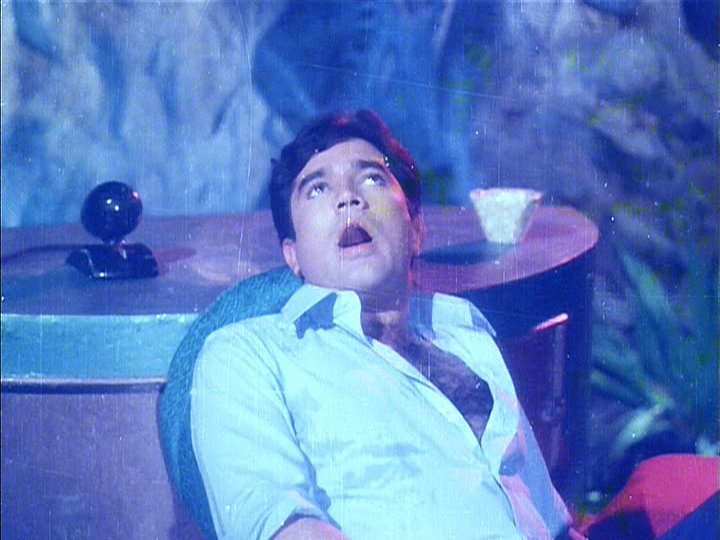 Get over it already, Vinod. You're not the ONLY Khanna in the world, contrary to what certain bloggers may indicate.
in a double role: as Bhola, an honest village musician who moves to Mumbai to earn money so he can get his crippled sister married with a decent dowry; and as Ranjit, a smooth criminal mastermind behind a series of diamond heists, who, upon meeting Bhola, is intent on exploiting their uncanny resemblance to each other, and Bhola's naievete, for his own gain.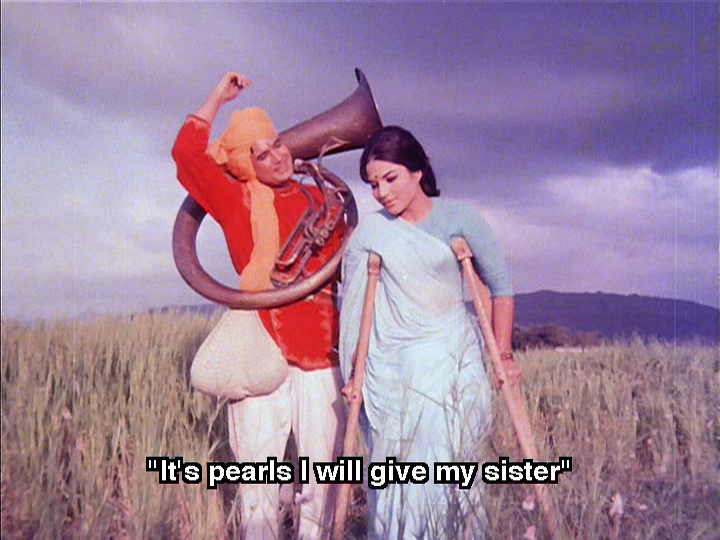 How gorgeous is this shot? THIS is why I love Bollywood.
Double-roles are one of my FAVOURITE things in Hindi films, because of the glorious potential for impersonation, secret identity swapping and the "who is REALLY the hero?" question that inevitably comes up. Bhola versus Ranjit might just be my favourite double-role ever. For a double role to be awesome, the look-alikes, of course, have to come face to face:


But even better than that, is if they FIGHT!


If you know your Manmohan Desai films, you'll know that he's like, the masala KING. Sachaa Jhutha is, I think, maybe less wildly masala-y than some of the later classics (you certainly couldn't compare this to Dharam Veer or even Amar Akbar Antony) but it does tick a few glorious boxes.
-
Wicked stepmother who only cares about money
-
Crippled sister desperately needing to be married
-
Magical animal plays a pivotal role (seriously – think of Sheroo in
Dharam Veer
!)
-
ROCKING secret criminal mastermind lair
-
Double role with all the attendant identity swapping and confusion that goes along with that
So where does our boy Vinod fit in?


Fresh-faced, sexy-haired, well-attired, and smiling for a surprising percentage of his time onscreen, VK plays the earnest, capable police inspector determined to bring the mysterious person responsible for the diamond heists to justice.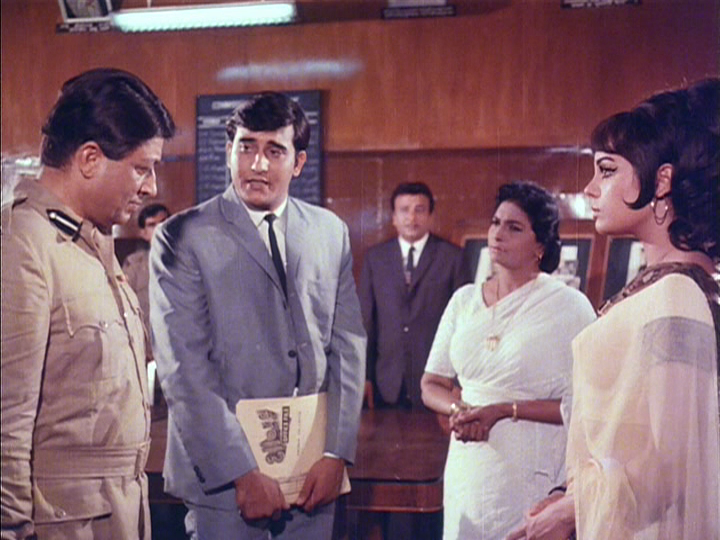 Don't you just want to pinch his cheeks?
Unlike the grim, serious, moral compass he plays in
Amar Akbar Antony
, or the tortured, dare-I-say-slightly-emo-before-that-was-even-a-word antihero of
Parvarish
, there's a radiant lightness that beams from Vinod Khanna in this role. He's moral – assuring the girl that he finds on the street and offers to take home that "it's okay, I live with my mother"; and clearly serious and focused in his quest for justice, but he's playful and happy too: dressing up ridiculously well for a (working) fancy dress party (not that I advocate blackface, but I DIDN'T RECOGNISE HIM for AGES);
Uhhh...I'm not sure what he's supposed to be, and I don't really want to guess.
demonstrating a truth-telling serum on the two members of the police force he knows are in love with each other; he falls in love too, which might explain the smiling, so much.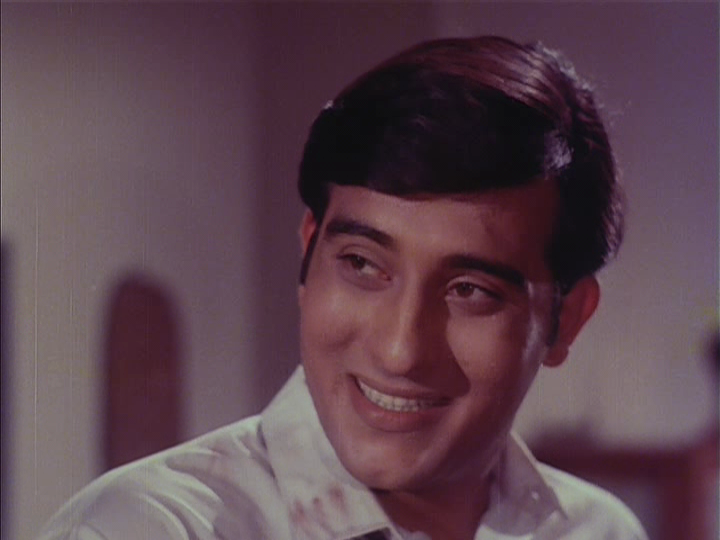 SO MUCH SMILING VINOD! I never knew you had it in you. And he looks just like Rahul in this film. Or more correctly, I guess, Rahul looks just like him.
I don't know why it is, but so far, this is my favourite film to watch Vinod Khanna in, based on the fact he looks like he's enjoying himself.
The fact he's ridiculously super handsome doesn't hurt.
Oh Vinod, honey, you are excused.