If you're at all familiar with Rahul Khanna, you'll by now be aware of some of the gifts he was blessed with, thanks to the mystical Khanna khoon running in his veins. These include:
acting talent (start with Earth 1947, but watch anything the man is in, because he is good. Like, "DAMN, WHY ISN'T HE IN MORE FILMS?" good).

general wit, humour, and intelligence (check out pretty much any interview with any of the Khannas to prove this point; or follow @R_Khanna on Twitter).

the ability to wear white pants and have people swoon, rather than laugh at him

.

luscious chest hair (note: your mileage may vary on this point).

remarkably effective *sadface* and crying scenes. OH I LOVE WATCHING KHANNAS EMOTE.

social conscience (Vinod and Akshaye are involved in politics; Rahul is an active campaigner for animal rights).
So clearly, Rahul Khanna is pretty freaking awesome.
My question is then: why is Rahul Khanna seemingly doomed to play the apparently perfect, yet ultimately jilted lover? If UDAY CHOPRA can get a girlfriend onscreen, is it too much to ask for Rahul to JUST ONCE get a fairytale ending?
EXHIBIT A: WAKE UP SID (minor spoilers from here on in)

Rahul must have melted a thousand fangirl hearts in his all-too-brief supporting role in WUS as mature, well dressed, uber-cool, jazz-obsessed editor, Kabir.
Hilarious caption featuring pun replacing "sex" with "sax". BOOM!
His character pretty much exists to provide a contrast to Ranbir Kapoor's Sid, and also provides a parallel to Aisha (at first, they seem like equals) – Kabir is focused, mature, driven…all the things Aisha says she wants in a man, and all the things Sid initially is not. It is when Kabir accuses Aisha of being a little immature (in the exact 'kindly condescending' way Aisha had accused Sid of the same) that Aisha has her own 'wake up' moment of clarity and realizes that Sid has a few qualities that Kabir is lacking (and that maybe she too has some growing to do).
It's how Kabir bows out gracefully when he discovers Aisha prefers Sid over him that makes him all the more likeable – because it shows what maturity really is, even though the disappointment is evident on his face. And because this is a Bollywood film, and he's in a position of power, you keep expecting him to take some kind of petty revenge. He never does.
Oh Rahul – hot, AND nice. How could Aisha have turned you down? IT WOULD NEVER HAPPEN IN THE REAL WORLD.
EXHIBIT B: DIL KABADDI
Hmmm. This one's an interesting case, actually, because TECHNICALLY, Rahul gets the girl, then loses the girl (and kind of has a nervous breakdown about it) and then gets a different girl in the end…only…it doesn't really count because the girl he gets in the end, he didn't really want and she's TOTALLY TAKING ADVANTAGE OF YOUR VULNERABILTY RAHUL, SHE'S USING YOU, SHE'S A MANEATER!
Based on a Woody Allen comedy (that I've never seen) called Husbands and Wives, Dil Kabaddi is largely hilarious and follows the complicated love lives of two modern-day Indian couples: Samit (Irfan Khan) and Mita (Soha Ali Khan), and Rishi (Rahul Bose) and Simi (Konkona Sen Sharma). Rahul plays
poor, sensitive, loveable Veer, a newly heartbroken art director who gets involved with newly single Mita, gets his heart stomped on,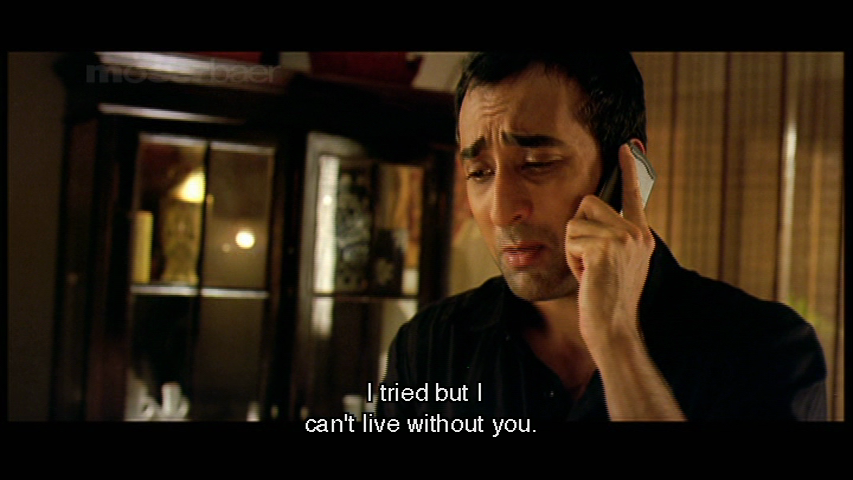 ...Vanessa! [is what is missing from the subtitles - YOU KNOW THEY'RE UNRELIABLE]
only to be pounced upon in his vulnerable state by newly single Simi.
Basically, Veer is fresh meat for divorcees out on the prowl.
Dil Kabaddi does prove, once again, that Rahul has an UNCANNY resemblance to his papa.
EXHIBIT C: LOVE AAJ KAL
Love Aaj Kal is kind of heartbreaking, in that Rahul once again has remarkably little screentime, but makes so much of his scenes that you ACHE to see him in a meatier role. (Quick heartfelt aside to the cinema gods and Rahul: SERIOUSLY, I can only watch Earth 1947 so many times).
Love Aaj Kal is primarily the story of Jai (Saif Ali Khan) and Meera (Deepika Padukone) and how after their initial love affair, life pulls them in different directions and they decide to split up and move on with their lives in different parts of the world, because, as a modern day couple they don't believe in COSMIC FATED LOVE. This obviously dooms them to misery until a convoluted series of events can transpire to bring them together again.
Rahul plays Vikram, the unlucky sucker who Meera thinks she falls in love with and then actually marries after leaving Jai. The kicker? THE DAY AFTER THE WEDDING Meera tells Vikram "I don't think I can stay with you, because I still love Jai". Vikram is understandably upset, having done PRECISELY NOTHING TO DESERVE THIS.
Cue heartbreaking puppydog sad-eyes:
So what's wrong with Rahul? He's muscular, he's popular, spectacular, he's a bachelor. Clearly, the only thing wrong with him is:
Pappu can't dance, saala *
*

He doesn't really do mainstream Bollywood, so he's never really been called on to dance properly. I'm gonna err on the side of Khanna
- COME ON OF COURSE I AM - and abstain from judging based on lack of sufficient evidence. You can judge for yourselves:
Rahul appears at about 1:20 minutes into this one.
JURY'S OUT ON THIS ONE FOLKS. I am blinded by unabashed lustful bias and Khanna-pyaar. Verdict?