So it turns out there's an accidental theme for today, patient readers, and that theme is: THE KHANNA BROTHERS AT WAR.
Rum coined the most appropriate phrase: SWOON ATTACK!
Not with each other, like that hilarious interview in Filmfare where Akshaye reveals that "crazy" older bro Rahul blew up at him recently for putting orange seeds in a waste paper bin in his room - can't you just visualize it?
Rahul: AKSHAYE GET OUT OF MY ROOM! What are you…what is that…?
Akshaye triumphantly steps across the threshold and defiantly chucks, in
younger sibling fashion, orange seeds in a bin where Rahul has decreed
ONLY PAPER CAN GO – because Rahul obviously cares for the planet and
recycles. COULD RAHUL BE ANY SWOONIER? And then Akshaye
probably, in an ill-considered younger sibling move, punches Rahul
awkwardly as he runs away.
Akshaye: [psychotic laughter as he flees, made all the more sinister because he does that weird frowny smile, amiright?]
What are you gonna do, BRO, call DAD to bring the DISHOOM-DISHOOM?
Rahul: [is ignoring Akshaye, already dialing a number on his cellphone]
Vinod Khanna please.
Sorry Akshaye, Rahul totally won that one.
No, we're talking actual real-life war. Today I'm looking at two films, featuring varying degrees of Khanna, that are both based on real-life conflicts. Two vastly different films, one with an award winning Khanna performance, one with a blink and you'll miss it special appearance; one was the most popular Hindi film release at the box office that year and the other is probably more akin to parallel cinema than Bollywood mainstream fare. But what they have in common, aside from the Khanna brothers, is the topic of war, and a message we all know:
What is it good for? Absolutely nothing.
Border (J.P. Dutta, 1997)
Border was a remarkably weird viewing experience. I am acquainted with the military/war film genre as it is made in the West; I had never before encountered the Hindi film version, and though I am well-accustomed with how the characteristic Bollywood melodrama and music integrate into Hindi romance and comedy films, and have even seen and begun to understand how it works with other genres, like horror and action, a war movie is another creature entirely. At least Border is.
But it's FASCINATING. This particular film is based on a real life incident referred to as the Battle of Longewala, that occurred during the Indo-Pakistan Conflict of 1971.
Border is unapologetically, extremely patriotic, almost to the point of seeming less like a war/military genre film and more like a propaganda film. The melodrama is dialed up to eleven: so you have Kuldeep Singh (Sunny Deol) telling his wife (a ridiculously underutilized Tabu) that he will a) divorce her if she tries to stop him going back to the border, where India is at war with Pakistan and he is needed to command a unit, b) that his marriage vows are less important than the vows he took in the army, and the oath he took in his heart to the mountains, the earth, the sky etcetera of India, and c) that he would willingly sacrifice his own child for said sky, mountains and earth.
Tabu's reaction is not, remarkably, to slap him and say "You can do what you want with your own life but how DARE you presume to 'sacrifice' our child in the name of nationalism". She instead cries and says "I was being so selfish in my love for you, you are so right, go and fight for India".
So that gives you an idea of the predominant patriotic tone of the film. Kuldeep maintains his blinkered "India above all" vision for pretty much the whole film – at one point rebuking an officer who gets leave to go home to tend to his CANCER STRICKEN WIFE. This is despite the unit having nothing to do for weeks but wait for some battle action – the officer in question is frustrated and when his leave comes through, understandably elated, until Kuldeep smacks him down, ULTIMATELY CONVINCING HIM TO GIVE UP THE LEAVE because his dying wife is not as important as waiting around to kill some Pakistanis.
It sounds really horrible, right?
Believe it or not, I think the weird distastefulness of the propaganda-esque 'we must fight for India above all else, the enemy must die' message that pervades much of the film was purposeful. Because there are enough random hints at a balanced view, seemingly out of nowhere, that make me think the director was aiming at recreating the mindset of what it must be like to be in the army, of how a soldier needs to think in order to be able to kill a person who is exactly the same as them, but for standing on the wrong side of a border.
This is (partly) where Akshaye comes in.
Akshaye Khanna won the 1998 Filmfare Aware for Best Newcomer (Male) for his role as Dharamveer, second in command to Kuldeep Singh. In every war film I've ever seen there's the guy who is too young for the battlefield: Dharamveer is that guy. An unwilling soldier, he is there only because of an oath he made to his father, a war hero who died as a martyr in a previous conflict with Pakistan. Unready for the reality of war, but with the responsibility of being 2IC and a war hero's son, Dharamveer's arc is the classic one of war changing the boy into a man – but what KIND of man?
Akshaye's character is what it seems the Khannas are born to play – a tortured, tragic hero – and though I have only really seen him in a couple of films (DCH and Salaam-E-Ishq), his performance in this role really makes me want to seek out more of his dramatic stuff. I know I have neglected you, Akshaye, but damn if you can't work those big brown eyes.
By the end of Border, director J.P. Dutta pulls off a remarkable trick. Despite some ridiculously unsubtle masala-esque touches (a bombing assault on the camp destroys everything except the temple? MIRACLE! If this actually happened then I totally take it back but COUGH-it-totally-didn't-happen-COUGH) and the whole pervasive "if you don't sacrifice everything for your country you're pretty much dead to us" attitude, a subtle, gradual shift in message becomes apparent. Random hints at a balanced view gel together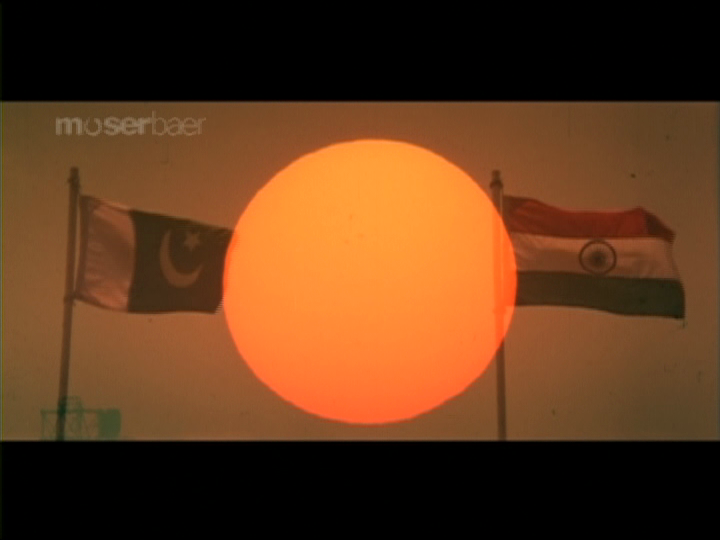 and suddenly the whole film makes sense as a startlingly effective ANTI WAR statement.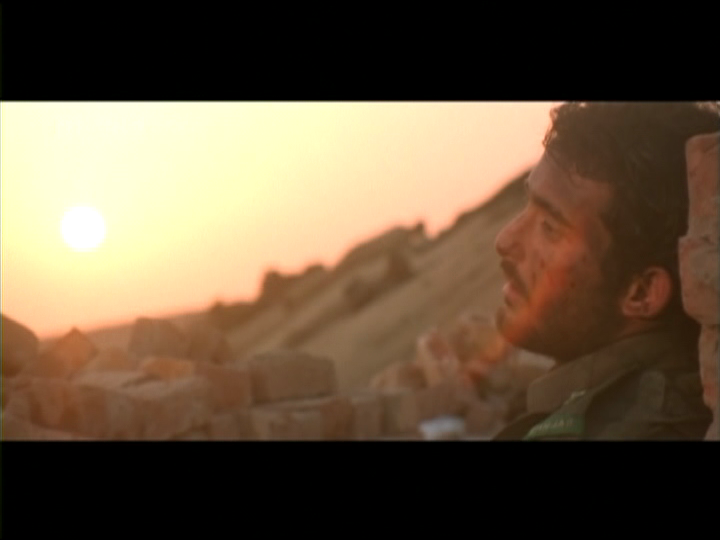 SERIOUSLY. After wrinkling up my nose for most of the time going "What the hell?", by the end, I was crying and going "War is hell". It's a weird, interesting film. And Akshaye acts his heart out in it.
Tahaan (Santosh Sivan, 2008)
The thing about Rahul Khanna that he proves, more so in Tahaan than in any other film I've seen him in, is that saying "There are no small roles; only small actors". His role in Tahaan, as a moneylender concerned more with commerce than with compassion, is literally probably two or three minutes of screen time – and I love that he did this part (he is credited as a "special appearance"). You hear stories about big names squabbling over how much screen time they are allotted, demanding script changes so they get a bigger percentage of time onscreen – and then there are actors like Rahul, who presumably take part in films like this, regardless of the size of the role, because they believe in the project, or the filmmaker, or the story that is being told.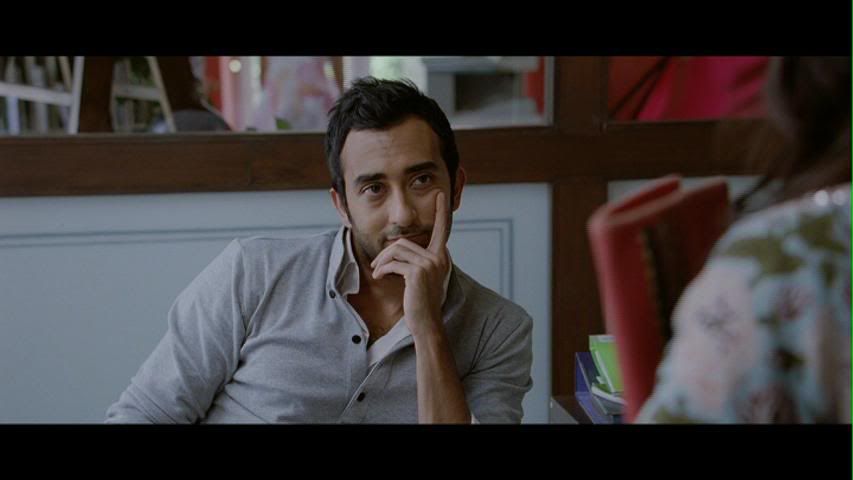 Even though he's on the DVD cover, you will not get much Rahul for your rupees in Tahaan. BOOM! Sucker you got played.
Or maybe he just needed the money. What do I know? (Though in this case, I really don't want to be that cynical).
Anyway, I probably wouldn't have seen this movie had I not been lured in by the promise of the Hottest Khanna, and thank you Rahul-ji, for that trickery, all three minutes of it.
Tahaan is heartbreaking. Tahaan is fleetingly joyful. It is deeply sad and deeply hopeful, a moving "fictional fable about non-fictional events", a window into the compelling, altogether alien and sorrowful world that is present-day Kashmir.


Tahaan
is the story of an 8 year old Kashmiri boy – Tahaan (meaning kind-hearted; this, oddly enough, could be the one of the most heartbreaking parts of the tale) and his donkey Birbal.
People might laugh at you when you tell them you watched a film about 'a boy and his donkey'. It will be their loss.
Tahaan lives with his mother (who is mute), his sister and his grandfather; his father has been missing for three years. Essentially living in a warzone, life is not easy.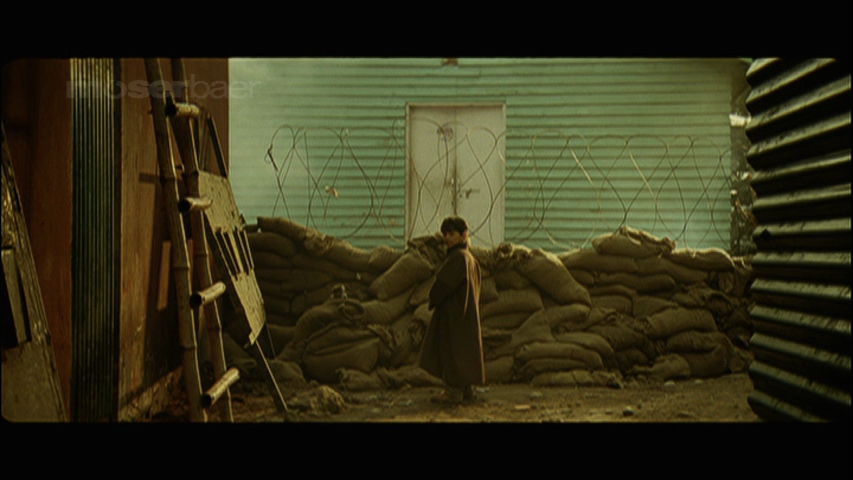 The tagline to the film is "A Boy With A Grenade". So you know that it doesn't bode well.
Because the family owes money on a loan, Birbal is sold. When Tahaan discovers this, he decides to get Birbal back, no matter what. In his quest to be reunited with his only friend he crosses paths with travelling merchants Subhan Daar (Anupam Kher) and Zafar (Rahul Bose) who live on the opposite side of the mountains. He also meets Idris, a mysterious older boy who claims he knows a way for Tahaan to get Birbal back...at a cost.
Set in present day Kashmir, it is readily apparent in every frame of this film just how Kashmir could be regarded as "paradise on earth'. Before the civil war for Kashmiri independence, Kashmir was a popular location for Bollywood film songs, representing Heaven on earth for lovers; this was replaced by Switzerland when militant action made entering Kashmir too dangerous.


Rahul Khanna fans: you will not get your fill of Khanna pyaar here (but is a fill of Khanna pyaar ever really possible?) – his appearance is almost literally 'blink and you'll miss it'.


You should watch this film anyway: it is filled with touching, convincing performances, none more so than the little boy - Purav Bhandare - playing Tahaan.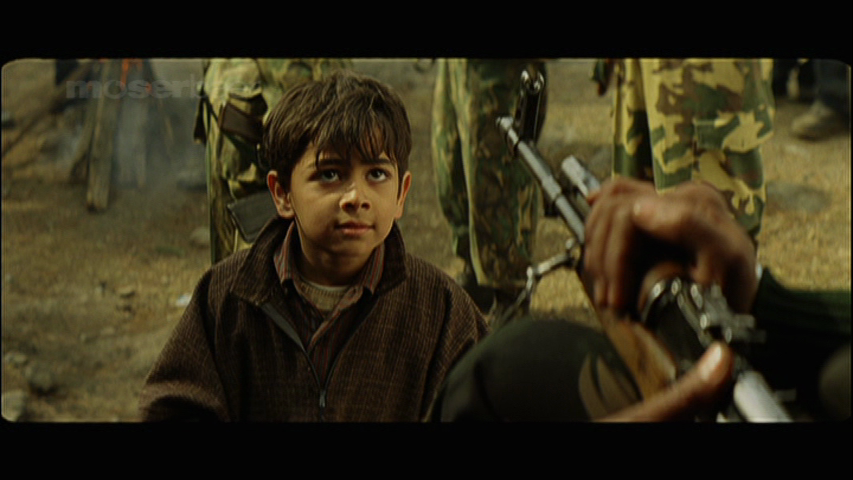 I feel bad that the dvd has been sitting unwatched on my shelf for so long, when now I can send it out into the world, into the warm hands of friends and family who MUST MUST SEE THIS. Thank you Khanna-O-Rama, thank you Rahul-ji, for providing the impetus to make me watch this lovely, heartwrenching little film.