Guddi (Hrishikesh Mukherjee, 1971)
Before she was Jaya Bachchan, the woman now known primarily as Mrs Big B or Abhishek's 'mom' was Jaya Badhuri, a fresh-faced, cheeky wee slip of a thing, an actress in her own right, who made her mainstream Bollywood film debut "as and in" Hrishikesh Mukerjee's Guddi.
Small aside for a moment: I have never really felt a lot of love for Jaya Bachchan, because she always seems so SOURFACED, ALL THE FREAKING TIME
though I am sure she is a lovely lady and this is just an unfortunate default expression
. Apart from
Sholay
, which remains all around one of the best things I have ever seen for all involved, the only other thing I've seen Jaya in is
K3G
, right, because I haven't yet psyched myself into the emosanal attyachar of
Silsila
.
(EDIT: Actually I also totally forgot she was in Kal Ho Naa Ho, which is a film I LOVE. She is also pretty dour in that. Way to make an impression, Mrs Bachchan).
So to see her in
Guddi
, as a cheeky, giddy schoolgirl, with an expression other than that of someone who has just sucked on a sour lemon, is SO SO WONDERFUL IN ITSELF.
Guddi is a GLORIOUSLY SATISFYING coming of age film, charting the subtle and gradual transformation of Guddi from starry-eyed school-girl into mature womanhood. The story is simple – and SO awesome. Especially, if like me, you love films about films and basically lap self-referential shiz up like it was going out of fashion. BUT IT WILL NEVER GO OUT OF FASHION.
Guddi (Jaya Badhuri) is a bratty school-girl who loves Bollywood films. More specifically – she loves Dharmendra. Her crush on the actor is so great that when Navin (Samit Bhanja) confesses his love for Guddi, she rejects his proposal because of her love for Garam Dharam.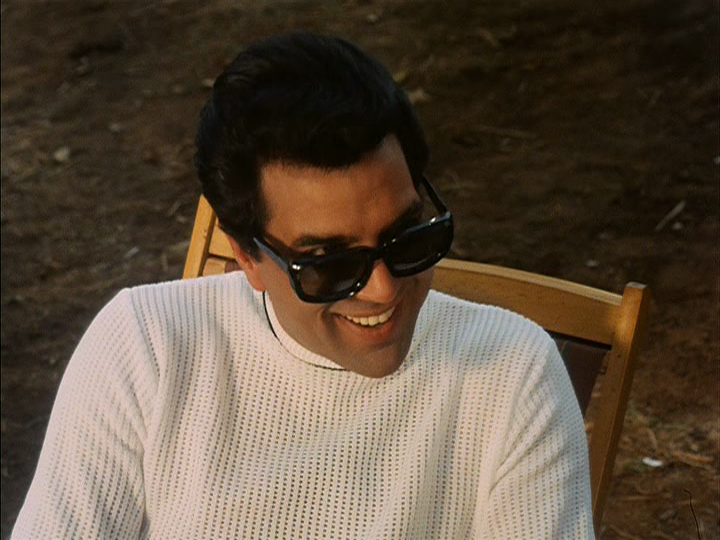 The real Dharmendra is such a rockstar.
Because Guddi's Dharmendra obsession is endangering her marriage prospects with Navin, Navin's uncle Mr Gupta (who in a convenient filmi twist, just happens to know someone who knows Dharmendra, luckily enough) arranges for Guddi to visit Bombay and see the reality of a Bollywood film set. There she meets Dharmendra and discovers the truth behind the illusory glamour of the film world.
And that's pretty much it.
If that doesn't sound like filmi-geek self-referential HEAVEN already – I mean – COME ON, DHARMENDRA IS PLAYING 'HIMSELF' - maybe it's because I forgot to mention the totally FREAKING AWESOME CAMEOS from the likes of such luminaries as…
PRAN!


as well as others, like Rajesh Khanna (demonstrating to Guddi how actors forget their lines) plus stock footage 'appearances' from a raft of stars including Amitabh Bachchan and (Hot Papa) Vinod Khanna.


One of my favourite-most filmi parts comes as Guddi arrives in Bombay. A scenario is picturised over all the Bollywood film billboards welcoming her to the city, making appropriate use of iconic heroes, heroines and villains, conveying all the action, romance, and drama of Bollywood through a series of static images.






OH IT'S SO EFFECTIVE AND WONDERFUL. And it made me want to travel back in time so I could live in Bombay, 1970.
The thing that Guddi does so well as a film is treads a very fine line between being pure entertainment and being a social commentary. On the one hand, this IS a film that raises some very interesting points: about the relationships between the audience the filmmakers, and the media, and how these work; about how a film is made, how this process is perceived in the industry and outside of it; and about stardom – how it is created, maintained, and how it fades. There are so many interesting issues sensitively and subtly tackled in Guddi – for someone like me, who studied this stuff and finds it endlessly fascinating, this film is incredibly interesting and amazingly relevant, even 40 years later.
On the other hand, some people just want to watch movies, and couldn't care less about how everything works – some people, like Guddi in the film, will be disillusioned at seeing how the magic of cinema is actually just 'plastic glamour' as one of the characters puts it. The strength of
Guddi
is that as well as being clever, it's got a big squishy Bollywood dil. As much as we root for Guddi to wake up from her Bollywood dream and grow up, at the same time, the film accomplishes the remarkable feat of SUCKING US IN to a Bollywood dream of our own. So there's a smalltown dreamer who wants to make it in big bad glamourous Bombay, and will do anything (even steal from his family and lie to his friends) to make his dream come true – only to have it shatter when he finds out, as Guddi does, that the Bollywood glamour DOES just consist of smoke and mirrors. So Dharmendra, playing 'himself' is still a filmi fantasy hero of sorts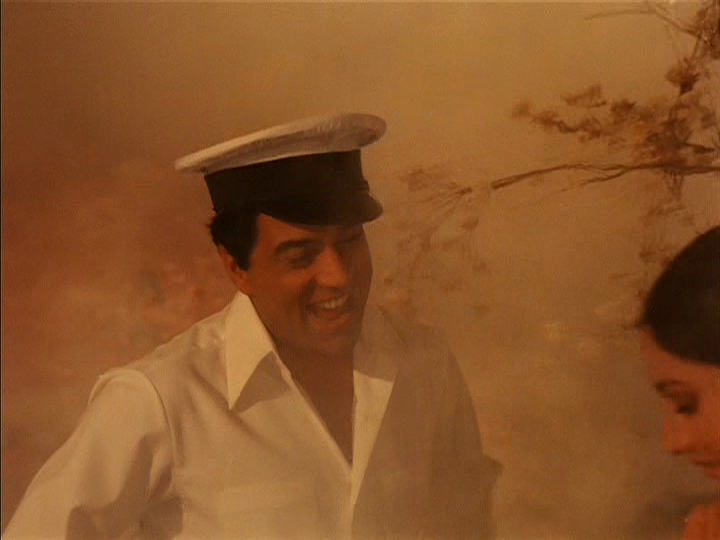 – he's the guy we all want him to be in real life: the filmstar who will do what he can to make sure Navin and Guddi end up together. I love it, because I DO hope Dharmendra is a nice guy in reality.
Instead of making a film mocking a girl for falling in love with a film hero, this film celebrates and explores every facet of the film industry, exposing its cracks and flawed reality, so that the people who love reel life and filmi heroes like Guddi does, can continue to love films for the right reasons, and love
everything
, and everyone who contributes to the making of a film, not just misdirect their love solely to the heroes or heroines in films who represent the 'plastic glamour' of the film industry, the part that ISN'T real. Instead of making fans out to be sad people needing to grow up,
Guddi
, wonderfully, acknowledges that the audience are vital to the equation and indeed I think the very fact that a carefully, intelligently crafted film like
Guddi
exists is testament to this.
Apart from all the film stuff going on, there's a very real love story at the heart of Guddi, and if you don't get sucked in by THAT, and like me, giggle with delight at the final title card, which ties into a narrative device woven deftly throughout the whole film– SO SATISFYING – then really, why do you watch movies at all? THIS FILM IS ONE OF MY TOP TEN OF ALL TIME. Please watch it so I will have people to squee over it with me.