Hadh Kar Di Aapne (Manoj Agarwal, 2000)
It's a good thing I have a blog.
I have a feeling that if I try and explain to anyone in the real non-Bollywood obsessed world the intense love I feel for this film, they'll think I've gone retarded. I was literally SHAKING with laughter. I feared I might crack a rib! After a long horrible day, this movie was glorious, silly medicine. Or maybe, like all my friends and family think, my sick preference for "so bad they're good" movies IS making me cracked.


A BUNCH OF THINGS TO FEVERISHLY LOVE ABOUT HADH KAR DI AAPNE AND A COUPLE OF TROUBLESOME THINGS TO FASTFORWARD THROUGH OR WILFULLY IGNORE:
Okay, the troublesome. Forewarned is forearmed.
There's a point in this film where Rani is dancing with two guys and Govinda gets jealous. And initially, I thought Govinda went up and hit one of the guys. On rewatching that scene…I think he slaps Rani. Not so cool.

BLACKFACE. There are 2 scenes that are COMPLETELY UNNECESSARY and REALLY RACIST. Like it's not bad enough to have people in blackface, this film gives them dialogue that goes something like "ooga booga ooga booga". Anything good I say about this film is based on me essentially cutting this scene out in my mind and pretending it doesn't exist. Because it's unforgiveable, really.
Now the good.
Govinda plays Raj Malhotra, Detective No. 1, who is enlisted to go on a bus tour of Europe to spy on his friend's wife, Anjali, to try and prove that she is a cheating ho' so his friend can get a divorce. Little does Raj know that Anjali (Rani Mukerjee) is actually only IMPERSONATING his friend's wife.
Actually, the plot doesn't really matter, because obviously
a)
Govinda and Rani start out hating each other
b)
They end up loving each other
c)
Nothing that happens in this film plot-wise really makes a lot of sense, beyond making the most of Rani and Chi Chi's chemistry and exploiting Chi Chi's awesome talent. YOU GET A LOT OF GOVINDA FOR YOUR ENTERTAINMENT DOLLAR IN THIS FILM.
Awesomeness Factor 1: MESH TEE FTW!
OMIGOD THE COSTUMES ARE INSANE YO!
Check out Chi Chi. Yes, that is a mesh shirt. Yes, he has moobs.


Same song, costume change…SILVER TEESHIRT!


When such awesomeness exists in the first 5 minutes, you KNOW you are in for a treat.
Awesomeness Factor 2: It's a dance revolution.
Obviously, anywhere that Chi Chi is busting a move, I am there. I don't think I need to explain any further but here, have a glorious treat because it's CHIIIIIIIII CHIIIIIIIIIII.


Awesomeness Factor 3: Govinda-rama!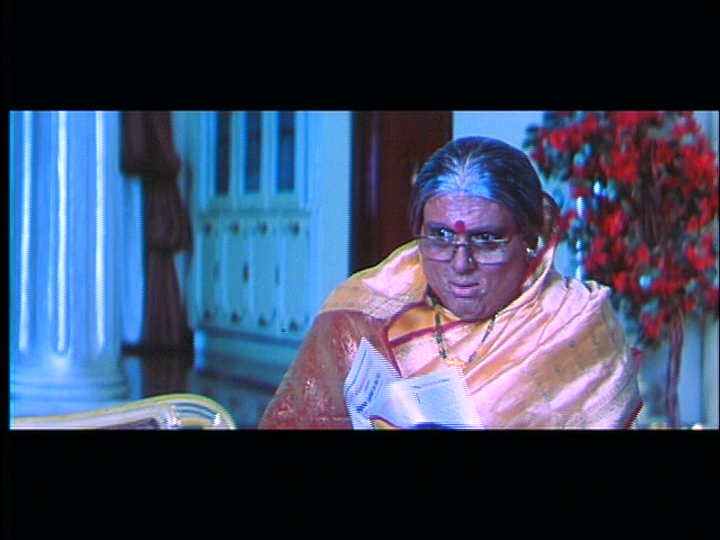 Amazing Devdas-alike drunk gun-toting Cousin Chi Chi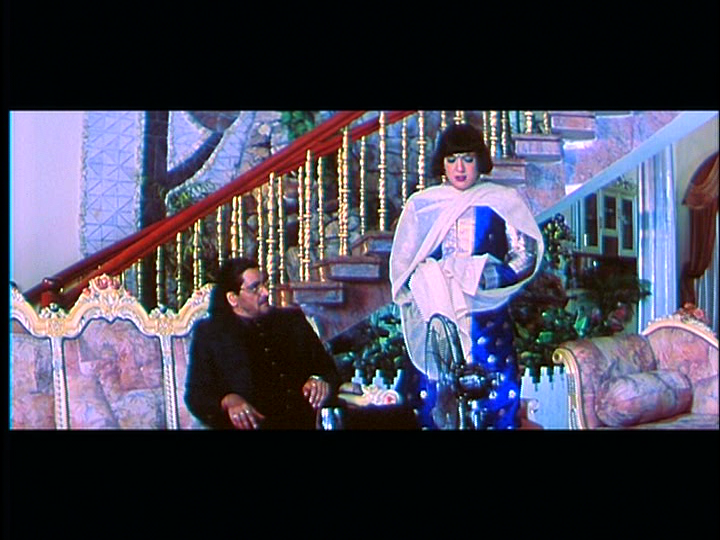 Daughter Chi Chi
.
She's only 36. And her measurements are 36 - 36 -36. HA!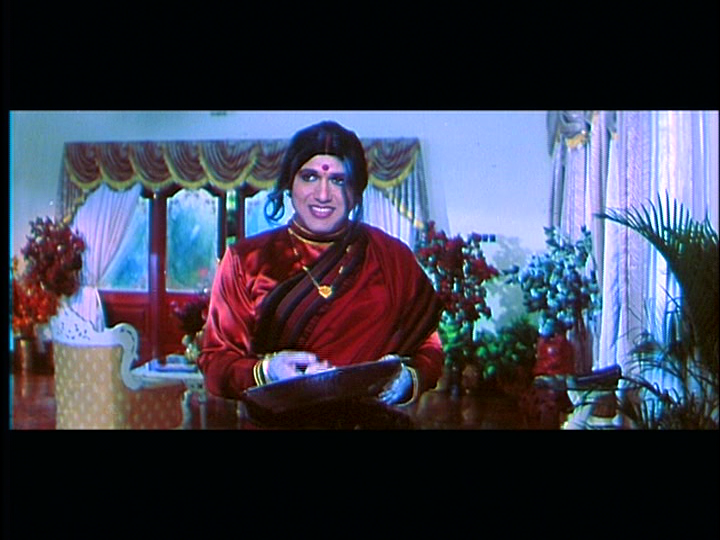 Pretty Aunty Chi Chi! Weirdly reminds me of Juhi Chawla. Is that blasphemy?
I mean, like, holy shit! I would rather poke my eyes out with sharpened sticks than watch that horrific Eddie Murphy movie where he plays the entire fat family…but CHI CHI? SCHO SCHWEEEEEEET (he makes a pretty lady)! Does that make me a hypocrite, or is it just that Govinda is talented and charismatic and Eddie Murphy….meh?
But even Rani gets in on the sweet cross-dressing action (years before Dil Bole Hadippa!)



Awesomeness Factor 4: It's like, totally realistic.
What other film has a heroine who just casually rocks it out on a mandolin (as you do, especially on holiday)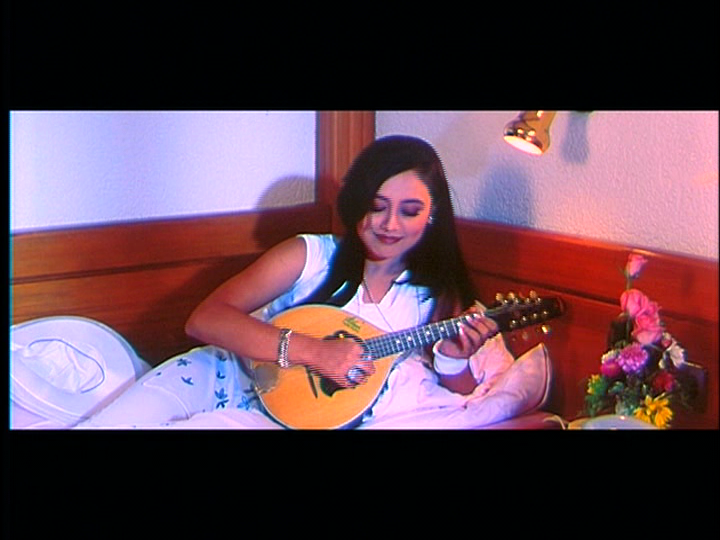 JUST SO the protagonists can have this charged exchange:
Awesomeness Factor 5: TRUE ROMANCE
You know all the rumours about how Rani and Govinda had a steamy affair, back in the day? Maybe they were just rumours, based on how Rani signed like, 3 movies (including this one) in a row with Chi Chi. Maybe people just saw their UNDENIABLY AMAZING CHEMISTRY and jumped to conclusions. Maybe it was really all innocent. No matter what you think, I am convinced they kiss for real at the end of this film. CONVINCED. When they are on the plane at the end and he says "I LOVE YOU" to her, with LOVE IN HIS EYES…hmmm. Maybe Govinda is just a really good actor.


Awesomeness Factor 6: Okay so maybe I'm just a bit obsessed with Chi Chi.
All of Raj's little tics: how he says "Re-A-lly?"; how he gets hysterical hiccups; how he gives himself motivational speeches in mangled English: "Raj, you are great!"; how he sings randomly to himself all the time (but Govinda seems to do this in like, every film he's in, right?); how his pick-up technique is literally poking a woman. Hahah which brings me to the subtitles that appeal to the 12 year old in me (I never claimed to be mature, which is probably why this film cracks me up so much):

Awesomeness Factor 7: SAUCY
Rani gets about as close to doing a striptease as a mainstream Hindi comedy is gonna let her get:


This one is worth watching, Govinda lovers. Re-A-lly!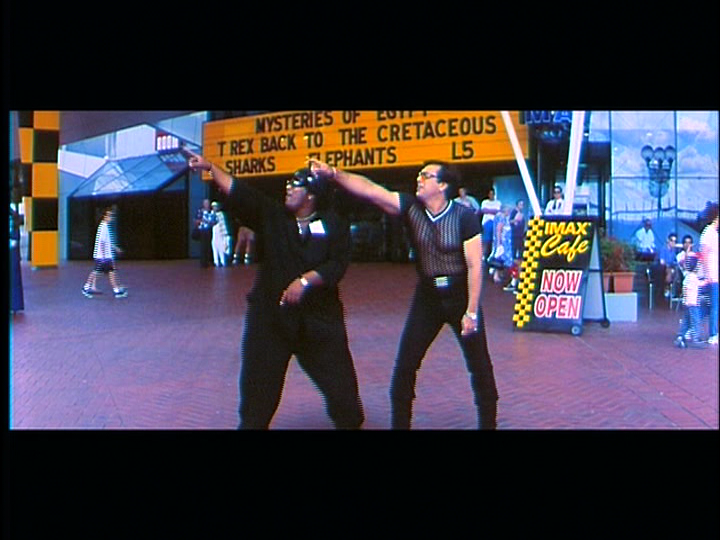 Bonus MESH TEE pic. BECAUSE I CAN.