Luck (Soham Shah, 2009)
MASSIVE SPOILERS AND GRAPHIC PICTURES COMING UP. SO, YOU KNOW – WARNING.
So after his largely well-received debut as the chocolate boy romantic hero in the sweet, quirky Jaane Tu…Ya Jaane Na, Imran Khan obviously wanted to prove himself as an actor. Maybe he felt some backlash because (like so many Bollywood debutants) his route to stardom was linked with family connections (JT…YJN being his uncle Aamir Khan's production) or maybe he just didn't want to get pigeonholed into doing one kind of film for the rest of his working life. Or whatever, who knows what the reason is – the point I am slowly arriving at is, for whatever reason, the two films Imran Khan appeared in following JT…YJN: Kidnap and Luck are pretty radically different from the sweet romantic comedy of his debut. They are both also pretty universally regarded as MASSIVE FLOPS and kinda awful. (This is sad to me, because pretty much all evidence points to Imran Khan being one of the nicest, most normal guys in the industry, and I want him to do well. Fingers crossed for I Hate Luv Storys!)
So of course, with my questionable taste and knack for enjoying things everyone else runs away from, I SHAMELESSLY ADORE them both. Today, loyal and patient readers, I will explain to you
why I love Luck
. Basically it can be summed up in one sentence: this movie is on crack.
1. Sanjay Dutt pimps it hardcore
Seriously – he's JUST SO COOL. The first song is set on a GIANT ROULETTE WHEEL with other appropriate props – giant dice, stacks of betting chips- with Sanju Baba surrounded by foxy ladies. THIS ACTUALLY HAS NOTHING TO DO WITH THE REST OF THE MOVIE except setting up his character Moussa as totally the most badass cool dude and making me yell "OH MY GOD SANJAY DUTT IS SOOOOO COOL!" every time he swaggers onscreen (wearing silk and velvet. AWESOME).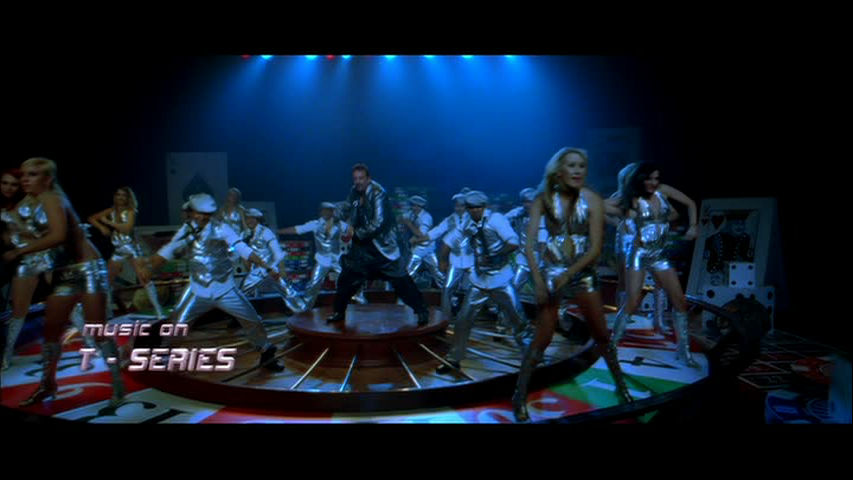 They don't set enough songs on big giant roulette wheels, for serious.
2. Imran Khan, bless his heart, does his best to emote. But it's better when he's in a happy movie and he can smile. "Scared face" is amusing though. Tres amusant!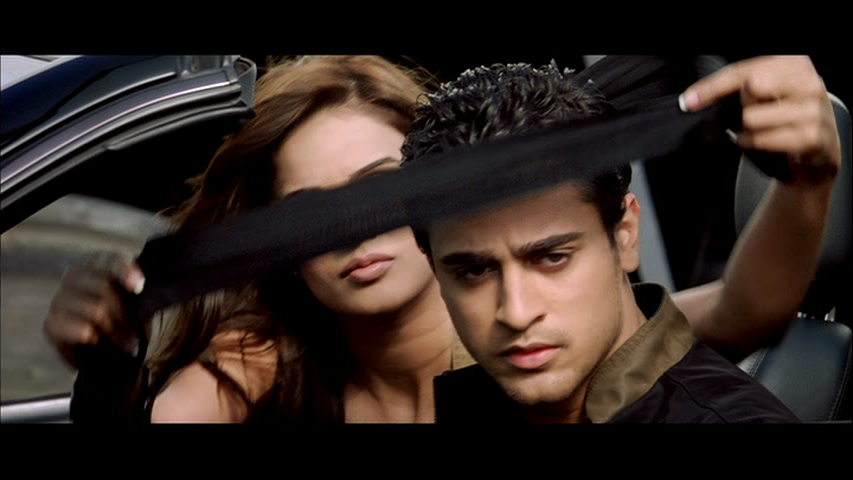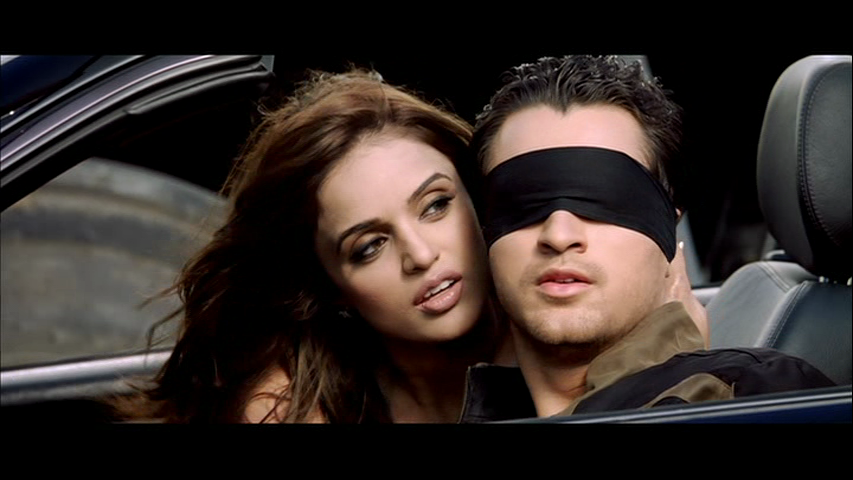 ...but I think he should stick to chocolate boy romantic hero roles. OMG I CAN'T WAIT TO WRITE UP KIDNAP!
His character, seemingly moral and "the good guy", when facing financial troubles at home, instead of doing what normal people do and seeking overtime at work or a new job, DECIDES TO ROB AN ATM MACHINE so he can buy a fake visa to go to America. GOOD PLAN IMRAN. And then when that inevitably goes wrong because…he didn't really plan it AT ALL – he ends up getting involved in Moussa's luck game – where people bet on the 'luck' of individuals in a series of deadly games shown on the internet (a bit like Fear Factor but where the stakes are life and death).
3. Pretty much the entire Shortcut storyline.
Shortcut is the shortest competitor in Moussa's deadly game and hails from Pakistan. If she wins (as the sole survivor) she dreams of buying a flashy car, and hiring someone to drive her (she jokes that she'd get The Major - Mithun Chakraborty - to do it)
so she can pimp it like Sanjay Dutt and 'pump out Himesh's songs' as she drives around the desert
.
THIS IS WHAT HAPPENS TO SHORTCUT IN THE FILM:
Cramp can be easily avoided. Don't swim half an hour after eating.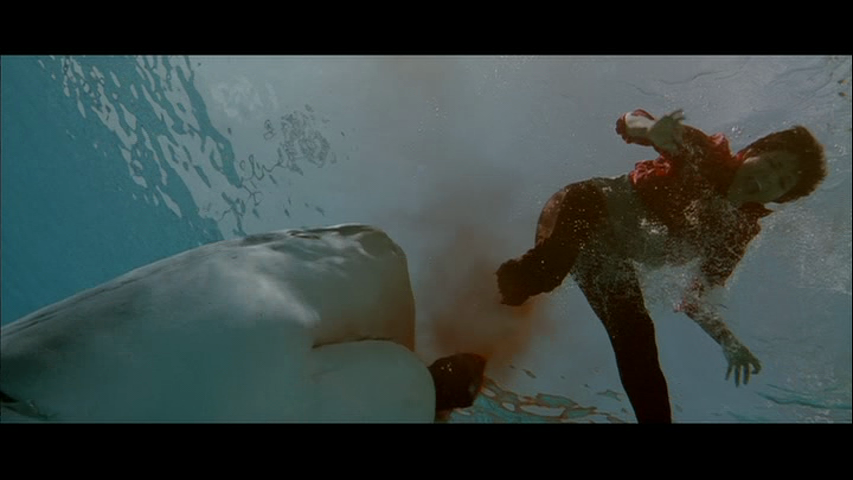 There go my ROLLERSKATING DREAMS **

see awesome alternative below

So imagine how much more awesome (and TRAGIC) it would be if Shortcut's original dream was to BUY ROLLERSKATES AND A BOOMBOX AND ROLLERSKATE AROUND PAKISTAN PUMPING OUT HIMESH'S TUNES.
Boom - Jaws shatters that dream. But the Major still has two legs! He can still rollerskate! He could skate around, pulling Shortcut all over the desert on a trolley. **
see further awesome alternative movie idea below. Hint: Shortcut would ditch "the Major" nickname and call him "Jimmy" instead.
YOU HAVE NO IDEA HOW MUCH PLEASURE THIS ALTERNATIVE FANTASY GIVES ME.
Seriously – and awesomely – in the actual film, in filmi REALITY, there's ACTUALLY a song and a montage based around "remembering all the awesome times we had together when you had two legs and we were pretty much prisoners in a sick game run by a psycho pimp gangster on the internet". The Major is kind of sick, to imagine this, I think: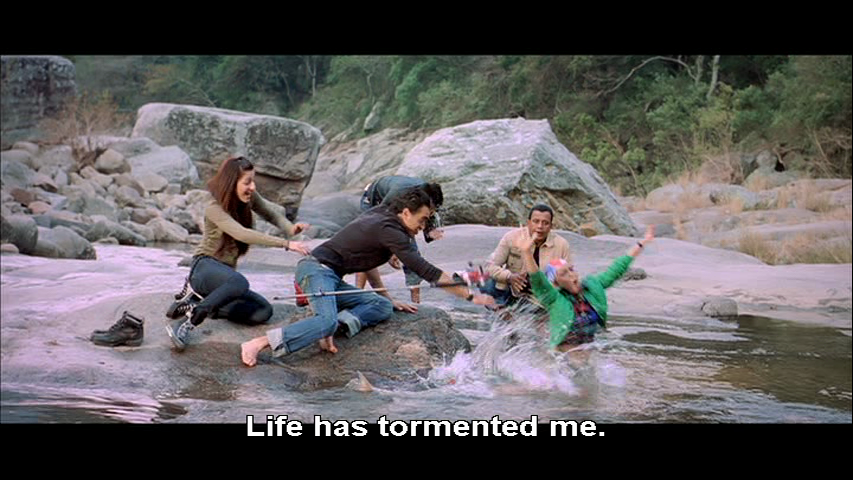 Hilariously, everything in the montage involves Shortcut falling over...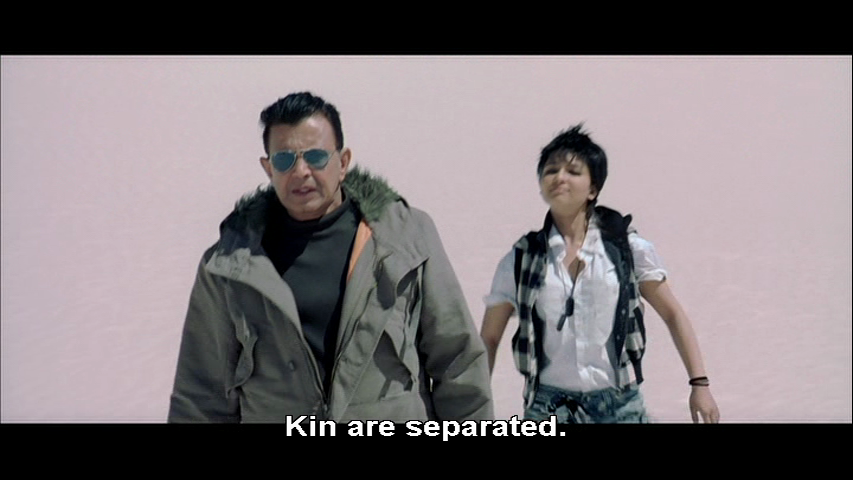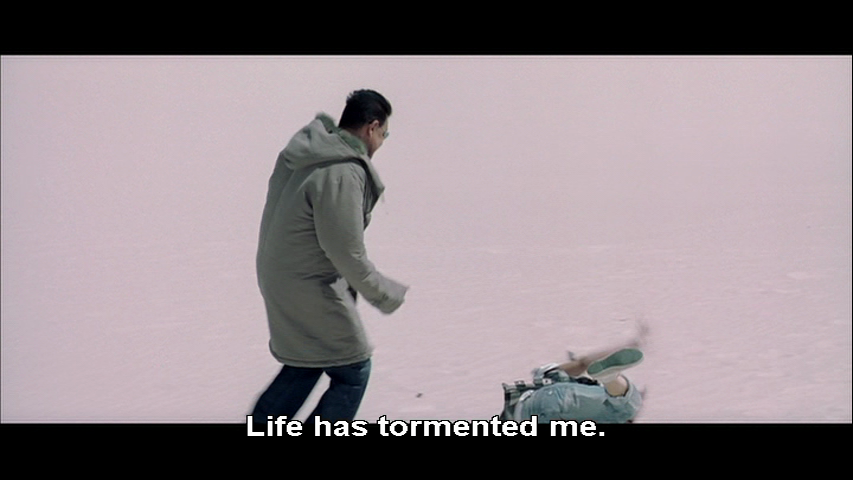 HA! She fell over! As if she only has one leg!
THANK YOU,
LUCK
! YOU ARE SO ON CRACK!
4. Speaking of alternatives:
**this is aforementioned 2nd awesome theory**
5. CRACKTASTIC CLIMAX! ZOMG!
A madman with a machine gun! FLAMES! Swordfighting! ALL TAKING PLACE ON A TRAIN WITH SOMEONE STRAPPED TO THE FRONT! Moussa (pimp it Sanjay Dutt OMG YOU ARE SO COOL) how could you have orchestrated something so INSANELY ridiculously POINTLESS and yet AMAZING? And if you have these life and death games ALL THE FRICKING TIME, on the fricking INTERNET, why are the authorities not onto you?