Bhagham Bhag (Priyadarshan, 2006)
Bhagam Bhag was a film I ordered for the shallowest of reasons: the presence of Akki and my new obsession, Govinda (and to be honest, my reasons for ordering films only rarely go much deeper than that). When it arrived and the "Multi-language subtitles" advertised on the dvd cover turned out to be a MASSIVE LIE, then it was the obvious choice for the second official No Subtitles Sunday…a venture that proved unexpectedly educational.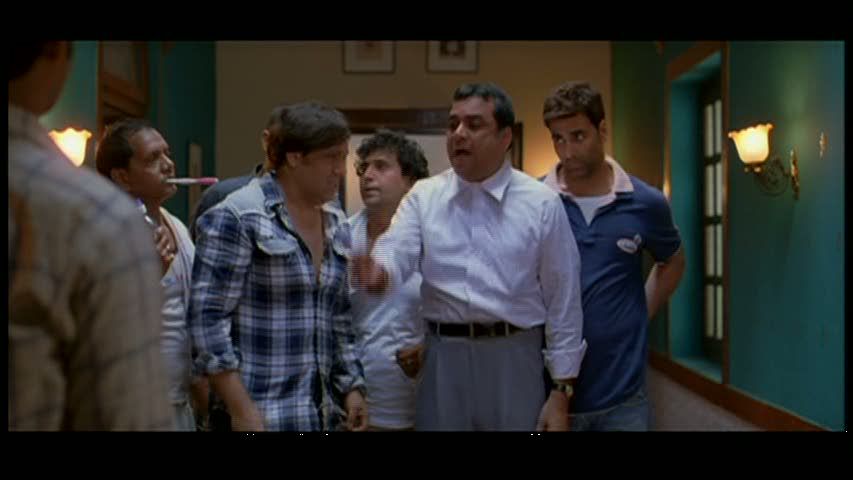 Gratuitous shot because something about slightly flabby Akki taunting Chichi is mega-appealing. This blog really is just a home for my weird Bollywood fetishes.
I better make one thing clear from the beginning: if you are here expecting a coherent review or an accurate recap of the film, you're out of luck. Turns out that Hindi comedies, especially ones like this that seem to rely on HILARIOUS MISUNDERSTANDINGS, require possibly a little bit more language comprehension than I have.
Which, if you are new here, is just a tiny bit more than NONE.
The plot, as far as I could make it out.
(This might make your brain hurt).
Bunty (Akshay Kumar) and Babla (Govinda) are members of a theatre troupe that is just about to go on tour to England. But they are both horn-dogs for the lead heroine of the show (Tanashree Dutta – what are the odds that I've never heard of her and then she's in two No Sub Sundays in a row?) and freak her out with their harassment so much that she quits before the London trip.
What I THINK happens in the first hilarious misunderstanding is that Govinda goes to Tanashree's room on some innocent pretext – to borrow something? – then ends up telling her that Akshay's character is a badmaash and up to no good, PLUS he declares his love for her so he gets a tight slap, and gets kicked out of her room. Akshay sees Govinda exit and is all jealous and is all "What happened to your face, why is your cheek all red?" and Govinda is SUCH A SNEAKY LIAR and is all "Oh, did I not get all the lipstick off?" and then they have a conversation I had absolutely no chance of comprehending but Govinda's expressions really say it all (and this bit was seriously hilarious, it even cracks me up WITH NO SOUND!):
So then Akshay tries to seduce Tanashree when she goes to have a shower and it goes horribly wrong. Which Akki then tries to cover by dancing like a maniac (again, FUNNY!).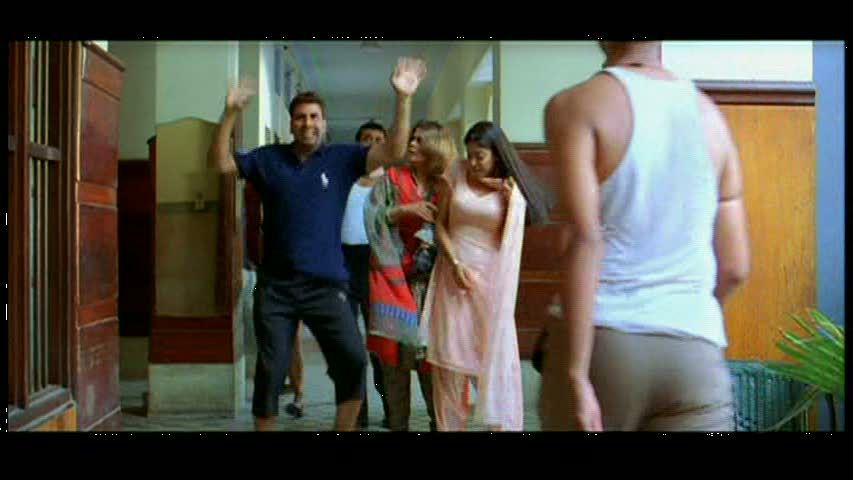 And this is where I think just understanding the concept of HILARIOUS MISUNDERSTANDING comes into play, because even if you don't really know what they are saying, knowing that Akki is thinking Govinda got it on with Tanashree and that Govinda DIDN'T and really doesn't want Akki to be saying that in front of everyone…that makes it funny.
Anyway back to the plot. So once Tanashree leaves because the two heroes sexual harassment is too much to deal with, the problem is: WHERE ARE THEY GOING TO FIND A HEROINE FOR THE SHOW?
Cue hilarious misunderstanding number 2, and the introduction of a subplot I could have done without: Akki and Govinda arrange to meet someone who can get them a heroine. But heroine sounds just like heroin, and so …the criminals end up with the actors' suitcase of clothes, thinking it is money; the actors end up with a briefcase full of drugs. "Yeh DRUGS hai!" But then the criminals end up thinking that the actors are actually undercover cops for some reason, and though the drugs are handed in to the police fairly early in the film,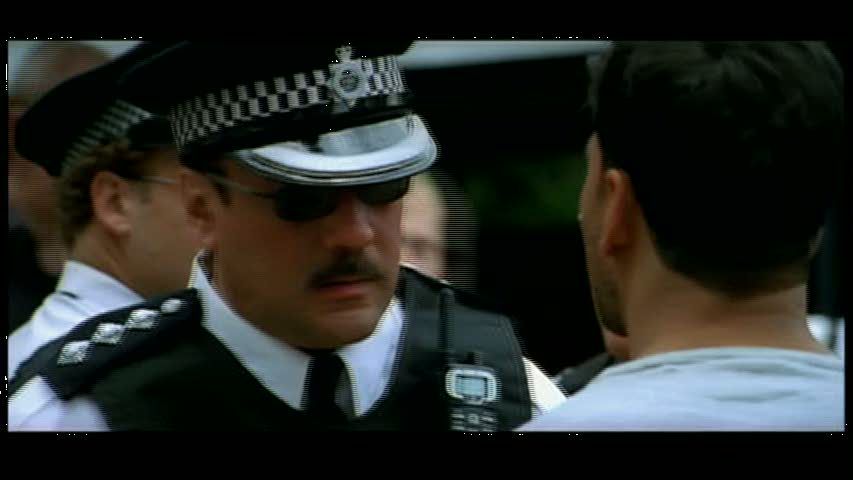 This is where we first encounter Firm but Fair Jackie Shroff.
somehow the criminal storyline persists and the criminals spend a lot of time running away from the actors. That's about all I comprehended of that storyline.
Which kind of brings us to storyline number 3: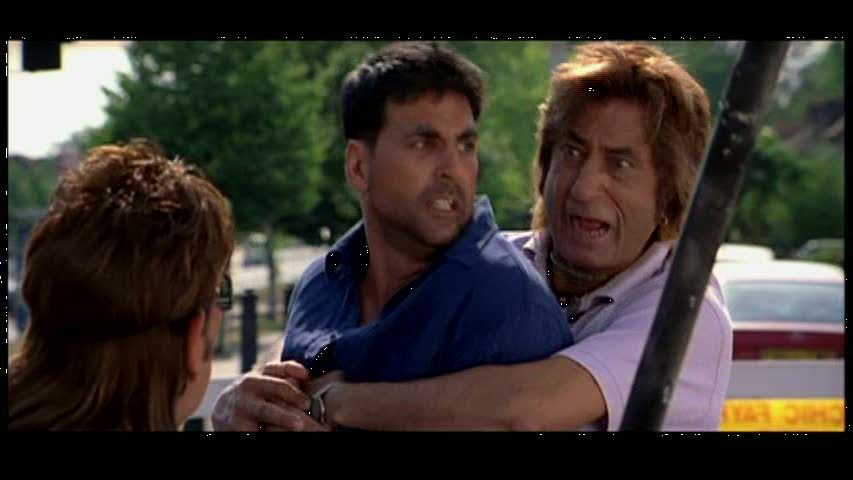 Apart from not understanding why Shakti Kapoor is in ANY movie, I don't understand why he is in THIS movie.
I HAVE ABSOLUTELY NO IDEA WHAT THE HELL PLOTLINE 3 IS ABOUT. All I know is that Rajpal Yadav is the taxi driver for the theatre company, and I think he says "Hey, I can help you find a heroine" and he takes Akki to see Shakti Kapoor, who is drunk. Then a lot of gang- member looking guys all pile in the cab with Shakti and Akki and Rajpal, and off they go, until they see a guy with a really long mullet, and all the gang members run after him. And then they get back in the cab and they all yell "GERMANY!" So Akki and Rajpal jump out of the car and the hoons drive off.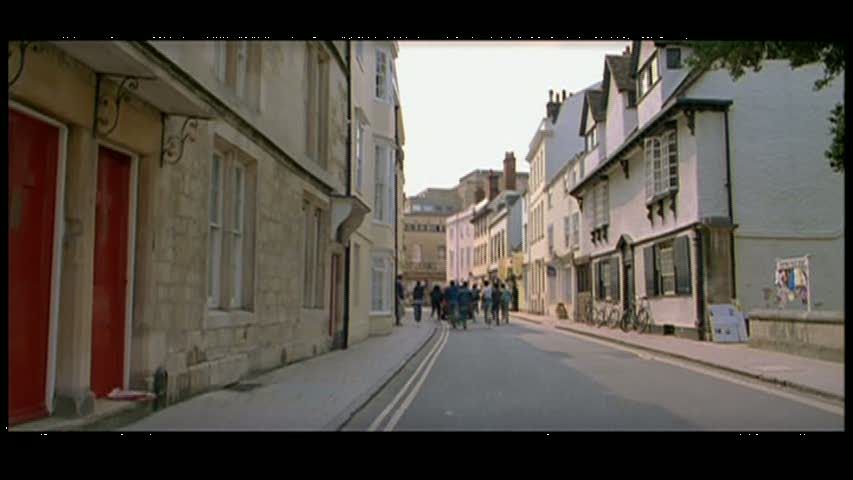 Also: the editing would have you believe Oxford is a couple of minutes cab ride (or gang mob jog) away from London. WHAT A LIE, Bhagam Bhag, WHAT A LIE.
And the whole time, I am thinking "Wait, what happened to Govinda?" After this episode every time Shakti appears he has broken a new limb and is after Akki for some reason, and all the gang guys want to GET AKKI. Obviously there is something lost in translation.
Anyway, when Rajpal and Akki lose the random Shakti hoons, FINALLY they find the perfect heroine for their show. A suicidally depressed Lara Dutta who appears to have lost her memory and /or be completely mad - somehow they convince her to come and be in their show.
Only… Lara turns out to ACTUALLY keep trying to kill herself, and SURPRISE! not be who she says she is, which GUTS AKKI LIKE A KNIFE since he is IN LOVE WITH THE PAGAL GIRL. To top things off, look who arrives…
Arbaaz! He mentions shaadi so I assume he is her fiancée? Husband? They are linked somehow. And he takes her away. But then she calls Akki in a panic, saying that Arbaaz is going to murder her.
At this point I'm all like "Wait, WHAT? I thought this was a comedy?"
Akki and Chichi rush over to Lara's house in time to SEE HER DIE IN FLAMES.
What is it with Bollywood films and people dying horribly in fires?
I knew Arbaaz was evil as soon as he walked in. And then at the big theatre performance, Akki and Chichi see Lara's ghost, and follow it, and (convoluted series of events later) end up with a dead body, and lots of blood on their hands.
Uh, Arbaaz? You got some red on you.
And from then on they keep seeing Lara ALIVE (like Mukesh sees Shanti in Om Shanti Om). But now they are wanted killers! WHAT THE HELL? Now this film is a thriller? So then there's yet another convoluted series of events, interspersed with the nonsensical subplots, where Chichi and Akki try and get to the bottom of the mystery of who Lara is.
Cue climactic confrontation in a clock.
Cue flashback explaining everything.
Cue all the subplots coming together completely incomprehensibly with everyone ending up inside a clock: our loveable heroes, NOT DEAD LARA, Shakti Kapoor and Mullet Guy, the other criminal drug lord guys, Firm but Fair Jackie Shroff and omigod waitforit KILLER BEES AND PEOPLE CATAPULTING OFF A FIRETRUCK. And….wait, what? THAT'S ACTUALLY THE END?
Oh yeah and at one point Govinda wears a polystyrene plate on his head for no apparent reason.
What I realised from watching this film:
Around the halfway mark, my laptop refused to play the Bhagam Bhag disc – and by that point, I was invested enough in a film that I obviously barely comprehended, to spend at least half an hour trying to get the disc to work again. Why? Because it was still entertaining. It's just that the bits I found entertaining I probably wouldn't have noticed OR would normally have found annoying if I had understood everything.
One of the most obvious aesthetic differences between Bollywood films and Western films, and something that is apparently jarring to people unprepared for a typical Hindi film, is the way they span several genres at once, defying the Western idea of fitting into a nice tidy niche box and instead encompassing romance, action, drama, comedy, musical, slapstick all in one film. To Western viewers, Hindi film plots can seem to meander aimlessly, starting out as one thing – e.g. a romantic comedy, veering into melodrama, diverting into a comedy subplot for a little while, before throwing in a bit of action, leaving the viewer wondering "What happened to the characters at the start of the film? Why are we watching a whole different movie now?" Plus, the Bollywood style is generally regarded as being a bit bigger and louder than Western films. Detractors declaim the comedy, for example, as tacky slapstick, the costumes as garish, the acting as overly melodramatic.
The standard justification for it is the same as the answer given to the "Why is there no kissing in Bollywood?" question: mainstream Hindi films have to appeal to a hugely diverse audience, in terms of age, language, social class, religion etc – so they aim to appeal to the lowest common denominator, err on the side of not offending anyone and give paisa vasool (value for money). The more genres they hit, the more chance there will be SOMETHING you like in the film.
And I totally got that watching Bhagam Bhag. Bollywood conventions that in the past were 'just how Hindi films are' suddenly made a LOT of sense when the dialogue didn't. In the stretches where I was completely confused, a well-placed action sequence that let me rest my brain made me whoop (plus Akki and action = PAISA VASOOL!). The climax of the film would have been completely incomprehensible to me except for the inclusion of a classic Bollywood FLASHBACK SEQUENCE that spelled it all out visually for me. When it was all getting a bit too much - AH! A song! Who doesn't love a song, with the added bonus that a song can tell a lot of story by showing the audience and evoking emotion in music rather than explaining through dialogue. Comedy sequences that would normally (e.g. if I understood the language) be annoyingly over the top were HILARIOUS because the exaggeration helped me understand what was going on. It's not like I ever had a problem with the larger than life side of Bollywood – it's just that in Bhagam Bhag, I have never appreciated the comic value of Govinda speaking in a falsetto more than when I had no idea what he was saying.
I might need to try watching Do Knot Disturb sans subtitles…