Khoon Ka Karz means "Debt of Blood". It stars Vinod Khanna, Sanjay Dutt and Rajnikanth – who I hadn't encountered until now but who is a Tamil superstar and PURE AWESOME – as three orphans who are raised in an ashram by a kindly woman (Sushma Seth), and who then are forced by circumstances in adulthood take separate paths…OF CRIME.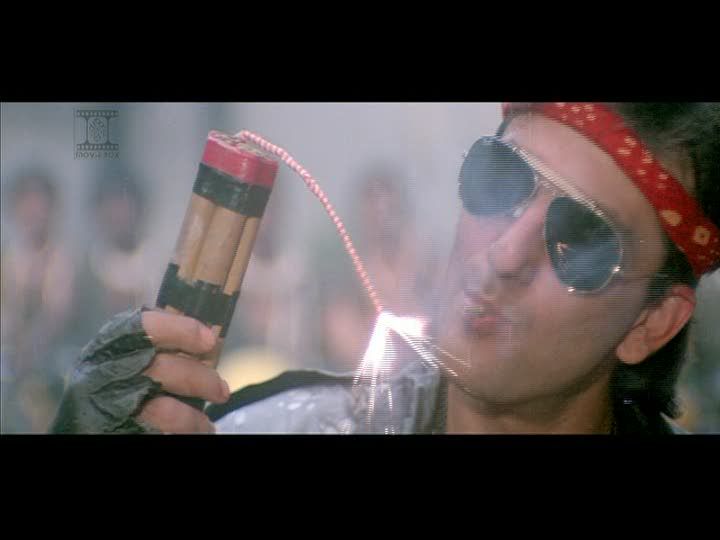 Sanju is so badass he lights his ciggies with DYNAMITE!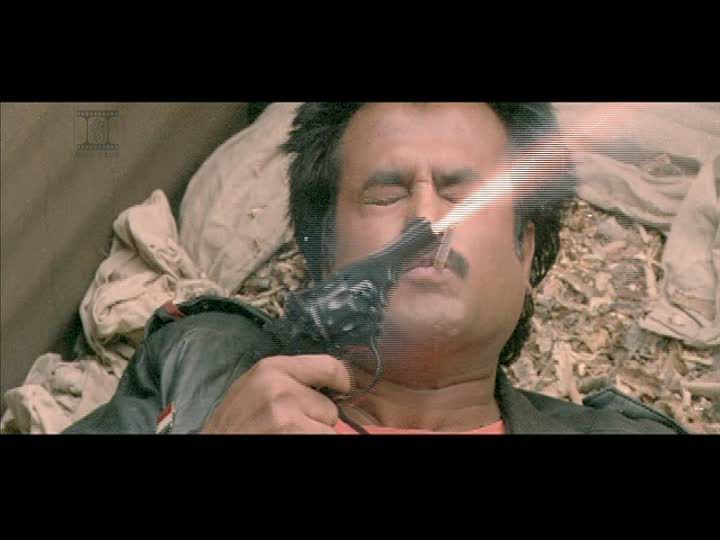 Rajnikanth is so badass he lights his ciggies with a loaded gun!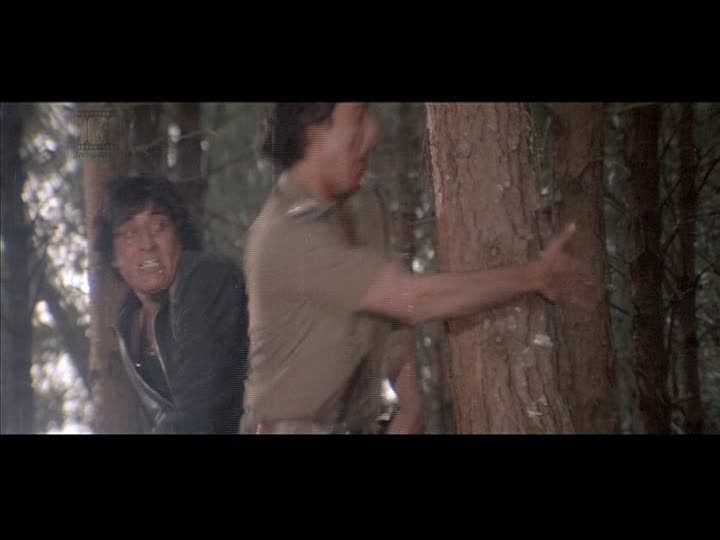 Hot Papa Khanna is so badass he doesn't smoke so he can KICK SOME MORE ASS!
Because this is an action film it means that:


a) fresh-faced, slim-hipped Sanju-Baba is a lean, mean, motorcycle-riding fighting machine…with the mullet to end all mullets, and he fights in the street because he is actually REALLY SMART but the evil father of Sanju-Baba's girlfriend got his scholarship revoked because he doesn't want them to marry. So he'll wreck Sanju's life instead by setting him on the path of crime.
Like it wasn't bad enough that Sanju's original parents died in a carwreck and left him on a mountaintop to perish before the kindly orphanage lady rescued him.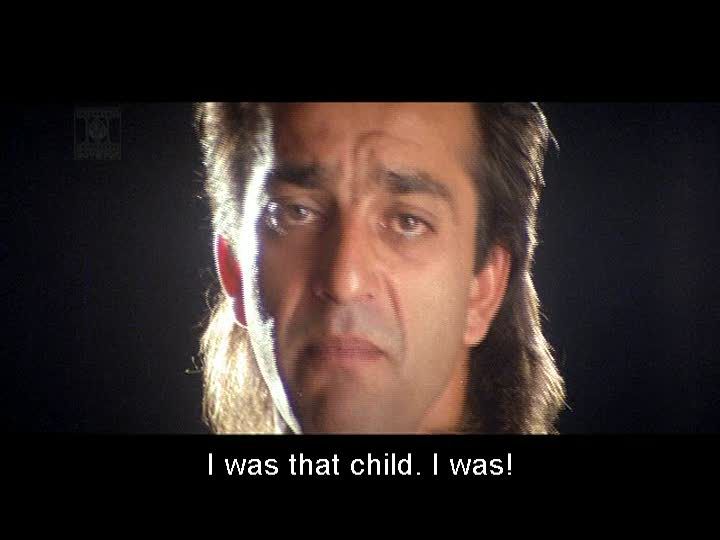 The mullet adds power to the melodrama. It adds OOOMPH.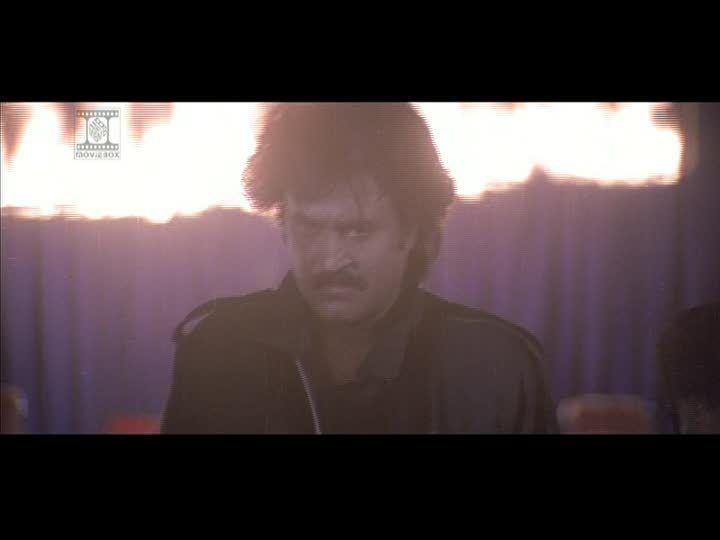 Tell me this isn't the coolest guy YOU HAVE EVER SEEN.
b) Rajnikanth has a bottle in his hand in just about every frame of the film he is in. Because he drinks to forget that he is not technically an orphan (who was abandoned in a dustbin); he is the illegitimate child of a woman with LEPROSY and a politician (? I think) who goes round impregnating ALL the women of the town! Dun DUN DUNNNNN! So naturally Rajnikanth considers visiting a prostitute who turns out to be the kidnapped daughter of a judge (and they fall in pyaaaaaar of course), because he is lonely, but decides to kick some ass instead.


c) Hot Papa Khanna proves that one is never too old to wear a mesh vest when you have the smoking hot Khanna khoon running in your veins – in fact – that may be why the cooler mesh option was a necessary wardrobe choice. Because HPK proves that even as the WAY OLDER BROTHER WHO SEEMINGLY WEARS A BIT TOO MUCH FOUNDATION and, um, cries a lot, he can still kick some bad guy ass and bring the dishoom-dishoom to the room. And make Dimple Kapadia fall in love with him even though he OUT-MELODRAMAS everyone else in the movie (which let me tell you, is QUITE a feat). It's not his fault he can't get a job and so has to steal from the rich to give to the poor because he has a heart of pure gold.
Luckily, HPK soon pulls himself together and realises that to pull off the Mesh Vest successfully, one has to MAN UP and bring the macho, particularly if one is going to insist on wearing too much foundation. You're a handsome man, HPK, but right here: a bit dostana.
So Khoon Ka Karz sounds TOTALLY AWESOME, right? How could anyone mess up a movie so gloriously melodramatic, with a power-combo like Sanju-Baba, Hot Papa Khanna and the wonder that is Rajnikanth (seriously, he rules!) at its core?
Sigh. This is how: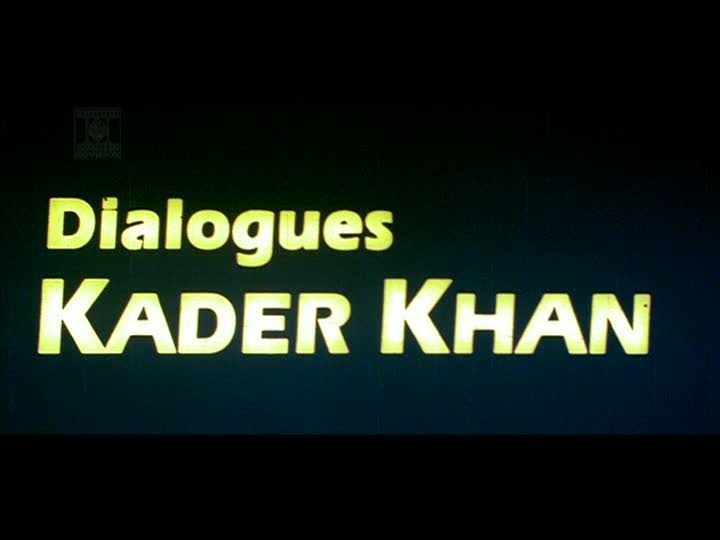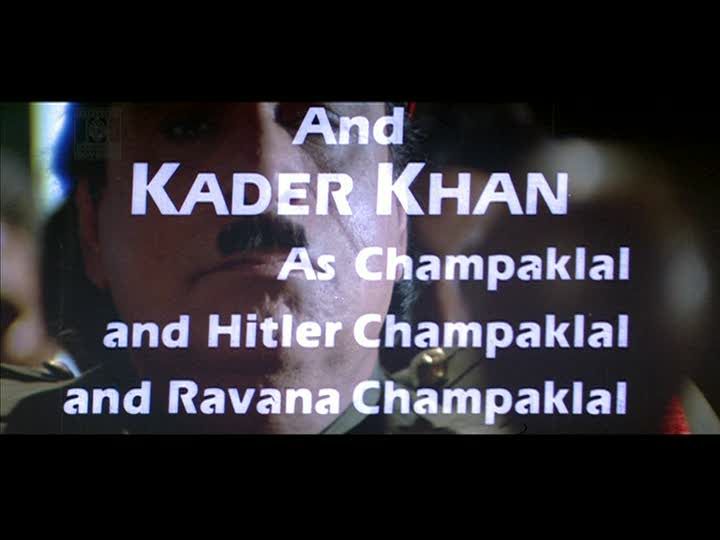 Like it's not bad enough that he wrote it, he had to go and have THREE ROLES. Can you hear my soul screaming? Can you?
I can't really sum up the plot of Khoon Ka Karz because it's so convoluted and bollocks that at some points in the film, I didn't really know what was going on, to the point that I may as well have been watching it sans subtitles. Mainly because every time Kader Khan was onscreen (which was waaaaay too much – it's like he seriously considered himself the STAR of the film, and SERIOUSLY thought that making the film into a hardcore action-melodrama SLAPSTICK COMEDY hybrid was an awesome idea) I died a little inside. I could actually feel my soul dying. Basically Kader Khan plays the bad guy, who for much of the movie is controlling two of the brothers in their life of CRIME while Hot Papa Khanna operates a bit like Robin Hood until at the end the three all unite against EVIL.
Just so you know exactly how bad it gets:
a) he dresses up as Hitler and Ravana for no apparent reason except that he…thinks it's awesome?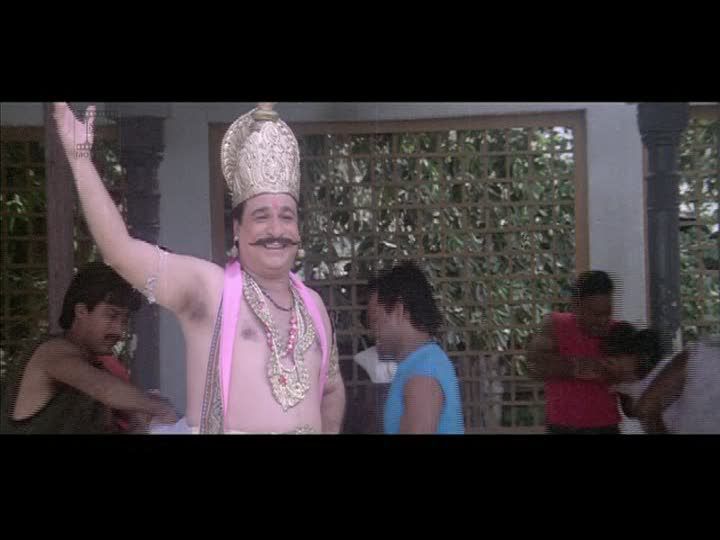 I refuse to post a picture of Khader Khan dressed as 'comedy Hitler' because you know what? NOT FUNNY.
THIS IS NOT AWESOME. Awesome would be if you vanished from the movie. YOU ARE TAKING UP SCREEN TIME OUR HEROES COULD BE DISHOOMING IN. THERE COULD BE A MESH-VEST FASHION SHOW.
b) I always thought Shakti Kapoor was annoying. He's in this movie too, and it might just be my anti- Kader Khan bias speaking, but he seemed more subdued than normal. In contrast to Kader Khan, I would watch 150 minutes of pure Shakti Kapoor antics. By the end of Khoon Ka Karz, I was praying for more Shakti, just so there would be less Kader Khan. I LOATHE HIM. I LOATHE THE MAN.
Because of the Kader Khan factor, Khoon Ka Karz will never be anything more than a hot mess, which will always depressingly hold the promise of what it could have been. A fricking awesome dishoom dishoom action flick with three superwow heroes all trying to out-melodrama each other. Sigh. At least we will always have Sanju-Baba's mullet and snaky hips, and Hot Papa Khanna's mesh vest.
Highlights and Random Observations:
So apparently
Khoon Ka Karz
was A HUGE hit for Rajnikanth in Tamil Nadu, where he was considered the star of the film. So much so that it's getting a Tamil remake (starring Rajnikanth, of course) 18 years later. Seriously though, how badass is the guy: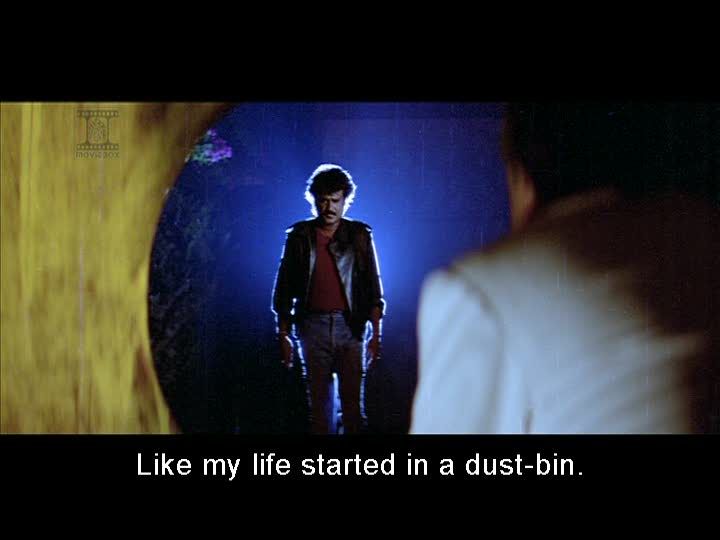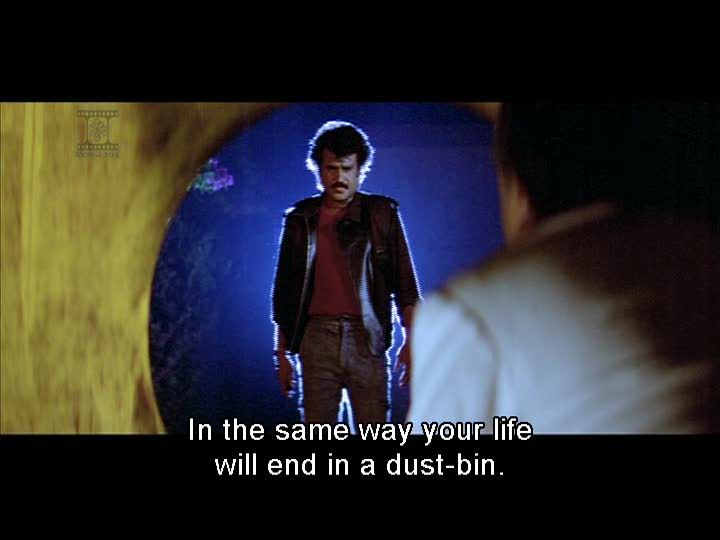 Obviously, the bit where Kader Khan gets what he deserves is a mega highlight.
POW! DISHOOM DISHOOM! WHAP! THWACK! BOOM!
Also, the extreme melodrama-action focus of the film (e.g. all the bits without KK) make it super wow – so the spectacular climax, with the three brothers being beaten and walking barefoot over broken glass to get their ma to her funeral pyre before ALL HELL BREAKS LOOSE in a riot of dishoom dishoom and GRENADES and SWORDFIGHTING is actually worth it.
He does look better without the mullet. The hair continuity becomes like a game. There's no-mullet, spiky punk mullet, and bouffy mullet. No-mullet is my favourite. THROW THAT GRENADE NO-MULLET!
Like, totally. If you like action films (and what' not to like? seriously, what's WRONG with you?), just fast forward through the bits featuring the antichrist and Khoon Ka Karz is almost ridiculous-awesome.
Oh yeah - there are obviously songs, and there's one that is the romance song where all the heroes are briefly happy and extremely handsome, but the subtitles are...suspect, to say the least. And Sanju-Baba, as SEXY YOUNGEST BRO gets the most interesting variation: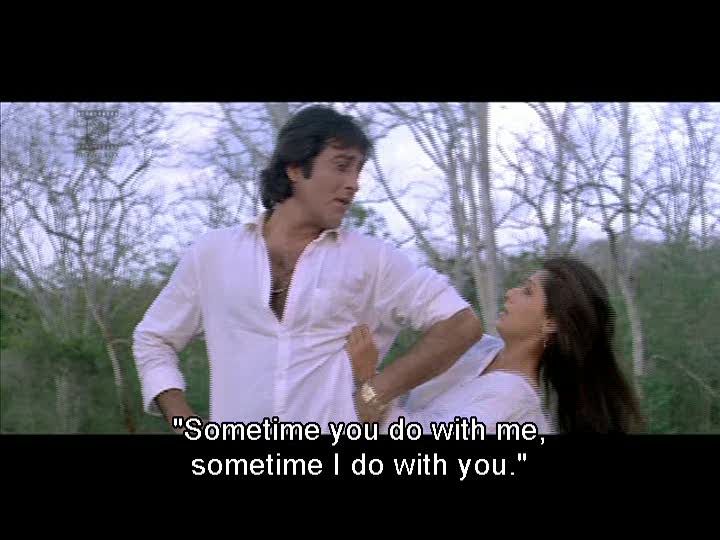 In this song, Vinod Khanna looks every bit the matinee idol. So handsome. I'd "do with" him.