Koyla (Rakesh Roshan, 1997)
If you have an aversion to mullets, avoid this film.
If you have an aversion to Amrish Puri, avoid this film.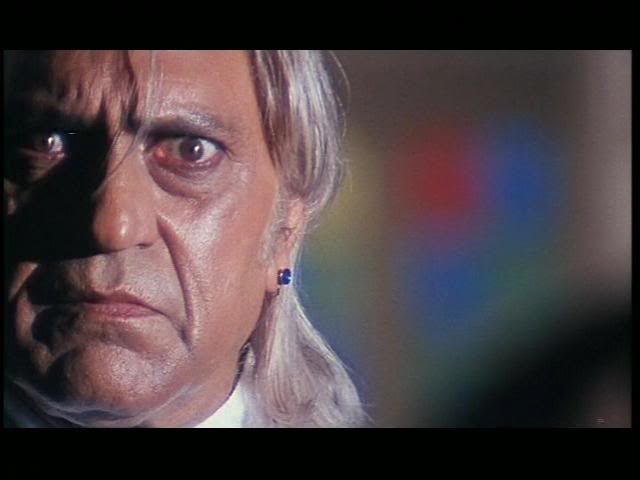 Seriously, if you dislike him to begin with, after he says "Bloody fool!" for the 378th time you will really loathe him. And then there's all the raping.
If you like your Bollywood films to be sweet, family-friendly entertainment, be it a star-crossed love story focused on the hero getting the girl or a whacky slapstick comedy involving hilarious criminal capers, or an old school masala with long lost brothers, evil overlords and a convoluted plot resulting in good triumphing over evil…this film is not for you.
Koyla
is the first Bollywood film I have seen that I have found seriously disturbing. Initially, I ordered it based on the presence of my beloved Shahrukh, and on the strength of a screenshot in the
PPCC's review
of the film:
I think the PPCC used the exact same shot! SERIOUSLY, CAN YOU SEE HOW I WOULD BE INTRIGUED?!
that made me somehow (erroneously) think that Rukhie bit someone's face off (!!) and that
Koyla
would thus be a hilarious gore-fest I could laugh at. At any rate, I was intrigued.
The story is a misogynistic Mills and Boon saga: rich tyrant Raja (Amrish Puri) sees a local girl, Gauri (Madhuri Dixit) and falls in love with her instantly. He tricks her into marriage by sending a photo of another man – his mute stableboy, Shankar (Shahrukh Khan) – with the proposal. Gauri discovers the deception too late but with Shankar's help, escapes the prison Raja keeps her in. But can she and Shankar evade the Raja and his men forever?
The horrible truth is that
Koyla
is a deeply unpleasant film, with scenes of gratuitous and brutal rape and violence that actually made me feel ill at points. This is not the kind of film you can laugh at – for every absurd moment, there is a moment of real shocking violence or brutality that ultimately gives the film a nasty undertone. There was none of the warmth, optimism or satisfaction I get from watching any other Bollywood release – not even at the climax where revenge on the bad guy is predictably had, and in this film the bad guy is so fricking bad you'd think it would feel really good to see him go up in flames.
But if anything, I just felt relief that this nasty, unpleasant, horrible film was over. Really not recommended.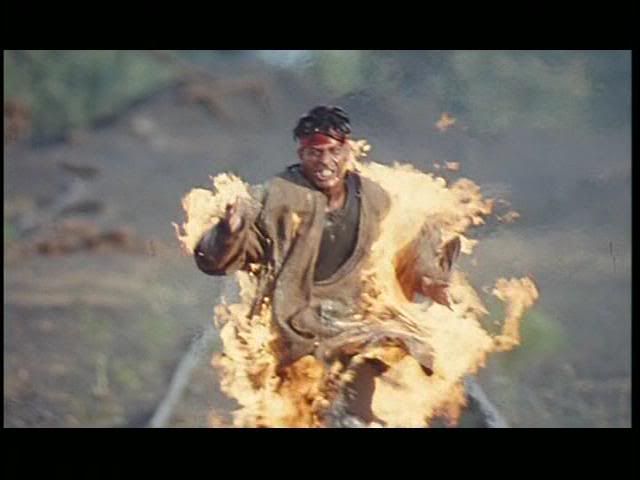 The Rukh, the Rukh, the Rukh is on fire!