Wanted (Prabhudheva, 2009)

So, count me in to the Sallu-bhai fangirl club. I know I used to have that pesky irrational hatred for him, but he wormed his way into my heart with sneaky comic flair, first with Jaan-E-Mann, then with his hilarious antics opposite Akki in Mujhse Shaadi Karoge. Now, having finally seen him in an action flick, the genre he is actually most famous for (and the success of this film responsible for breaking a sad run of flops for Sallu…sigh, except now, what will save you from Veer, Sallu?)…I get it. Sallu certainly can harness that macho, thuggish charm and use it to harness the power of awesome when he puts his mind, and swiveling hips, to it.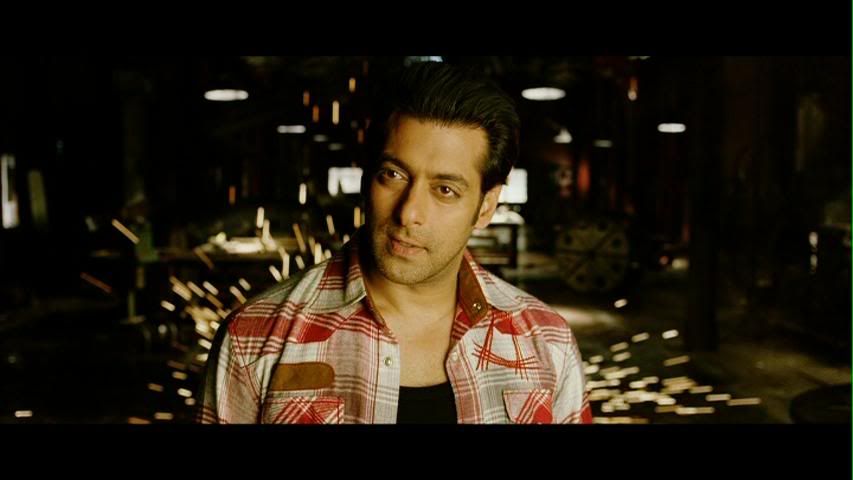 Sallu plays Radhe, who is not a man to be trifled with. Though his hairstyle and length varies WILDLY throughout the film, Radhe DARES you to mock him. HE DARES YOU.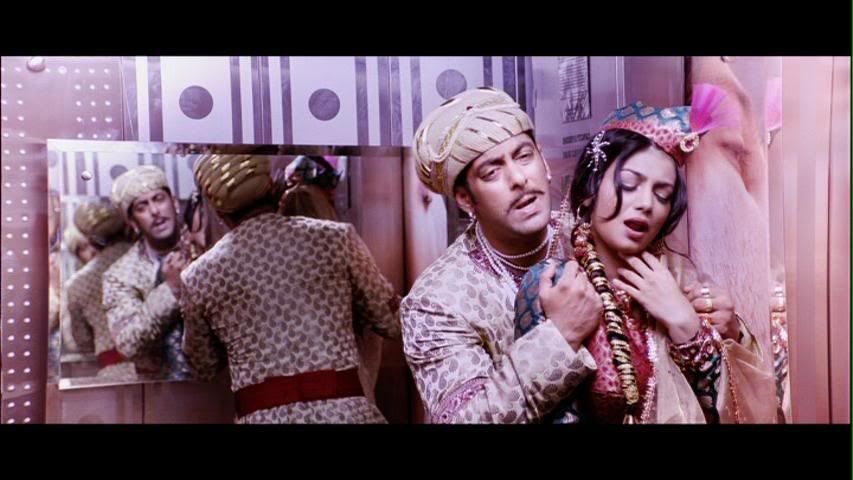 Even when he has whack-a-doo daydreams that take place IN THE PAST (Veer, anybody?)…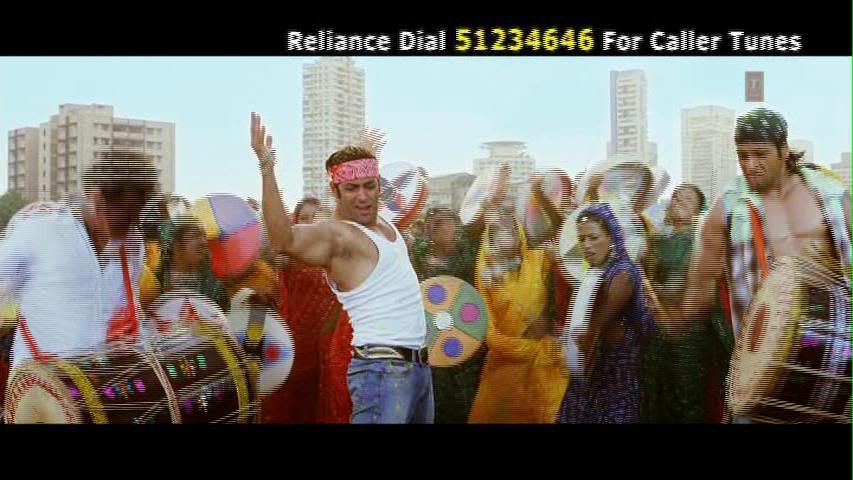 The trend seems to be VEERing (haha see what I did there?) in favour of pit hair for men. Based on my obsessive yet amazingly unscientific research.
(Ugh, note annoying scrolling message urging me to choose this song as my ringtone - this is a trend I DO NOT ENJOY, DVD MAKERS).

Wanted is pretty ridiculous awesome when it comes down to it. A modern-day masala flick, it's set in a version of Mumbai overrun with rival gangs fighting it out for control. The police are powerless to stop the bloody gang war, given the corruption that festers within the force, so it is up to Radhe – a fearlessly hardcore and brutal goonda who will murder anyone for money – to eliminate mafia don Gani Bhai's enemies singlehandedly. But with Radhe switching allegiances for nothing but the right price, he is a wanted man – wanted by the law, and wanted by the gangs.

There's good cop versus bad cop; secret adopted brothers; a pimpin' evil villain with a great sense of humour;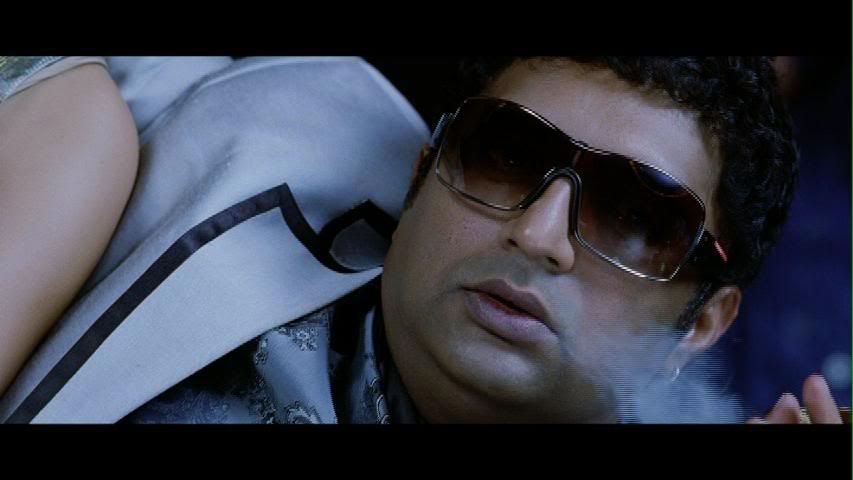 Aforementioned evil pimpin' villain.
lots of action with superwow stunts that serve the script, rather than the other way round (ahem, take note, BLUE) and swivelly hipped Sallu dancing with a couple of special guests (even though I knew they were coming, I still squealed in delight, because at least one of them is much deserving of the squeal of delight).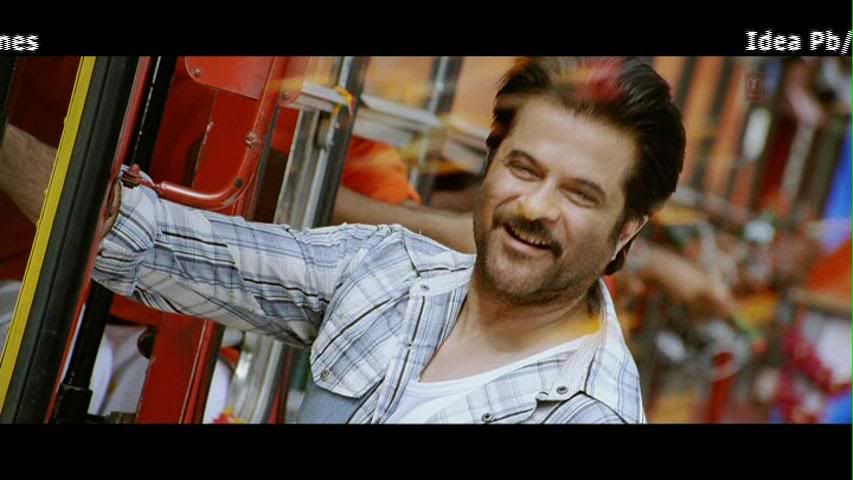 I freaked out my flatmate the other day by screaming "ANIIIIIIIIIL!!!" at the television when an ad for 24 came on. He was confused as to why I was pointing and squealing "ANIL KAPOOR! ANIIIIIIIL!"

HIGHLIGHTS and RANDOM OBSERVATIONS
The music KICKS ASS. Much like Sallu. Plus, how can you not love a character who implores you love him by singing: "Love me, love me, love me, your mama says you love me, your papa says you love me…" ? Well… Okay. If my parents say so.
The best bit is that in this part of the Love Me song, Sallu is actually going "Coo, coo". LIKE A DOVE.
The cherry on top of this glorious masala sundae, definitively turning this film from awesome to RIDICULOUS AWESOME: Vinod Khanna. Still the man. Still totally the man.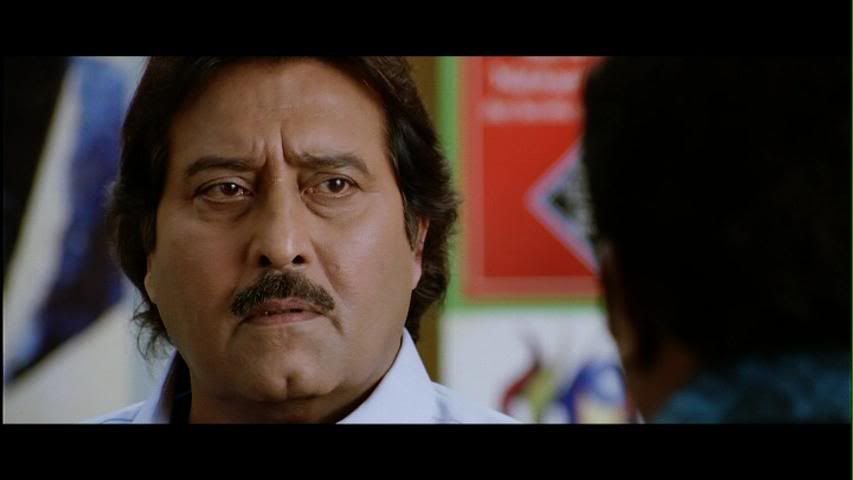 Khanna. LOVE. The man is *string of superlatives*.
While much of the film is your standard flashy action flick, glimpses of sheer batshit crazy genius occasionally peek through and make it superwow. Moments like the Vicco Vajradanti reference in the elevator:
Seriously, they fall in love based on sharing the same fresh breath. Blowing on each others faces as an aphrodisiac - not sure that's gonna catch on.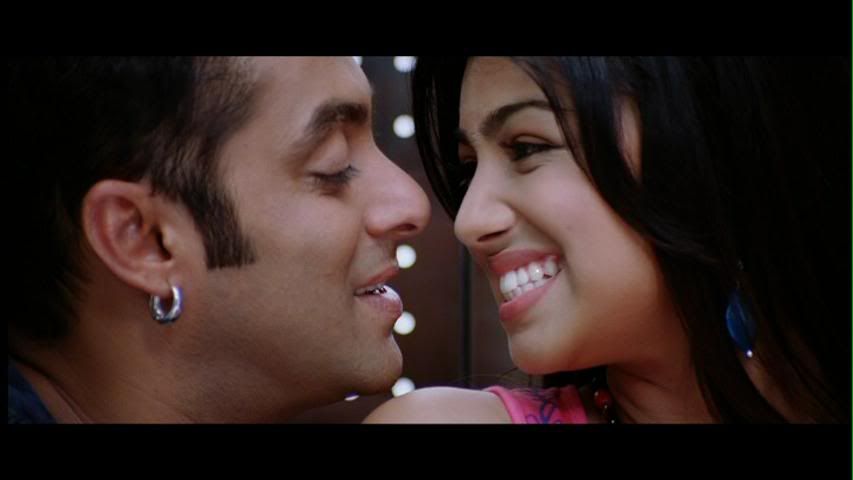 But who's teeth are whiter?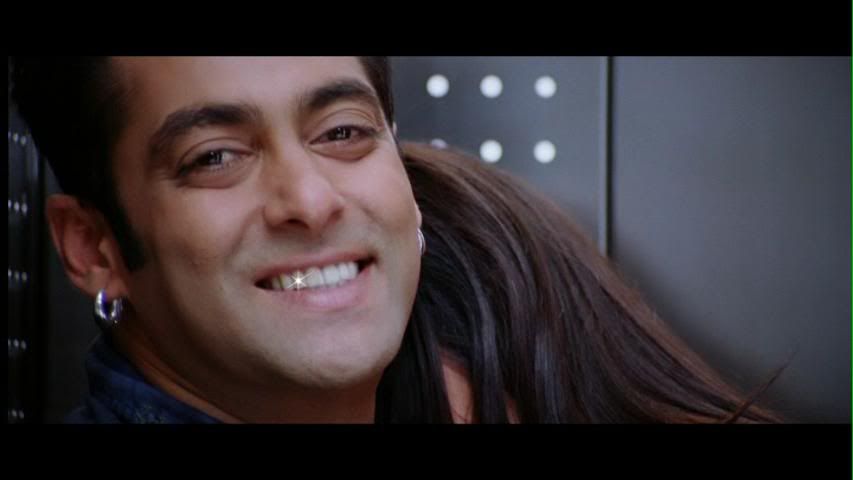 Sallu gives the people what they want.
or pretty much any of Sallu's exchanges with Ayesha Takia. How could I have carelessly written you off as just a macho thug, Sallu? YOU ARE A COMIC GENIUS. My irrational hatred – permanently revoked. I CANNOT WAIT to see Veer.