Kambakkht Ishq (Sabbir Khan, 2009)
I had heard that this film was bad. But nothing, NOTHING I had read, or heard, or that anyone could have told me would ever have adequately prepared me for Kambakkht Ishq.
This film is literally THE WORST FILM I HAVE EVER SEEN. Words cannot adequately express just how truly, truly awful this film is. As an example of just about every single thing you can think of that would be an amazingly bad idea to put in a film, Kambakkht Ishq is a masterclass of badness.
Please note: K.I. is the kind of bad film you enjoy hating. It is fun to watch and laugh at its badness. As opposed to, ohhhh, something like Aaja Nachle, the horribleness of which will make you want to rip out your own eyes with boredom.
The film will now and forever be cited as my ultimate example of something that is so astoundingly, unbelievably, irredeemably and unforgivably awful that it crosses over the line of BAD and comes all the way back round into COMPELLINGLY AWESOME IN A TRAINWRECK KIND OF WAY.
Basically, Kambakkht Ishq is the extremely improbable story of a studly (and amazingly misogynistic) "Hollywood stuntman", Viraj (Akshay Kumar...sigh, Akki, I still love you, but WHAT WERE YOU THINKING?), who doesn't believe in love, only casual sex and random hookups. He meets Simrita, a.k.a surreally as Bebo (played by Kareena Kapoor, a.k.a Bebo...yeah, I don't know why they wanted to blur the lines of fact and fiction either), a supermodel turned surgeon (YES! REALLY!) who hates his guts on sight – but Viraj is such a dick, who wouldn't? – and who does everything she can to convince her sister, Nim friend (?) (I don't know it doesn't really matter that much), who is married to Viraj's brother, Lucky, that stuntmen have no IQs and pretty much that all men only want one thing: sex.


Obviously, Viraj and Simrita are DESTINED to be together, it just takes some botched surgery without anaesthetic, Denise Richards, Sylvester Stallone, a supremely awesome song about being Bebo, plus crucially, the fact that Simrita accidentally drugs herself, thinks Viraj has raped her and then finds out that he chivalrously didn't (even though Lucky "thought he should have") to bring the 'lovebirds' together.
I was nearly hysterical with laughter for nearly the entire 129 minute running time.
In fact, it took me a lot longer than that to watch the film, because just about every scene when a new and more awful development occurred onscreen, I would have to pause the DVD and run out to breathlessly tell my flatmate what new abomination had been committed. He thinks I am insane, because he could hear me screaming with maniacal laughter and muttering "OHMYGOD, OHMYGOD, OHMYGOD" to myself for the entirety of the film.
I really don't know how else you could react to it. You certainly couldn't take it seriously.
JUST SOME OF THE THINGS THAT MAKE KAMBAKKHT ISHQ TRULY AW(FUL)SOME
The blurb on the back of the DVD case proudly proclaims: "If there was ever a successful marriage between East and West, rom-com and action, Hollywood and Bollywood…Kambakkht Ishq is certainly it". REALLY? If this was a legitimate attempt to target the Hollywood market, then who's GENIUS idea was...
...blacking up. SERIOUSLY? At this point I started murmuring "Ohmygod, ohmygod" to myself in disbelief.
Plus, given the US is known for being a place with very strict controls and very little sense of humour regarding airport security – and understandably so – ever since September 11, 2001, was the throwaway "HIJACK!" joke (packed plane, Asian man screams HIJACK – everyone ducks for cover; white man enters frame and says "Hi!", Asian man says "Hi, Jack!" BA DOOM BOOM CHHHHH!) in the best taste? Oh, oh oh.
I think the lowest point of the film is when someone farts in the bride's face at her own wedding reception, in the midst of the (sigh) CREAM PIE FIGHT.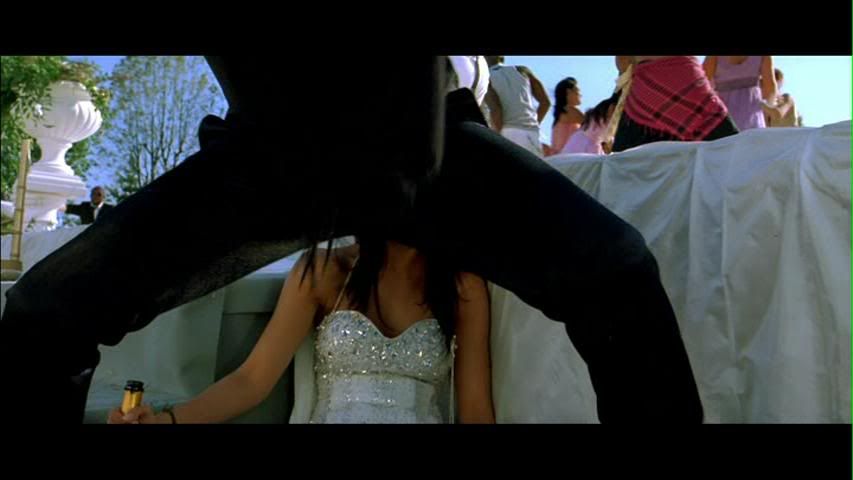 You need to see it to get the full glory of the comedy sound effects. COMEDY GOLD.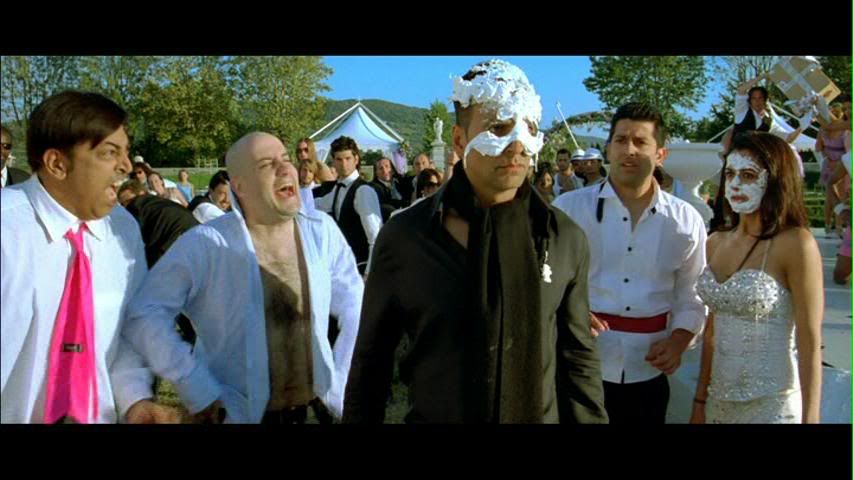 Don't you think with a face full of pie, the bride looks a bit like Preity Zinta?
Throughout the film the English subtitles tell a completely different story than the actual spoken English – as if hearing "Bitch" and reading "Witch" is gonna fool us into thinking that "Witch" is what was said. "You haven't got the balls" becomes "You haven't got the guts"; "Bastard" becomes "Scoundrel", "Asshole" becomes "Rascal". And so on...
Another "ohmygod" moment: Viraj gets searched for drugs. The subtitles: "I'm untouched there". What Akki actually screams in his lovely husky voice: "No, please, I'm a virgin there". For a 'comedy' scene it's actually quite disturbing.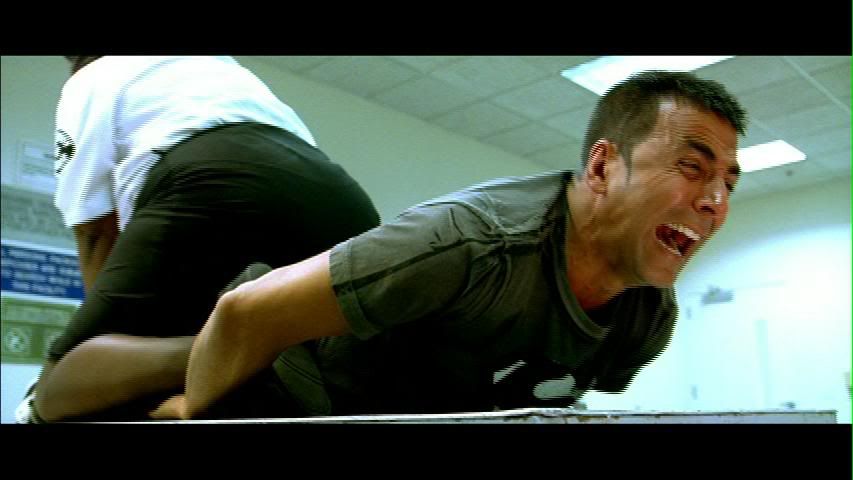 This scene was...painful...to watch.
*SPOILER WARNING* Simrita, the supermodel turned surgeon, has nails about 3 inches long, and does hardcore intestinal surgery on a man with no anaesthetic. IT COMES AS NO SURPRISE THEN that she is the kind of doctor that doesn't bother to take off her BIG DANGLY WATCH, preferring to risk LEAVING IT INSIDE THE PATIENT. Here begins the narrative strand for the entire 2nd half of the film. HOW TO GET THE WATCH BACK OUT. (I am not kidding. How could I make this up?)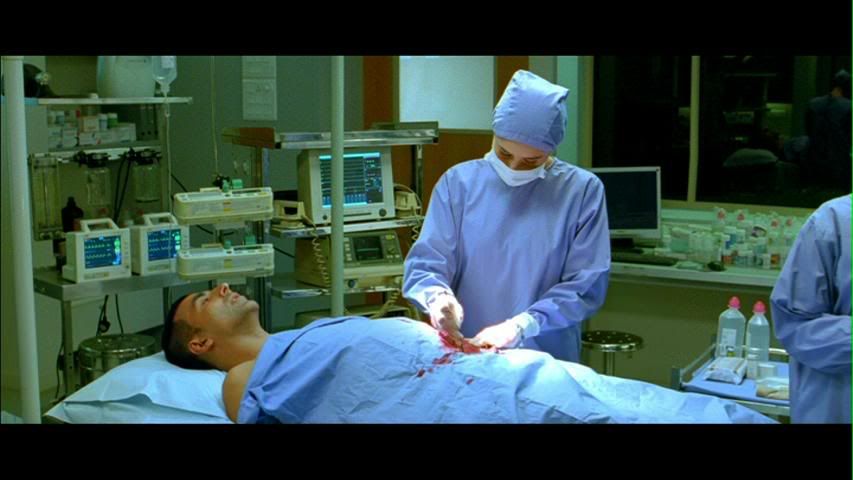 DON'T CUT HIM! HE'S STILL AWAKE!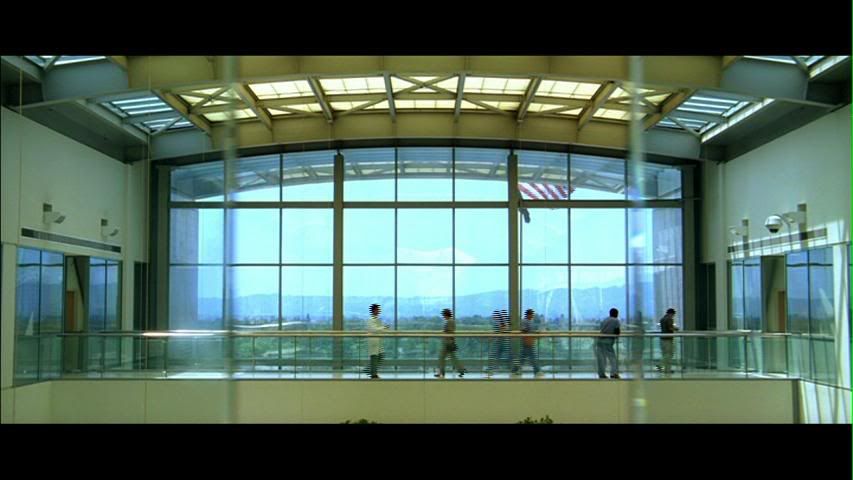 The hospital where Sim/Bebo works looks eerily like the one in Grey's Anatomy.
Viraj, on seeing that Bebo is about to perform surgery on him, gives it the crazy eyes and screams "She's not a surgeon, she's a model! I'm not here for a RAMP WALK! SHE CAN'T EVEN WAX PROPERLY!" Hahahahahah!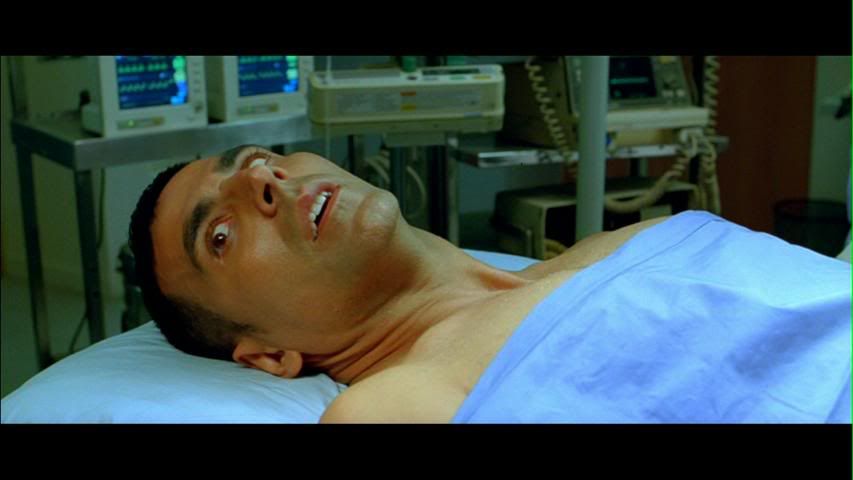 "She can't even wax properly!"

He actually has some awesome lines. Like when he first kisses her (oh, yeah, the Akki/Bebo kisses make me cringe): "Love your strawberry lipstick, BABE". HA! It's all in the delivery.