Paheli (Amol Palekar, 2005)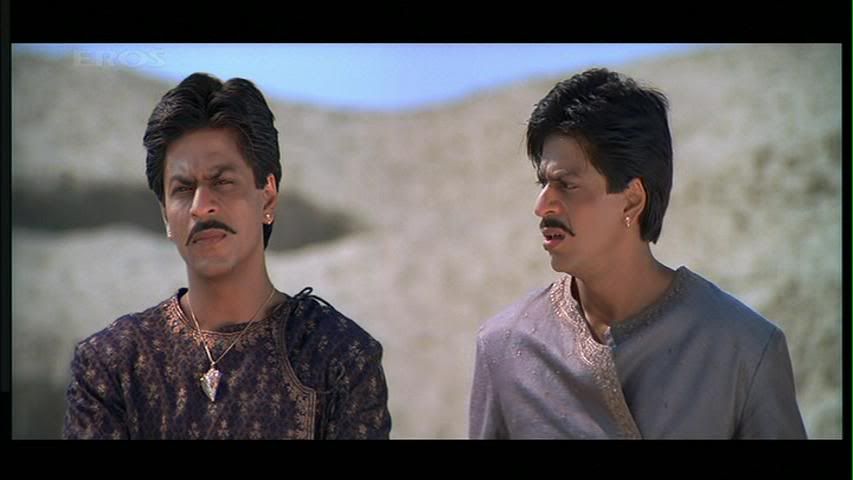 "Whaddya mean, double Shahrukh doesn't mean double the awesome? SHAHRUKH IS LOVE!"
Maybe my expectations for
Paheli
were simply too high. I had read numerous glowing reviews, all the while being careful not to spoil the story for myself. I was aware that this was the film chosen as India's official Oscars entry in 2006. I had even seen numerous comparisons made to
Rab Ne Bana Di Jodi
, a film that I am apparently alone in enjoying (we'll address that at a later date, because when I say enjoy, I actually mean ADORE, and from every other review I have read, this makes me possibly slightly insane or my taste QUITE questionable) –
Paheli
, I had heard, was a similar story to
RNBDJ
, but more coherent, better executed, an OSCAR entry, for crying out loud.
Plus, it has Shahrukh with a mustache! That's got to be good, right?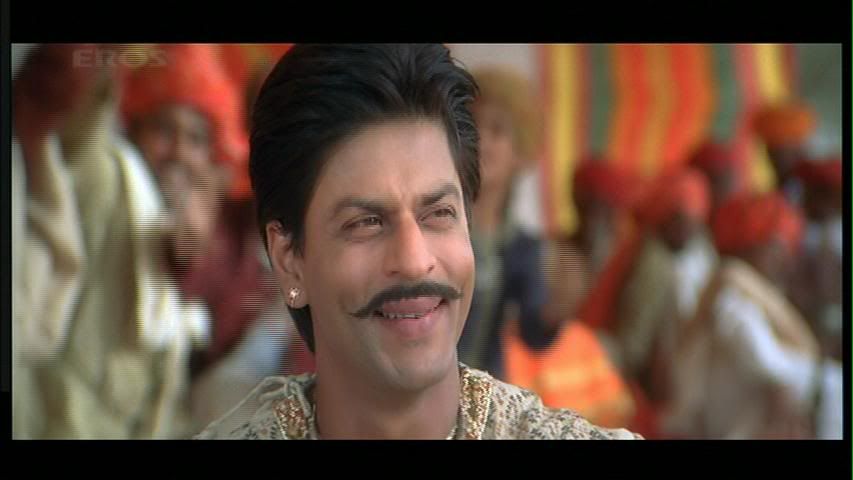 Meh. I like the mo' in RNBDJ better.
Unfortunately, the only word that came to mind as I was watching was "underwhelming".
It was just kind of…average. The story is based on a retelling of an Indian folktale called "Duvidha". Lachchi (Rani Mukherjee) gets married, but the very next day her new husband Kishan (Shahrukh Khan), a trader who is more into money than love, has to go on a business trip that will keep him away for 5 years. While he's gone, a ghost falls in love with Lachchi, and assumes Kishan's form, fooling everyone into thinking he is the real Kishan, returned early. When the real Kishan actually returns, confusion reigns until a shepherd devises a test to solve the puzzle of which Kishan is the real Kishan.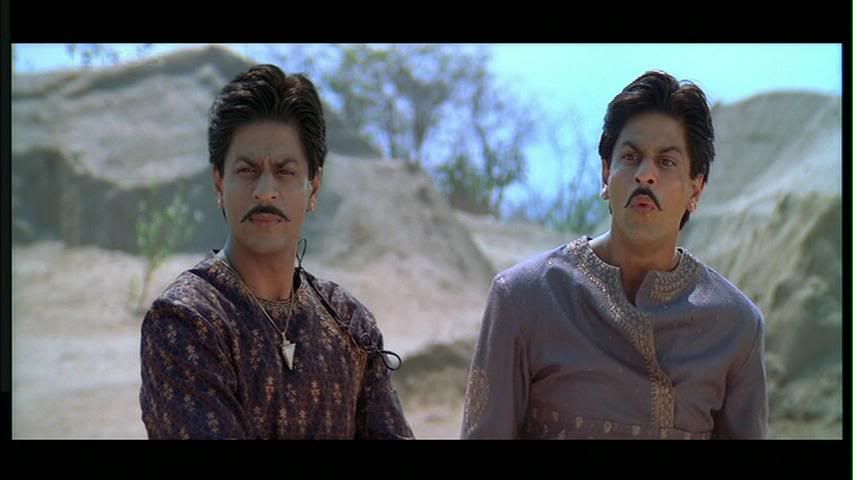 I know we're the same person an' all, technically, but CAREFUL WHERE YOU PUT YOUR HANDS.
Paheli
starts out promisingly enough. The film is pretty, very pretty (but then, even bad movies can be gorgeous –
Saawariya
, anyone?) and Shahrukh is on form, SRK-rrific throughout, but especially when he is doing double time near the end as Ghost Kishan and Real Kishan. Rani Mukherji is lovely too, though her chemistry with SRK is never ever gonna be as perfect as her jodi with Abhishek.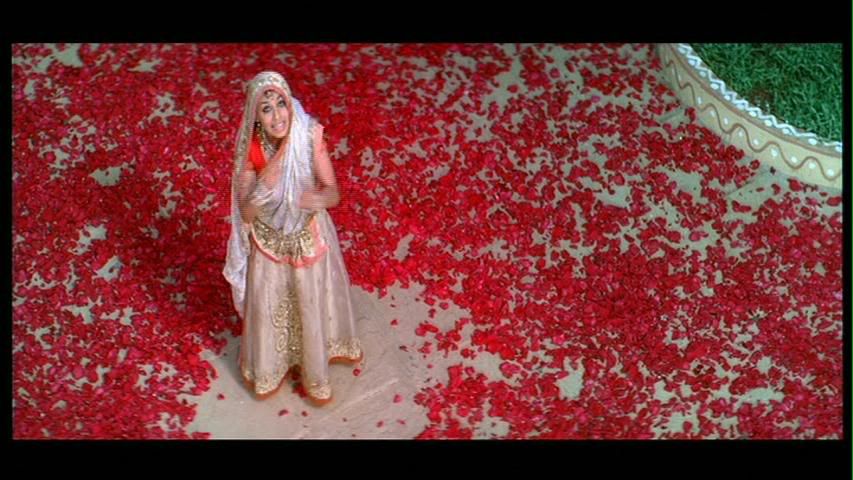 Rani and rose petals, you can't get much prettier than that.
There's also enough spooky isolation established in the opening of
Paheli
, at the place of "128 ghosts" to make me think that this would be a folktale with a nice edgy chill to it. See ghostly wet footprints appear in front of Rani at the Labyrinth/Escher-esque well. Hear eerie whistling in the middle of nowhere. See spooky puppets hanging,
Blair Witch
-esque off a tree and 'talking' in the ghostly breeze. SIGH. That awesome creepy flavour didn't last long. At all.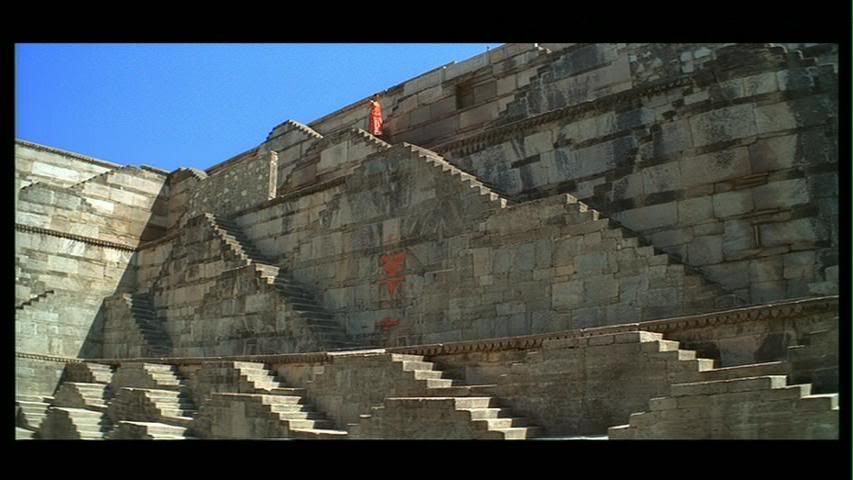 Awesome Escher-esque well.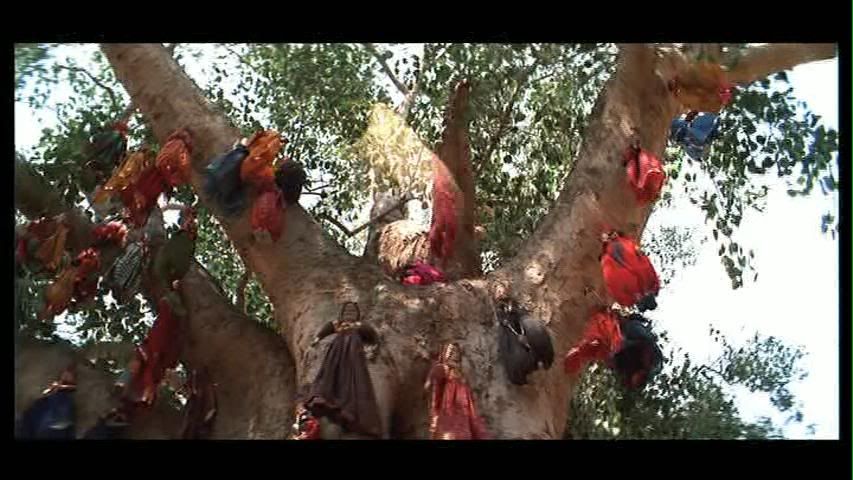 On the whole,
Paheli
was just kind of…boring. I can't really recall any particular high or low points, or anything that made me FEEL much at all. And that may be the MEH factor – the lack of any real involvement in the characters or the plot. At the climax of the film, when the villagers have to figure out which SRK is the real Kishan, the payoff being that the real one gets to stay with Lachchi, as a viewer I had absolutely no investment in the outcome. If they chose the ghost, events leading up to that point had led me to dislike him - because although he was honest about who (or more specifically what) he was to Lachchi, he was lying to everyone else and using his supernatural powers to get his own way – even with Lachchi, who he claimed to love; if they chose the actual, real Kishan, he hadn't been with his wife for 5 years, since their wedding night, and there hadn't been a hint of anything in the film leading up to this point that Lachchi wanted to be with her real husband or that he was ready to step up and actually BE a husband to her. Oh wait. He brought her some berries. Not poignant enough to make me care.
Moral of the story:
by this point, I didn't really give a shit who Lachchi ended up with, and for a love story, that's kind of a bad scene. Like it's lacking, oh, I don't know, A BEATING HEART. Oh, a bit like Ghost Kishan.
(Contrast this, if you will, against
RNBDJ
– it is, I will admit, a flawed film in many ways, but from the outset of that film I KNOW that I want Taani to choose Surinder, and every time I watch it I am terrified that she will run away with Raj. My heart breaks so many times in
RNBDJ
, and EVERY TIME I watch it I cry, because I fall in love with Surinder in the first 5 minutes and I want Taani to see him the same way. THAT is how a love story should grab you. It should kick you in the guts and terrify you and you should scream at the characters on the screen when they make stupid decisions, even if you've seen the film 20 times already).
Highlights and Random Observations
First song: Aadhi Raat Jab. I swear, Rani has the best smile in Bollywood. How can you not fall completely in love with her, HUH KISHAN?! This song is beautifully heartbreaking, all excitement about her wedding night, and then…yeah, sorry honey, I forgot to tell you, I'm going away for five years. So we might as well 'not ignite passion when it's only for one night". What a burn.
Amitabh Bachchan's cameo as the shepherd, booming phlegmy throat clearing and all. Big B strikes again! I was determined not to like this guy in the early days of my Bollywood obsession…but the more you watch, the more you realise there's actually no getting around the fact that Amitabh Bachchan kicks some serious ass.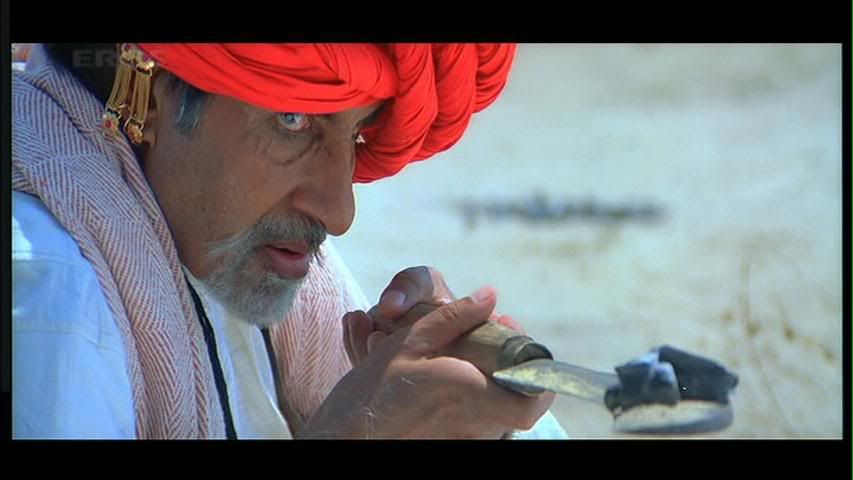 Just try and hate him. HA! YOU CAN'T!
It must be written into Shahrukh's contract that he gets wet at least once in every movie. I am not complaining.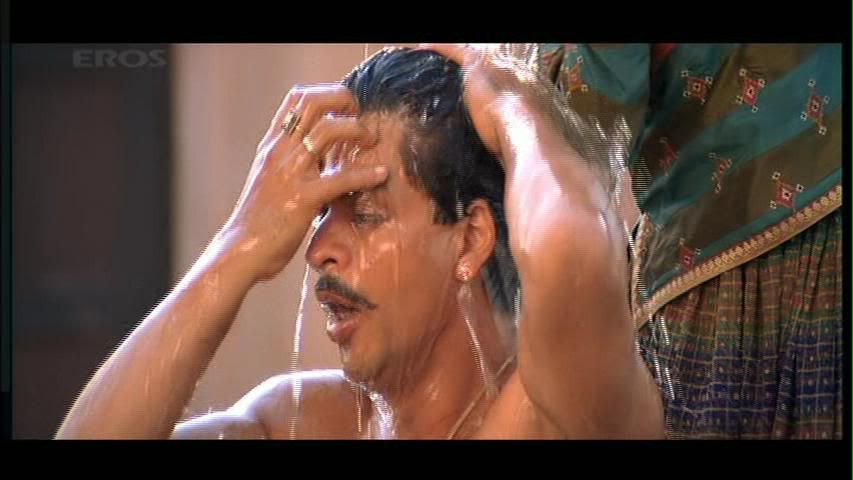 And while we're objectifying King Khan…HELLO!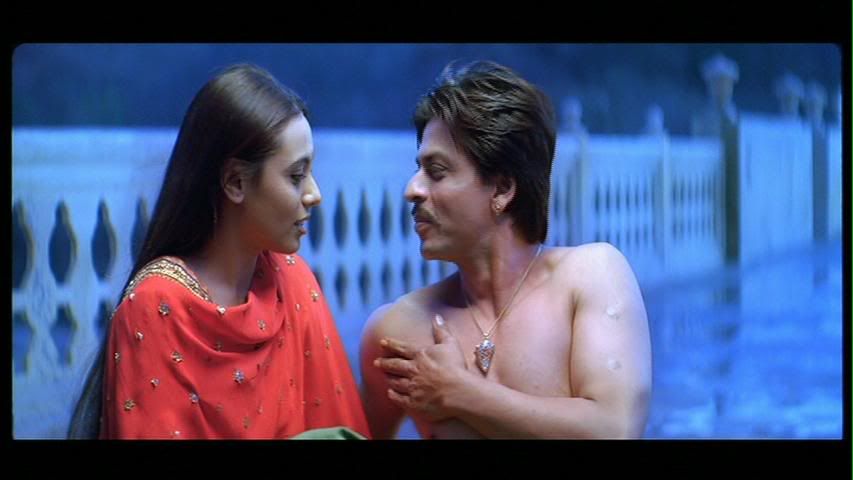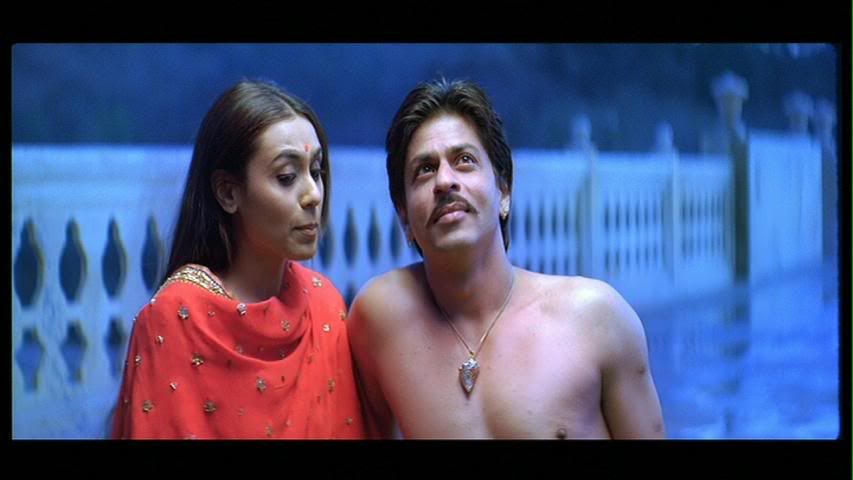 And finally: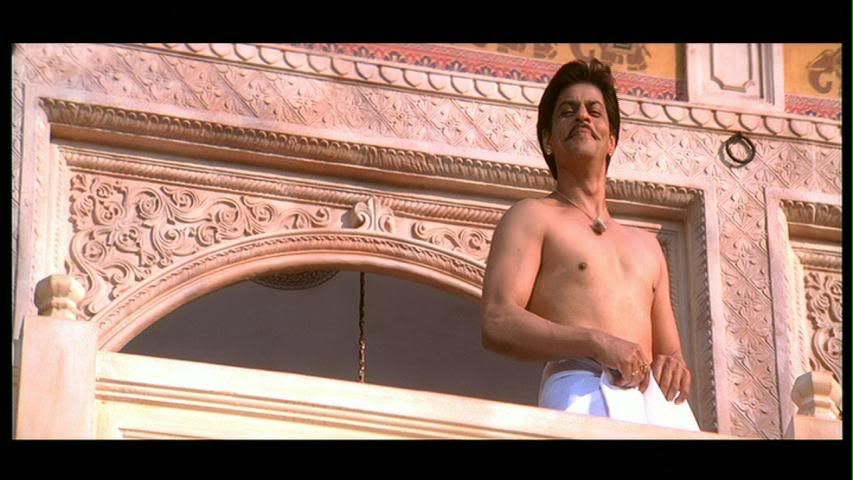 Why yes, you ARE the King of the castle.
Best SRK Moment:
The puppet dance over the end-credits: SRK and Rani start out as life-size puppets on strings, and end up doing an extended Bolly-robot dance. Super-duper cute and probably my favourite part of the entire film.