Bunty aur Babli (Shaad Ali, 2005)
So it was a long weekend, and I was sick with a horrible virus, and all I wanted was a bit of comfort viewing. So, out of the vast and ever-increasing pile of unwatched DVDS on my shelf I pulled Bunty aur Babli, because I figured: this must have awkward Abhi dancing in it, and if awkward Abhi dancing doesn't make me feel better, then nothing will.
Did this film succeed in the goal I loftily set for it? OH MY GOD YES.
1. Bunty aur Babli INDEED has awkward Abhi dancing. For this alone, I love it.
In fact, it has one of the most enthusiastically attempted but not quite 'hit' dance sequences I have ever seen Abhishek in: Nache Baliye. OH MY GOD. THIS SHIZZ IS AWESOME.
a. It's a dream sequence. ENOUGH SAID. Nothing says "This is going to blow your mind but we couldn't figure out how to put it in the movie without everything completely retardedly not making sense so GENIUS SOLUTION: make it a dream sequence" more than…a dream sequence. Ultimate glorious parody of this technique: Dard-E-Disco in Om Shanti Om. The hero of the film wants to sing and dance in a item number about…yes, the pain of disco. "But how can the character sing and dance? He is deaf, blind, mute, in a wheelchair and has no hands?" cries the director. "Easy! We'll make it a dream sequence". PROBLEM SOLVED.
b. It starts out with Abhishek sort of artily doing slo-mo jazz-dance. What is he wearing? An all black ensemble complete with studded wrist cuff? TICK! Later this will become bright blue shiny something paired with jeans…JEANS ?!?(and Rani too – despite EVERYONE ELSE being in sequinned spandex) before he is transformed into my favourite incarnation: Shiny Elvis. Shiny Elvis is where he really hits his stride, and I like to think it's because of the outfit. (Actually, Rani hits her stride here too, as Shiny Priscilla, I guess. It's the power of her proximity to Shiny Elvis).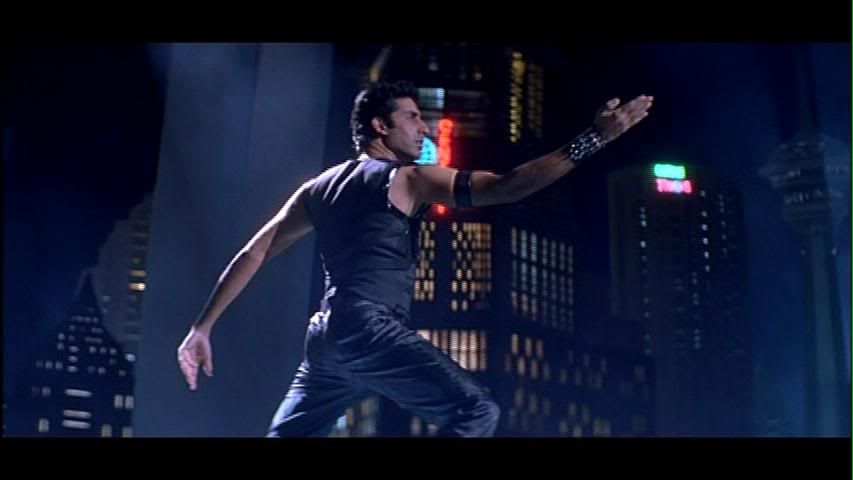 I love him even as a weird modern jazz dancer...
...jeans were an odd costume choice
.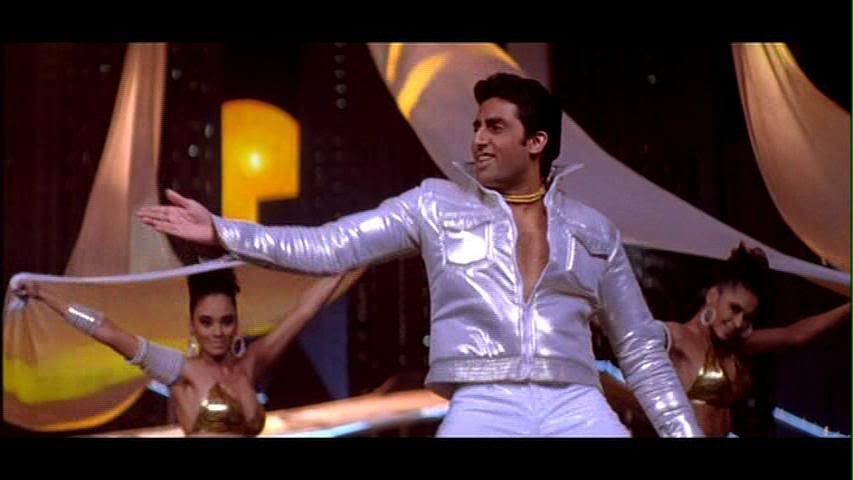 c. They do…something…with what appear to be giant rubber bands.
d. I couldn't capture them fast enough, but one of the many reasons to love Abhishek's awesome awkward dancing is the hilariously intense and enthusiastic faces he makes. In this number he is concentrating so hard at times on the moves that he obviously forgets to lip synch. ABHISHEK: NEVER STOP TRYING. The difference between the effort you put in (++++) and the natural talent you possess (-) is why I love you.
2. Maybe I spend too much time reading Bollywood blind items but my first reaction to Kajra Re was to be utterly CREEPED OUT. You either know what I'm talking about or you totally don't want to. TRUST ME – YOU DON'T WANT TO because it will wreck a LOVELY item number for you.
Luckily, I got over that, and on subsequent viewing could appreciate the cute references to Devdas, Abhishek's manic dancing and gurning, and even how pretty and natural Aishwarya looks (because she did used to look less like a woman with a plastic face and more like a woman even remotely deserving of the oft-repeated "Most Beautiful Woman in the World" label). I read something the other day suggesting that it was during the filming for this song that the sparks of love between Abhishek and Aishwarya began to smoulder…it's not readily apparent, but maybe he won her over with the crazy flailing limbs dance he does near the end of the song.
3. Oh, actually it occurs to me now I should maybe mention the plot: Bunty aur Babli ("Bunty and Babli") is basically a caper movie. Rakesh (Abhishek Bachchan) and Vimmi (Rani Mukherji) are two small-town dreamers desperate to escape the claustrophobic confines of their humdrum village lives. So when they meet, it's like fate brought them together to become their alter egos: Bunty and Babli, an Indian take on Bonnie and Clyde, only less (as in, not at all) murderous and with a bit of a Robin Hood-esque "steal from the rich, but give to the poor" vibe. And of course, they fall in love...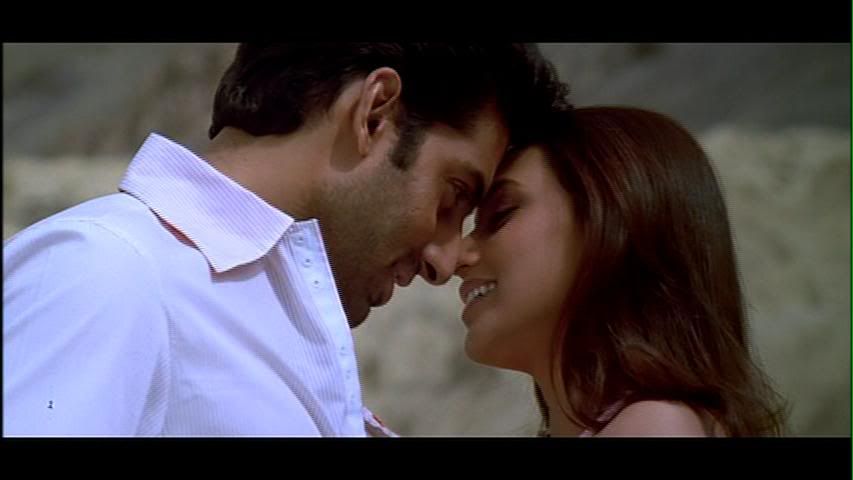 Why are you not married to Rani? WHY? LOOK HOW CUTE YOU ARE TOGETHER!
I don't think I have ever seen a movie where the lead couple have better chemistry than Rani and Abhishek. They are super cute and natural and for serious, when Aishwarya appeared I was like "ARE YOU KIDDING ME? RANI STEAL YOUR MAN BACK!" It makes me want to watch Kabhi Alvida Naa Kehna again soon because it will be even sadder to see them as a dysfunctional couple compared to their cuteness in this.
4. I don't think it was just because I was sick, and thus my defences, or something, were weakened, but when Abhishek dons this disguise to sell the Taj Mahal: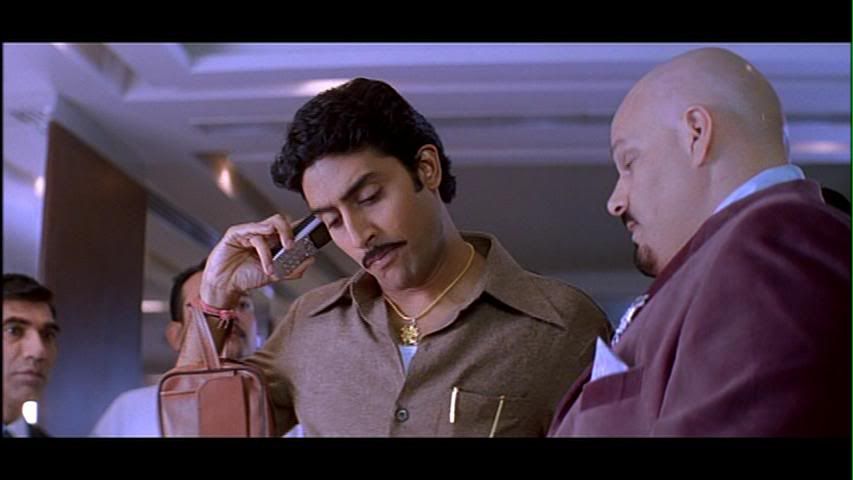 he became ONE BAJILLION times more attractive to me. And I ALREADY thought he was cute. It's not just the mustache. It's the voice and accent he puts on, and the funny little gestures he does with his hands. Oh god, I DON'T KNOW WHY but skeezy Taj-seller Bunty is super-duper hot. I know. I too, am somewhat disturbed by this development.
5. OHMIGOSH Amitabh Bachchan as gangsta-rapper (the lesson – always watch the end credits). IMPOSSIBLY (and IMPROBABLY) cool. This made me breathless with the glory of it. Plus, this whole movie (according to imdb) is a homage to the glory of Big B's oldskool greatness itself. I picked up the cute-cute Sholay nods, but I haven't watched any of his other movies yet to get the apparent references that abound (my copy of Parvarish arrived yesterday, SQUEE! and am eagerly awaiting Amar Akbar Antony…and have decided at some point I will HAVE to get the original Don, as much as I love the remake, to quote Jack from LOST: "We have to go BAAAAACK!").