Sholay (Ramesh Sippy, 1975).
I don't think there is a lot that I can write about this film that hasn't already been addressed somewhere else, by someone far more eloquent. One of the great classics of Indian cinema,
Sholay
("Flames") is the epic, blockbuster story of Jai (Amitabh Bachchan) and Veeru (Dharmendra), two petty criminals who are called upon by Thakur Baldev Singh to capture the villainous bandit Gabbar Singh. This film is a classic revenge tale – only in true, glorious Bollywood fashion, it's three hours long and meanders through the comedy, tragedy, action, and romance genres as well; is HIGHLY melodramatic (which is where the awesomeness of it being a classic revenge tale comes in) and features some pre-
Crouching Tiger Hidden Dragon
fight sequences that will BLOW YOUR MIND.
So here's the thing. In the absence of anything new or original to say about
Sholay
, I'm just going to say this, irony free, and with total genuine honesty and openness:
Sholay is, without a doubt, the most ridiculously awesome movie I have ever seen. In my entire life.
I am insanely jealous of every single person who has grown up seeing this movie and knowing it intimately, treasuring scenes and quotes and favourite moments – it's unfair that for so much of my life, this masterpiece and I have been strangers. It's also unfair that I can't tell you the most awesome part of the movie without totally wrecking everything for you, so here – have this instead:
5 REASONS (WITHOUT GIVING ANYTHING AWAY) WHY SHOLAY KICKS SERIOUS ASS
1. BIG B IS SUPER BADASS
Part of the glory was realizing why Big B is…Big B. Until now I've never really felt much for Amitabh Bachchan. He's always seemed…well…cold and humourless. Even when I've seen him play roles that don't call for him to be an emotionless fascist dictator (cough
MOHABBATEIN
coughANDALMOSTEVERYTHINGELSEI'VE SEENHIMINcough) I've always ended up much preferring the slightly sarcastic, slightly awkward charms of his son Abhishek. Who is cute, to boot.
But now, having seen Big B in his heyday…yup. I get how he was a hot property. Not only does he wear impossibly tight pants and a shirt unbuttoned halfway down his chest to let his copious chest hair air; he sports sideburns and a Travolta-esque mop of glossy black hair that would make any man strut with pride. He's vaguely sarcastic (while Dharmendra is the jovial clowny one) and seems too tall for all his clothes (awww, his shirt sleeves finish above his wrists). Smooth, sarcastic and slightly gawky…I think papa-B passed his genetic gifts down and blessed young Abhishek. I just never saw it before.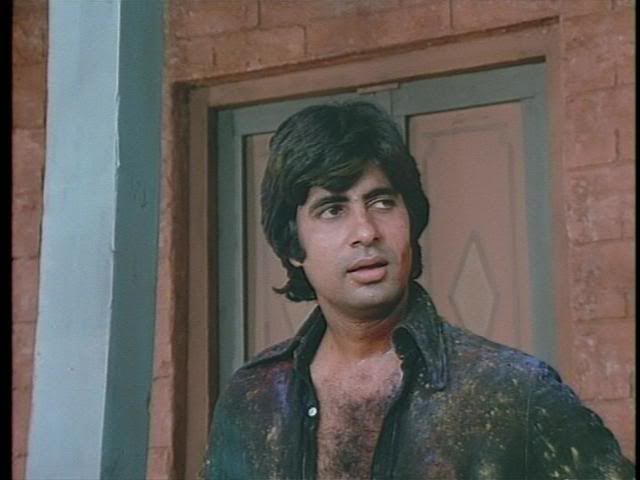 Plus, he's seriously bad-ass. Big B and Dharmendra both ROCK IT HARDCORE when it comes to fighting the bad guys. They're like the Indian Butch Cassidy and the Sundance Kid, but with added bromance. Subtle segue into…
2. BROMANCE!
Dharmendra and Big B are a comical odd couple – Big B tall and lanky with his glossy semi-pompadour, Dharmendra a bit shorter and a bit chubbier (and his weight seems to fluctuate from scene to scene – or is that just me?) with his cute little mop of curls; with Big B playing the sardonic, serious Jai and Dharmendra the jovial, exuberant, dramatic Veeru.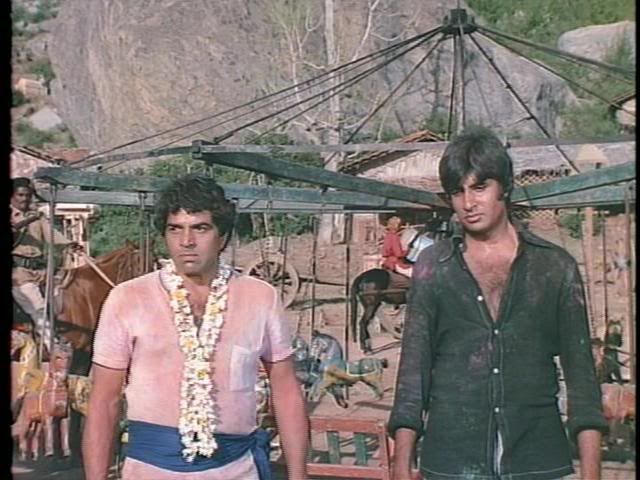 They may not look especially happy here, but trust me - they LOVE EACH OTHER with the pure and gentle power of true bromance. Plus - check out the aforementioned Chest Hair of Glory.
If you can't stomach a full 3 hours of Bollywood melodrama, just watch the song Yeh Dosti, because it is…pure joy. Plus, this scene: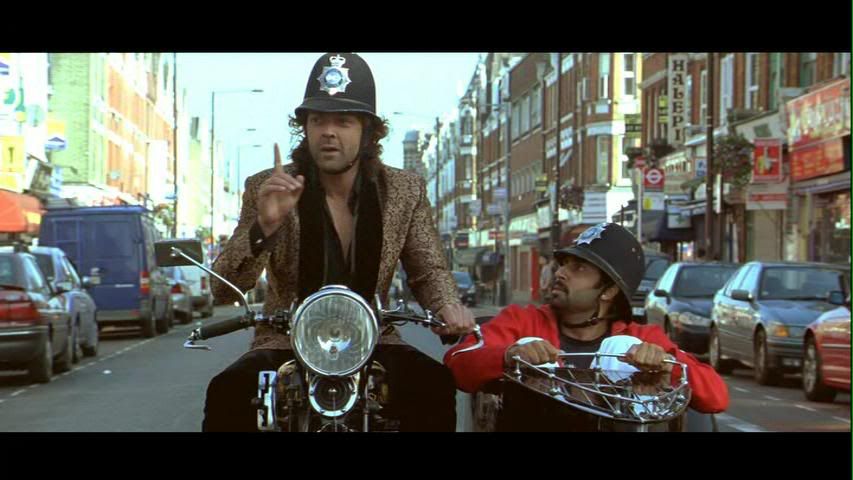 from
Jhoom Barabar Jhoom
will make so much more sense to you.
3. IT'S FUN TO IMAGINE GABBAR SINGH IS GAY
In
Dostana
, Abhishek Bachchan's character refers to himself as a total "Gabbar", which perplexes his roommates. It turns out he's talking about Gabbar Singh, from
Sholay
. They don't get the reference until he starts vehemently insisting that Gabbar Singh was "totally gay" based on the fact he holds a belt in his hand for most of the film and asks "How many men were there?"
I'm not sure that his criteria, or his evidence of Gabbar's "total gayness" is that accurate, but I have to admit it was kind of fun to watch the film as if Gabbar, the king of the bandits, is, to quote
Dostana
, a "total flamer". Gabbar certainly gives Veeru some interesting looks…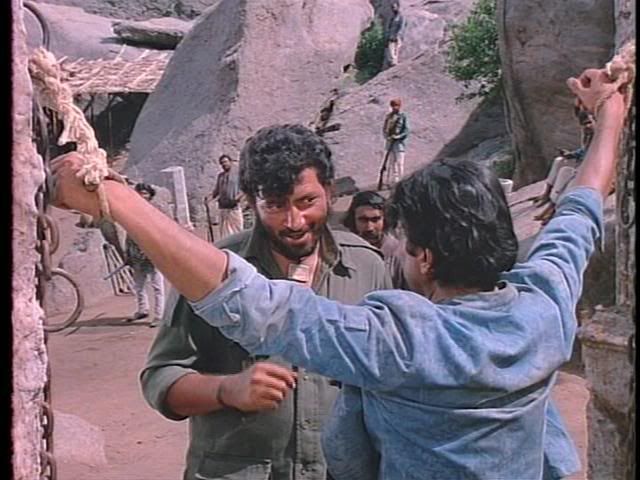 Gabbar is into the kinky stuff, for realz.

4. BECAUSE I'M PRETTY SURE HE JUST GAVE 'HITLER' THE FINGER
The weird
M.A.S.H.
meets
Hogan's Heroes
-esque prison sequence is probably my least favourite part of the whole film…except for this subtle bit of business: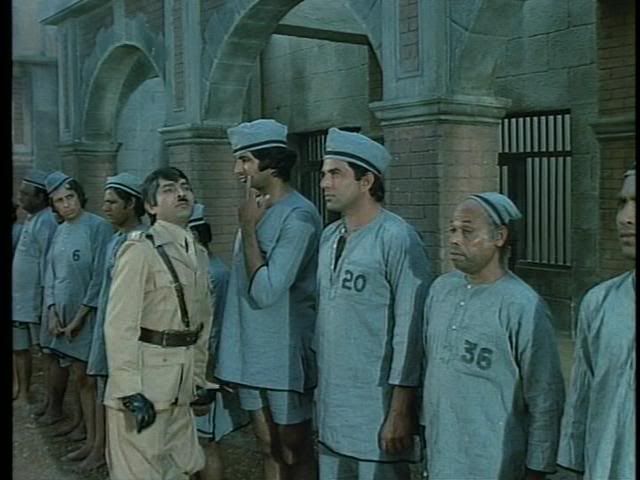 5. WHO DOESN'T LOVE CRAZY EYES?!