Heyy Babyy (Sajid Khan, 2007)
Three bachelors: Arush (Akshay Kumar), Tanmay (Riteish Desmukh) and Al (Fardeen Khan) are having a blast sleeping around and partying their way through Sydney. That is until a baby lands on their doorstep with a note suggesting one of them is the daddy. The three playboys might be heroes with the ladies…but they are zeroes when it comes to babies.
So it's a
Three Men and a Baby
remake, pretty much, up until the point that
*SPOILER WARNING*
they
kill the baby
. You didn't see that coming, did you? It was at this point (actually, it was The Christmas Miracle that revived the baby that did it) that I realized just how deranged
Heyy Babyy
was capable of being, and I decided to stop fighting, and just embrace the batshit crazy.
Oh man. I'm kind of ashamed to say that despite the first 20 or so minutes of this film being pretty much The Worst Thing I Have Ever Seen (and I cannot emphasise that enough – I have seen a LOT of bad films in my time, and have a really high tolerance for bad…and still…OH. MY.GOD) I pushed through the pain barrier and stuck with it…and (I can't believe I am going to say this)…it wasn't completely unenjoyable. Embarrassingly, at one point I cried like a little wussy girl (this is hardly anything new – an episode of
Boston Public
once reduced me to tears so pretty much any Bollywood movie can make me a sniveling wreck); even more embarrassingly, I laughed like a moron through the whole thing…AND NOT IN AN IRONIC WAY.
This isn't to say
Heyy Babyy
is by any means a good film. From Akshay Kumar's weird maniacal screaming introduction, to the film containing maybe three full narratives too many (perhaps in an effort to prove that
Heyy Babyy
was not in fact TOTALLY based on
Three Men and A Baby
, the filmmakers complete that story strand fairly early on and throw several more, that could serve as full length movies on their own, into the mix), to the unevenly pitched tone between full-on slapstick and drama, it's kind of a hot mess. Every single part of me tells me to loathe everything about this film.
And yet…I really can't. I think I kind of love it. It's so bad, you just have to embrace how all the different bits of badness gel together so well – and marvel. And anyway, I thought I hated it, until TOTALLY AGAINST MY WILL I started laughing. Even now, I am giggling thinking of certain scenes.
I am so ashamed.
HIGHLIGHTS AND RANDOM OBSERVATIONS
:
- I don't think I have ever seen a cuter baby. EVER.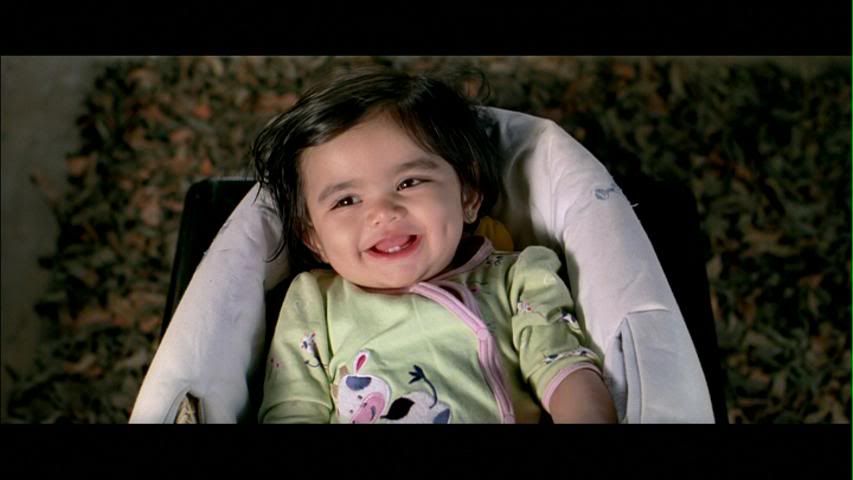 - Is it a little bit creepy that Tanmay sleeps with his Eddy Teddy head? *coughPLUSHYcough*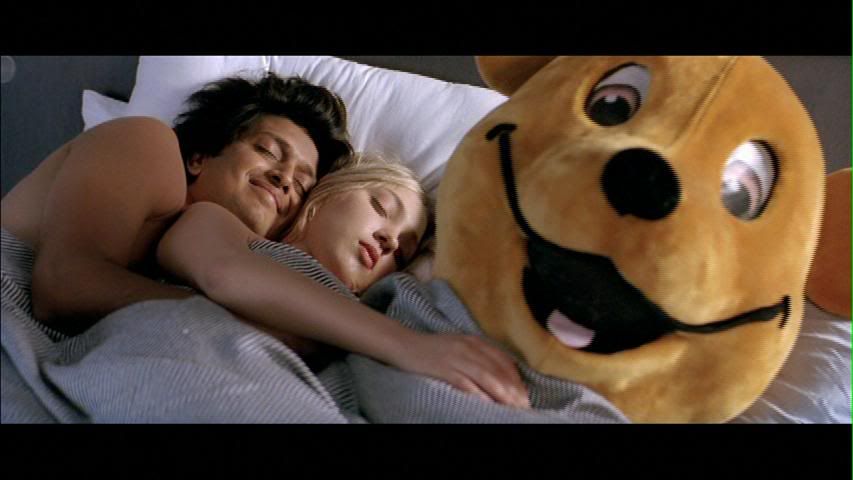 - Akshay is a way better master of disguise in this film than Hrithik is in Dhoom 2 (I'm sorry Hrithik I still love you the best!) Also, this scene is one of the ones I am most ashamed of laughing at…but it still cracks me up. I am not alone though - watch closely as Akshay and Riteish leave the restaurant, flinging lettuce everywhere: Vidya Balan is struggling not to laugh. This movie is soooo destined to be my guilty pleasure.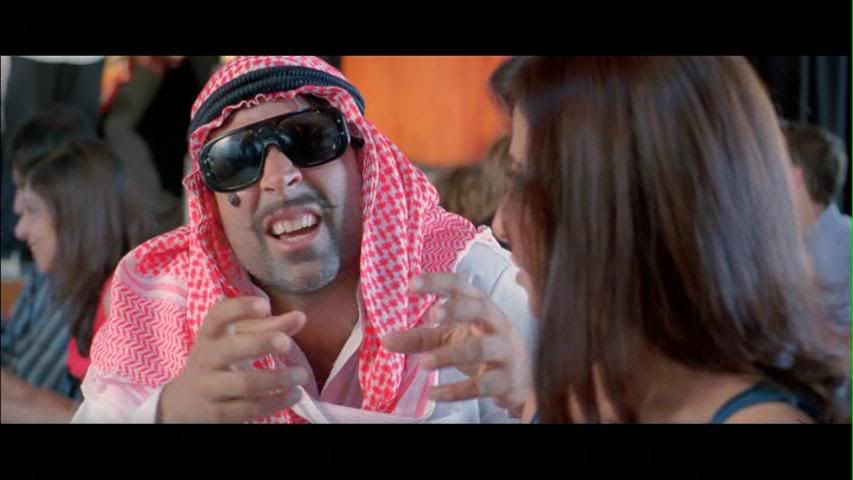 - This is something you'll have noticed if you've watched a few Bollywood films: pit stains. The first time I noticed it, it was Hrithik, unashamedly sweating massive pitstains into his tee shirt. The next time, it was Shahrukh (he sweats! Like normal people!) While I'm sure there are many who think this is gross, this is something I actually like about Bollywood. Because despite the often more fantastic thematic aspects of Bollywood films, little things like stars with pit stains makes it all seem a bit more real and normal. Because I know if I was doing a dance routine in the middle of summer, over and over again, I WOULD BE SWEATING WAY MORE THAN THESE GUYS DO.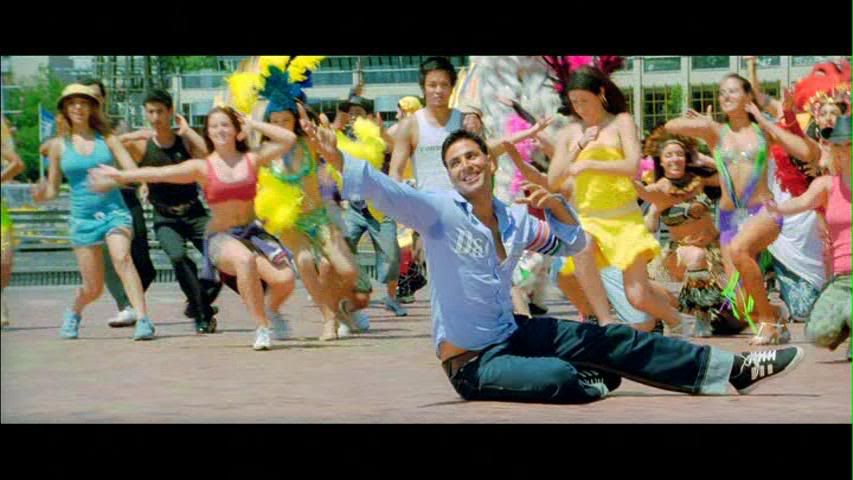 - I love that there is actually no good explanation for this: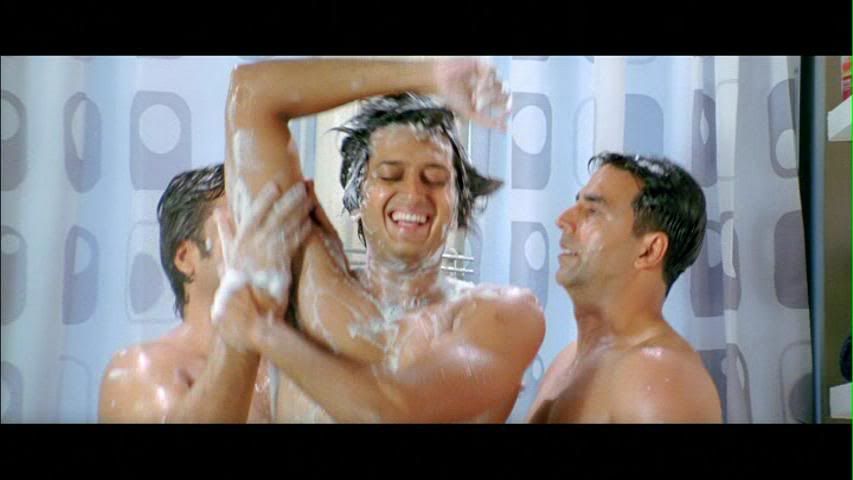 …they just couldn't wait for him to get out of the shower.
- Anupam and Boman! I want these guys to do a buddy comedy, like The Odd Couple or something. Individually they are golden, but THEY ARE TOO, TOO AWESOME in tandem.
BEST SHAHRUKH MOMENT
:
The ONLY Shahrukh moment, and not coincidentally, the best moment of the entire film. In his hugely hyped, dialogue-free special appearance, lasting a minute at best, SRK manages, seemingly effortlessly, to outshine everyone else onscreen.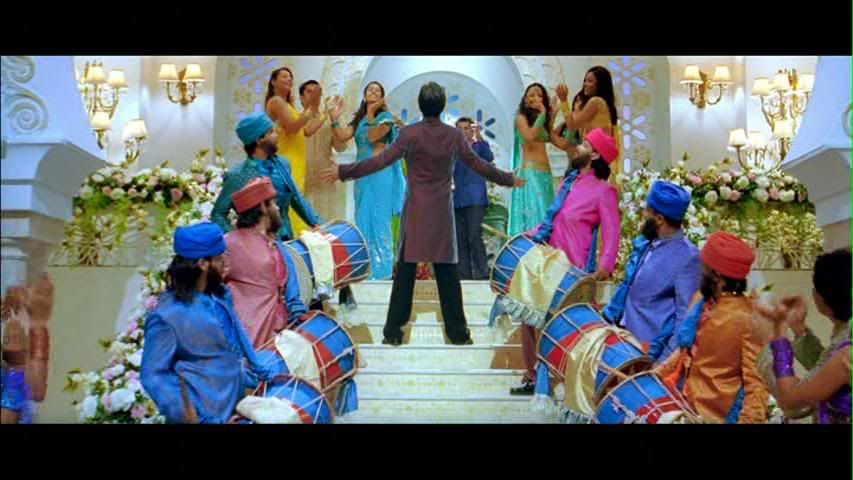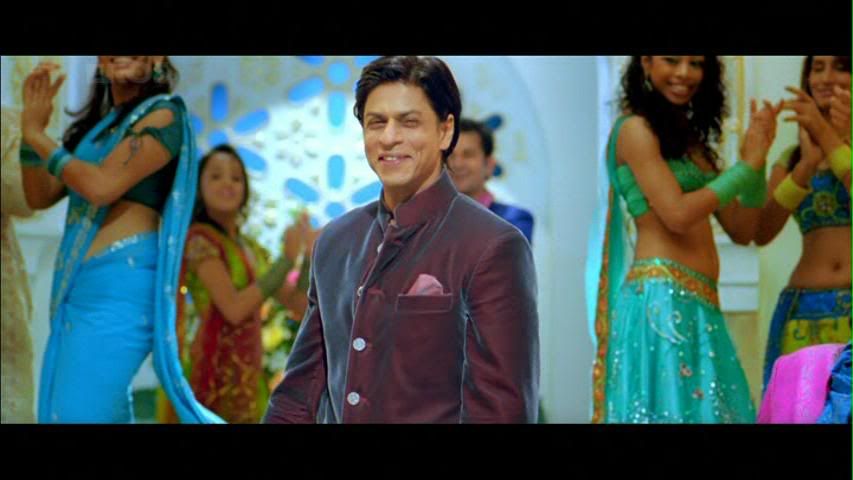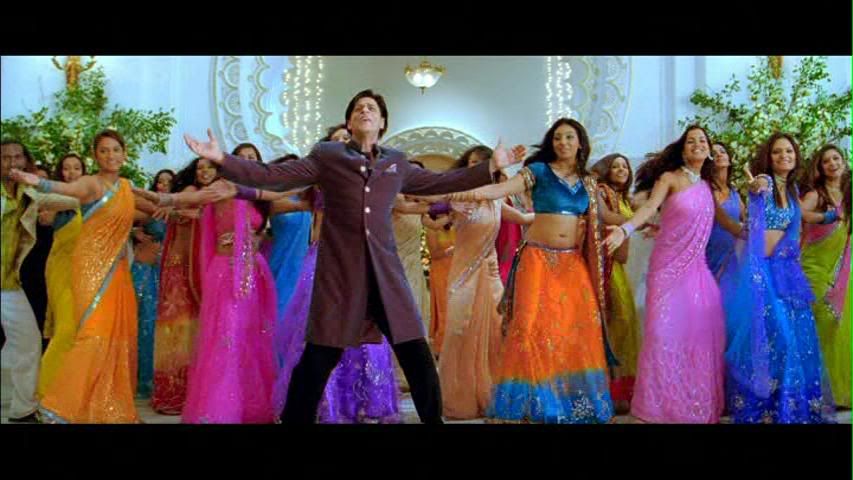 It's like all of a sudden, for a brief shining moment, we're watching a whole different movie.
(Because I am a huge dork, I started squealing at the first hint of a reference to DDLJ. And Anupam's ringtone = nice touch).